150m walk at the airport for wheelchair
An airport official said efforts are made to make the facility disability-friendly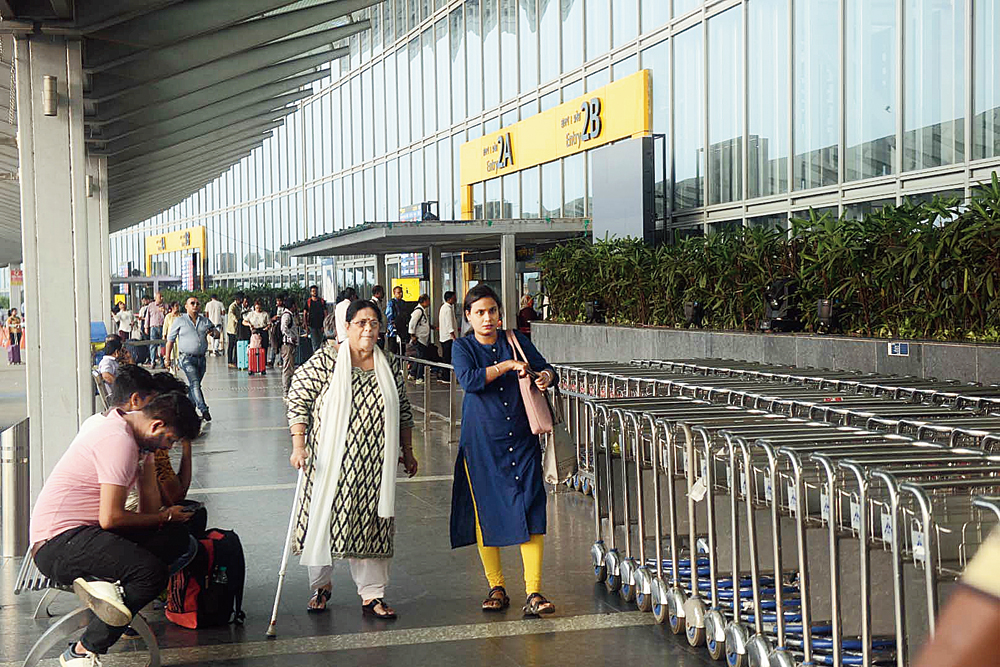 ---
|
Calcutta
|
Published 21.10.19, 08:17 PM
---
A 62-year-old with reduced mobility had to walk for around 150m, with the help of a walking stick, before she was allotted a wheelchair at the Calcutta airport on Monday afternoon.
Deepanjali Ghosh, a resident of Behala, had a ticket for an AirAsia flight to Bangalore on Monday. Ghosh said she had booked a wheelchair a few days ago, following it up with a call to the airline on Sunday and another on her way to the airport. On both occasion, she had requested that a wheelchair and a pusher be kept ready as she could not walk or stand for too long.
The 62-year-old arrived at the airport in a cab and looked around for a wheelchair while the driver of the cab offloaded her luggage from the vehicle.
"Despite multiple requests, I did not find any wheelchair, nor any airline employee. I had booked a wheelchair and alerted the airline that I would require assistance as I have a problem in my knee that severely restricts my mobility," Ghosh said.
After waiting near gate 2A for a few minutes, Ghosh called up the airline again. To her surprise, the person who received the call asked her to walk up to gate 3C, at least 150m away.
Helpless, Ghosh requested the cab driver to carry her luggage till gate 3C while she started walking with the support of a stick.
On her way, Ghosh spotted a signage outside gate 2 with a photograph of a wheelchair and numbers of airlines, asking flyers to call them if they needed assistance.
"When I called at the given number, an airline employee told me that they had already sent a wheelchair and a pusher to gate 3. Before I could say that I was waiting in front of gate 2, the line had been disconnected," Ghosh said.
The Telegraph had reported on Monday how a disability rights advocate with cerebral palsy was allegedly made to wait at the check-in counter, apparently because she was travelling alone. Jeeja Ghosh had complained that the airline could not provide a wheelchair and also did not have anyone to push one.
An airport official said efforts were made to make the facility disability-friendly.
"All the numbers for wheelchairs and assistance for persons with disabilities, reduced mobility and minors are written in backlit boards outside each gate. People requiring assistance have to call the numbers to request for a wheelchair or assistance," he said.
But calls to the numbers often go unanswered, sources said.
"Another problem is many passengers travelling alone book wheelchairs even if they don't need one. This is done to ensure assistance. But the number of wheelchairs is limited and there is a demand- supply gap," an official of a private airline said.
Jeeja Ghosh had said on Sunday that she felt "extremely hurt" by the airline's conduct. An independent and widely-travelled woman, she was scheduled to board a GoAir flight to Delhi from the Calcutta airport on Sunday afternoon with three others.
All four reached gate 3A on the departure level around 12.30pm on Sunday, nearly two hours ahead of the scheduled take-off. The other three checked in but when Jeeja Ghosh's turn came she was allegedly made to wait.
"I requested for a wheelchair to go for security check and then proceed for boarding. But the GoAir representative would not let me in. She asked me to wait, but did not provide any explanation. I realised the airline did not have a wheelchair ready and also did not have anyone to push the wheelchair. I was made to stand for at least 15 minutes," Jeeja Ghosh had said.