Woman buried alive in Gangtok landslide
Three injured and several homes damaged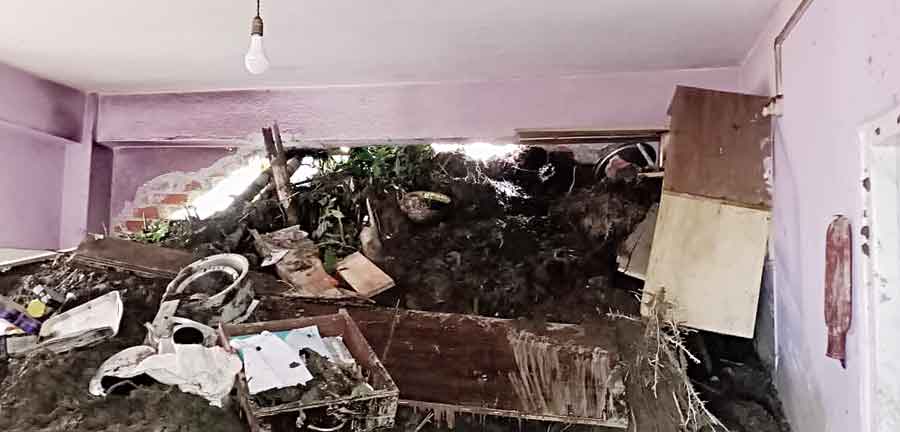 ---
Siliguri
|
Published 10.06.21, 03:04 AM
|
---
One person died, th­ree received injuries and a number of houses suffered da­mage as heavy rain triggered landslides at numerous places in and around Gangtok on Tuesday night.
Bimla Chettri, 40, died aft­er a massive pile of mud and bamboo grass came gushing down from the hill above and completely damaged her hou­se at Sichey near the East District Court in Gangtok. While Bimala was buried under the slush and died, her mother was injured. Two other wom­en living next door to them were also injured.
Robin Sewa, the subdivis­i­o­nal magistrate of Gangtok, said the house of Chettri had been completely destroyed and three other homes in the neighbourhood suffered mi­n­or damage. "Our team, including the administration, police, SDRF (state disaster rescue force), reached the spot within 10 minutes of the incident and managed to rescue Bimla's mother, but unfortunately could not save her," he said.
Sewa said the family of the dead and those whose houses had been damaged would be provided with compensation according to government no­rms. "We feel the landslide was caused by lack of proper drainage system. While making our houses, we don't pay much heed to the drainage system and are also careless ab­out maintaining them by keeping them clean at all times."
The heavy rain — Gangtok, according to the local Met office, received 114 mm of rain in the past 24 hours — besides triggering minor slides in oth­er parts also caused a road to cave in partially at the Development Area of the city, putting at risk many houses both above and below the road.
Local people complained that the cave-in had occurred because of construction activity above the road which is located in an environmentally fragile area.
"JCBs were used to excavate the hill for the construction of a building. This was always a sinking area and mindless construction had made it more vulnerable," said a local resident.
Praful Rao, the president of the Kalimpong-based Save The Hills, an NGO engaged in spreading awareness of landslides in the region, said fatal landslides in populated urban centres caused partly by hum­an activities would increasingly happen, and it was a worst nightmare. "The monsoon has barely begun. So, how come we have landslides? Exactly the same thing had occurred in Darjeeling town last year," he said.
Flash flood
A sudden bout of rainfall in the western Dooars on Tuesday night led to a flash flood in some parts of Nagrakata block of Jalpaiguri district on Wed­nesday early morning.
The Sukhani rivulet spill­ed over the banks and flooded the Bijoynagar area, submerging a number of houses.
The rivulet also damaged a culvert that connects Manmohandhura, a village with a population of around 5,000 people, and snapped their connectivity with the block headquarter.
Local gram panchayat functionaries distributed relief material among the affected families.
Feroz Nur Patowari, sabhapati of Nagrakata panchayat samiti, said residents of Manmohandhura would have to take a turnaround route to reach the block headquarters.
"We have also sent a proposal for the reconstruction of the culvert and are waiting for approval," he said.
Additional reporting by our Jalpaiguri correspondent