Flights resume at Pakyong Airport
Fliers say they have enjoyed the trip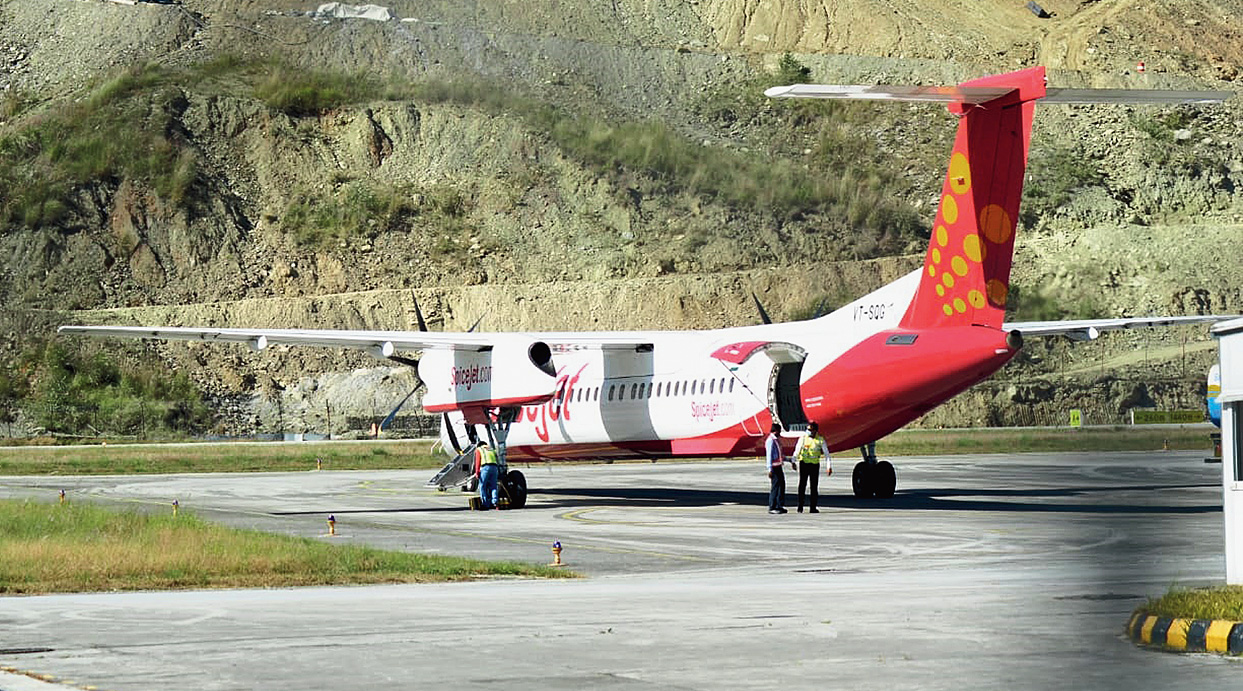 ---
|
Siliguri
|
Published 24.01.21, 04:08 AM
---
Sikkim's Pakyong Airport resumed commercial operations after a gap of nearly 20 months with the arrival of a SpiceJet flight from Delhi with 57 passengers on board at 12.10pm on Saturday.
The same flight later returned to Delhi with 21 fliers on board.
Sikkim's health minister M.K. Sharma and senior officials of the state's tourism and civil aviation department were present at the Himalayan state's lone airport in Pakyong town near capital Gangtok to welcome the fliers with the traditional khadas or ceremonial scarves.
Fliers who to spoke reporters at the airport said the flight had been comfortable and they enjoyed the trip. "The birds'-eye view of the mountains was good. The airport is also very good and we were given a great welcome," smiled one of them, pointing to a yellow khada draped around his neck.
Flier Arun Upadhyaya, a doctor from Agra in Uttar Pradesh, said he was on a five-day trip to Sikkim and was looking forward to explore the place that he was visiting for the first time.
"I will go sightseeing and meet the people of the state. I want to see the local culture and tradition," he said.
Sikkim chief minister P.S. Tamang (Golay) said he believed that the resumption of flights would be the start of a new era of travel in Sikkim.
He added that the flights will help in mitigating issues faced by the state in terms of transport. "I also believe that this will be a big boost for the tourism sector in Sikkim in years to come," added the chief minister.
J. Jayakumar, the additional chief secretary and head of the tourism and civil aviation department, said the resumption of commercial flights from Pakyong Airport was possible due to the combined efforts of Union ministry of civil aviation, the Airports Authority of India and the state government.
He added that talks were on with the Centre for introducing flights to popular destinations Kathmandu (Nepal), Thimphu (Bhutan) and Bangkok (Thailand) from Pakyong.
Among the fliers who took the return flight to Delhi was Reshmi Biswakarma, a local girl studying nursing in Himachal Pradesh. "This (introduction of Pakyong-Delhi flight) will help us immensely. For instance, my college has already started and taking this flight to Delhi will help me reach my college early," Reshmi said.
The greenfield airport, built under the Centre's regional connectivity scheme, UDAN, was inaugurated by Prime Minister Narendra Modi in September 2018. Commercial flight operations began at the airport on October 4, 2018. However, seven months later from June 2019 onwards, all operations were suspended because of teething problems, including unpredictable weather, poor visibility and lack of proper landing facility.