When Sachin spooked Manjrekar
'I always wanted to be famous, if not cricket, I would have found some other vehicle, maybe by singing Kishore Kumar songs,' – Sanjay Manjrekar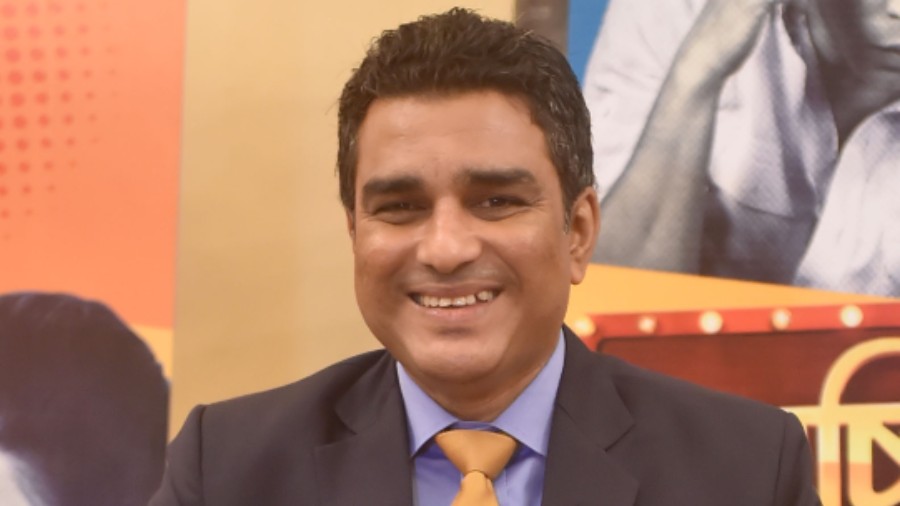 Sanjay Manjrekar
Sourced by the correspondent
---
Published 30.11.20, 10:50 PM
|
---
On his return to international commentary, the former India batsman and veteran broadcaster, Sanjay Manjrekar, had a freewheeling chat with The Telegraph on his obsession with perfection, his love for Rabindrasangeet, Satyajit Ray, and kosha mangsho, Sachin Tendulkar's sleepwalking, and much more.
As a batsman, so much of your game is about expressing your instincts. But as a commentator, those same instincts need to be reined in and tempered. How have you managed your instincts in evolving from a cricketer to a commentator?
Actually, it was very easy for me to make that transition. Because I have always had an opinion, even as a player during team meetings, I always had a view to air. In fact, I find myself more suited to doing this (commentating) rather than playing cricket. I have played more than a 100 international matches for India, but with commentary, I find I have less weaknesses.
In your excellent memoir, Imperfect (2017), you admit that the promise of fame played an important role in your becoming a cricketer and then a commentator. Could you describe how remaining relevant in the public eye motivates you?
It's a human thing, right? Very few people would actually not want to be famous. I saw the kind of fanfare my father (Vijay Manjrekar, who had also represented India) got. He would invite Indian players to our place and I saw how people reacted to them. So, I always wanted to be famous; if not cricket, I would have found some other vehicle, maybe by singing Kishore Kumar songs! But cricket was the gateway... it is great to be an India player and be recognised. After that, television and being in the public eye, you continue to be... identified. When strangers come and say 'hi' to you, it's a great feeling and who wouldn't like it?! When I am on a flight, I keep looking at everyone who comes in, and then they smile and I smile... it makes them happy as well as me, and I don't feel lonely.
The impression one gets from your book is that you have always been a perfectionist, and that maybe during your playing days it made you a bit uptight and reserved. Do you think that has changed since retirement, making you more outgoing and relaxed as a person?
I think so, because a lot of these people who are here on the Sony commentary panel are guys I have played cricket with, and they say that I have completely changed. People (like myself) who are very intense, very studious, must find a way to unwind after the game, but I would keep staying in that bubble forever. While you were playing for India, you had been roommates for a number of years with Sachin Tendulkar. Sourav Ganguly has said in the past that Tendulkar used to have a habit of sleepwalking that used to freak him out. Have you had any such spooky experiences with Sachin's sleepwalking?
Many, because we used to be room partners for a long time. One evening in Pakistan we were all sitting in a room, talking, and Sachin walked in. It wasn't late at night, but I think Raman Lamba or somebody knew that he (Sachin) wasn't awake, and he was sleepwalking, and in a typical North Indian style Lamba asked him to go back and sleep.
The most frightening moment was when I got up one night and opened my eyes only to see Sachin on his side of the bed staring at me, it was really scary! And then he slowly went back to lying down. But he was a very docile, nice, well-mannered sleepwalker!
You mentioned Kishore Kumar earlier, and increasingly, we are getting to observe your love for music. You have also recorded an album of Rabindrasangeet, which came out in 2016. How did you get drawn to Rabindrasangeet and eventually end up performing it?
Kishore Kumar is the reason. I am a Kishore Kumar fan to the extent he comes in my dreams also! I was following him, all his renditions, and then somebody — I have got a lot of good friends in Calcutta — introduced me to his Bengali songs. About 25 to 30 of them, mostly Rabindrasangeet. I was completely taken aback by the feel of the music... it connected with my character. I don't focus so much on the words, which is terrible for an artiste, but just singing those compositions was beautiful. It made me feel so good that I started looking for more, and now I know at least eight or 10 Bengali songs by heart, if not more.
Does your love for Bengali music also extend to Bengali food?
Food is the most important thing in my life. I love food too much, but I also want to be fit, so life is hard! Bengali food is incredible, kosha mangsho is the first thing I order. Then the prawns (Chingri Maachher Malaikari), the baingan that you get, the white puris... you can help me with the name (luchi)... I don't even want to go into the desserts. Thankfully, I am a bit lactose intolerant so I cannot eat too much of that!
You have mentioned on record how you would much rather spend time with your son watching a movie instead of playing backyard cricket. So, what are the kinds of movies you like and are we right in guessing that you are a Quentin Tarantino fan?
Absolutely, people in television actually call me Tarantino, because I don't just do my job, but also look into the other aspects of the studio. I love creative people. Satyajit Ray [for instance], what an incredible guy, living in that era and the kind of intelligence that man had and to still make films that connected with so many people! People who create great cinema, I find them to be magicians. I watch films not as a source of entertainment but as a way of studying art. It consumes me.
RAPID FIRE: AUSTRALIA SPECIAL
The toughest Australian bowler you had to face: Merv Hughes
Favourite Australian cricketer from the current crop: Steve Smith
The funniest Australian commentator you worked with: Dean Jones
Favourite city or spot in Australia: Darling Harbour and Opera House, Sydney
Favourite Australian film personality: Hugh Jackman, Mel Gibson
SANJAY MANJREKAR FACT FILE
⦿ Having made his international debut in 1987, Manjrekar went on to play 37 Tests and 74 One Day Internationals for India, scoring over 4,000 international runs, including five centuries.
⦿ Manjrekar's best performances with the bat came against Pakistan, particularly during the 1989 tour, where he notched up two centuries, the second of which he converted into a sparkling innings of 218.
⦿ Manjrekar enjoyed an illustrious record in first class cricket, winning the Ranji Trophy twice with Mumbai and accumulating more than 10,000 runs at a staggering average of more than 55, with a top score of 377.
⦿ Having retired from playing the game in 1997, Manjrekar made the move to broadcasting a few years later.
The last time India went Down Under, there was no Steve Smith or David Warner. Do you think that with their return to the fold and with neither Virat Kohli (due to paternity leave) nor Rohit Sharma (due to injury) playing the entire tour, Australia will have a slight edge?
More than a slight edge. Their batting is bolstered by the arrival of Warner and Smith, and Marnus Labuschagne is [now] a better player. And India's batting has been considerably weakened, so unless we have some kind of a magical growth in the young players, I will be worried about India's batting. I think Australia clearly have the edge in the Test series, but in the white-ball formats, India should compete well.
Tell us about your time in Australia and what sort of experience you had off the pitch.
I went in the '90s... and our predecessors would tell us that it's a great trip and (that) you can never get bored in Australia. That was the kind of experience we had, too. You could move around the streets and the grounds were brilliant. We would walk around a lot and have fun. We developed a taste for steaks and that kind of food. Nightclubs weren't quite my style, so I didn't quite experience that, but Australia is such a nice place to be. It's bright, and most importantly, the people... they are brilliant... they have a great attitude towards life.
Watch the T20I series between India and Australia starting December 4, 2020 from 12.30pm IST LIVE and Exclusive on SONY TEN 1, SONY TEN 3 and SONY SIX channels