When Rs 60 donation of a teenager stole hearts
Mohammedan Sporting officials have decided to grant him life membership once he turns 18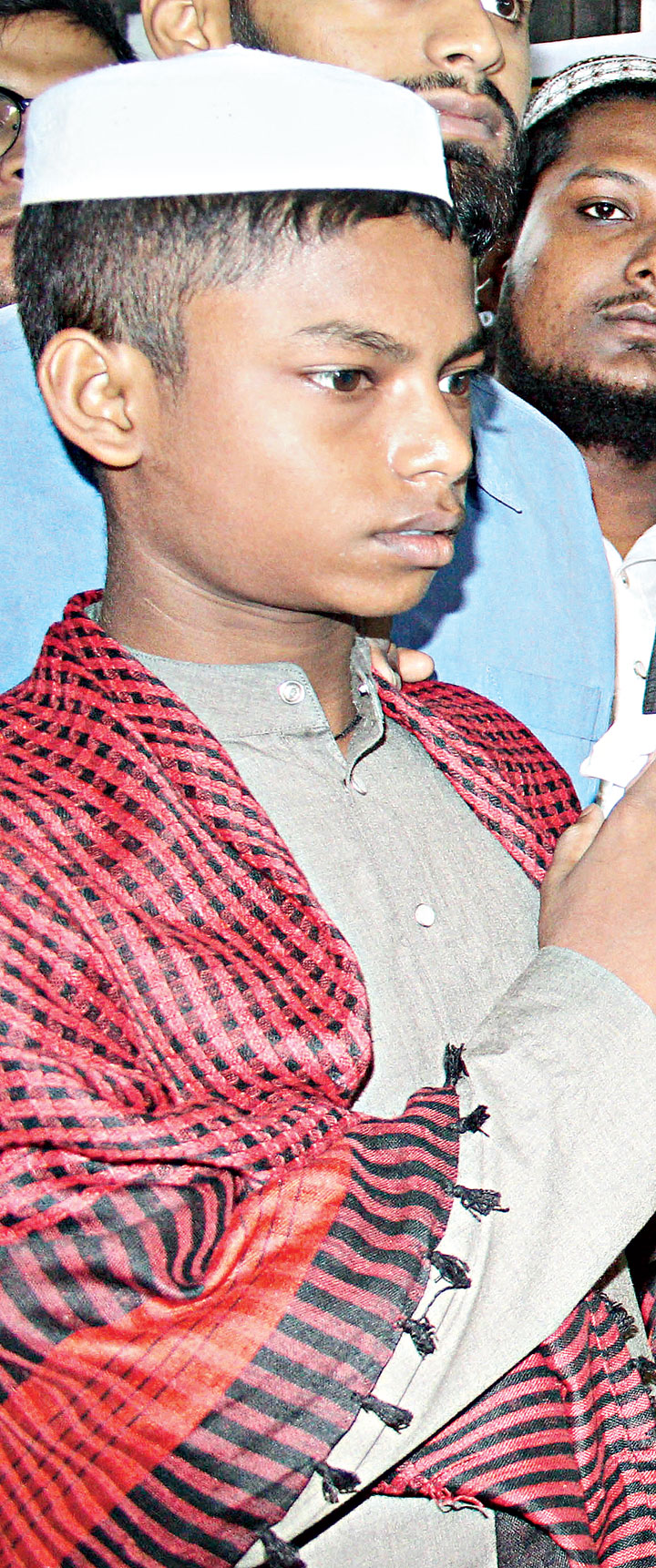 ---
|
Calcutta
|
Published 27.10.19, 08:55 PM
---
Just 13 years old and with a heart of gold.
That's Zulfiqar Ali, an ardent Mohammedan Sporting supporter.
Barely into his teens, Zulfiqar, an orphan living at a madrasa in Basirhat, donated Rs 60 he got as Eidi (gift from elders) during Id-al-Adha to contribute towards Mohammedan Sporting's team building. This was at a felicitation of Mohammedan Sporting players and coaching staff at the club tent. The event was organised by the Black Panthers Ultras fans' club.
"Meet Zulfiqar Ali — The 13 year old orphan boy donated Rs.60 to @MohammedanSC for team building which he got as Eidi during Eid al Adha," Mohammedan Sporting wrote on their Twitter handle.
So touched were Mohammedan Sporting officials by the teen's gesture that they have decided to grant him life membership once he turns 18.
"We'll make him a life member once he turns 18. We must honour Zulfiqar especially after such a gesture," club general secretary Mohammad Qamaruddin told The Telegraph on Sunday.
As of now, the club has gifted Zulfiqar with a Mohammedan Sporting jersey and a ball. "Considering what he has done, we will have his picture and contribution framed on our club premises. He deserves a special mention," senior club official Bilal Ahmed Khan said.
"We have many supporters, but hardly anyone could think like this kid did. Today we may well be struggling to get good sponsors, but the gesture from this boy points out that the rest of our supporters should come forward and do something similar to what he has done. He has set an example.Some of us and other institutes who have been associated with the club for years have been paying out of our pockets to build a football squad every season. So, if this kid can contribute, why can't our adult supporters do the same?" Bilal added.
Mohammedan Sporting technical director Dipendu Biswas, also the Basirhat South MLA, said Zulfiqar's higher education would be his responsibility.
"The boy had come to me saying he would like to contribute Rs 60 to Mohammedan Sporting's cause. I told him, 'You come to the club and pay it in front of others. Our Black Panthers Ultras fans' club then brought him to the tent.
"Since he stays in my area, I asked him to meet me and if he needs my help, I am always there to lend a helping hand.This 60 rupees is as good as Rs 60 lakh. It has come from someone who became an orphan at such a tender age... I will certainly help in his higher education. That's because I feel it's my responsibility. It's not that I want to make a name for myself," Dipendu said.
The gesture from Zulfiqar only proves interest in Calcutta football is still very much alive and the fan following of the Big Three is not just restricted to the ones who grew up in the 70s, 80s or the early 90s.
Even in an age where the Premier League or the La Liga can be watched from remote areas, Calcutta football continues to occupy a special place and attract the current as well as future generations.
It's people like Zulfiqar who try their best to keep the passion alive.