Vijay Shankar showed good composure: Virat Kohli
Captain Kohli's 40th century highlight of India's 500th ODI victory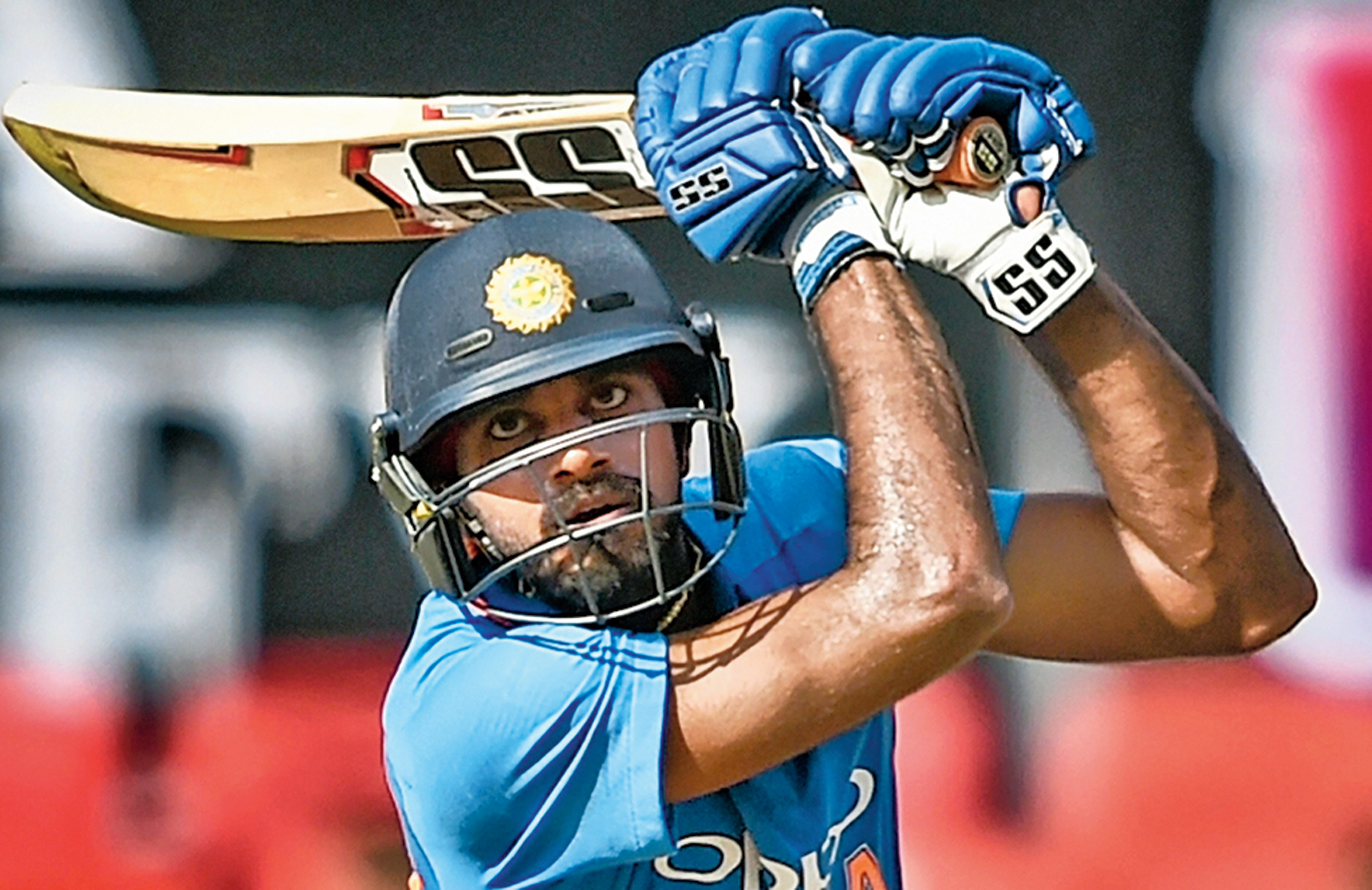 Vijay Shankar on way to his 46 off 41 balls.
PTI
---
Calcutta
|
Published 05.03.19, 09:49 PM
|
---
Captain Virat Kohli was all praise for all-rounder Vijay Shankar, who was spot-on in the final over of the second ODI, at the VCA Stadium in Nagpur on Tuesday.
With Australia needing 11 off the final over and with two wickets in hand, Shankar dismissed Marcus Stoinis and Adam Zampa that helped India pull off an eight-run victory and take a 2-0 lead in the series.
Kohli first laid the platform with his 40th ODI century that propelled India to 250 on a difficult wicket. Thereafter, Kuldeep Yadav, Jasprit Bumrah and then Shankar in the final over rose to the occasion to bowl Australia out for 242 in 49.3 overs, ensuring India their 500th victory in the one-day format.
Speaking at the post-match presentation, Kohli said: "I was thinking of using Vijay in the 46th over, but I spoke to Rohit (Sharma) and MS (Mahendra Singh Dhoni) and they said, 'To take the game till the last over, let's stick with (Mohammed) Shami and (Jasprit) Bumrah and if they get some wickets, we'll be right back in the game.' And that's exactly what happened…
"As for Vijay, he was quite composed after having a first over like that (going for 13). On a slow pitch, he just put the ball in the right areas and just asked the batsmen to do the job after that.
"He showed great composure both with bat and ball. A good game for him... He kept it stump-to-stump, kept it simple and it worked."
Lauding Bumrah for his wonderfully accurate bowling in the 46th over, Kohli emphasised the importance of winning close games especially with the World Cup being round the corner.
"Just to come through these kinds of games gives us confidence. We don't want to be a side that just dominates every game, but doesn't know to scrap for a win or work hard for a game.
"It's important to look ugly at times, but we still have to cross the line and earn a victory.
"We might get these low-scoring games in the World Cup as well and so, we need to show character to come back. We just can't give up and stand there and say, 'Oh, it was too difficult. The other team played too well.'
"We accept that on many days, but we'll fight till the end and this game was an example of that," Kohli pointed out.
About his own innings, Kohli said: "When I walk in to bat and when the situation gets difficult, I have no choice but to put my head down and bat through the innings… After almost 100 overs in the field, I'm totally exhausted.
"I'm prouder of our showing in the second innings than our first. In the first innings, I had to get stuck in because we lost wickets in bunches.
"It felt good (to get to 40 centuries). It's just a number, but it does feel good to win games for India. As long as I keep playing for India, I am happy."
On the other hand, Shankar emphasised being calm and mentally strong made his job of bowling the final over easier.
"I was ready for the challenge because I knew I had to bowl that over. So, mentally, I was prepared for that. Only if I could do it well, people would know that I'm very much able.
"This over was a much-needed one for me and gives the team the confidence that I can do it.
"My team will have their trust on me only if I keep delivering," Shankar said during the post-match media conference.
"I have bowled final overs for my club or the team I play for (in domestic cricket). But this is something everyone would love to do because you are playing for your country and you have an opportunity to help your side win the game.
"The preparation after the 48th over to stay calm helped. I was not under any pressure. To defend 11 runs wasn't easy, but fortunately eight wickets had fallen.
"And I was clear mentally and focused on hitting the stumps," he added.