US Open: Emma, the poster girl of modern-day Britain
Raducanu, who is expected to rise in world rankings from 150 to 23 when the WTA rankings will be announced on Monday, takes home $2,500,000 in prize money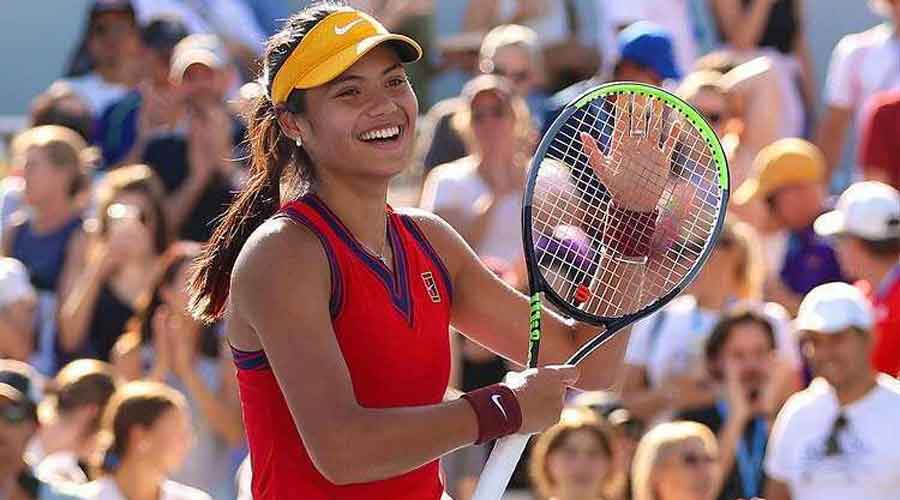 ---
London
|
Published 13.09.21, 01:08 AM
|
---
It was a day when the sombre significance of one set of numbers, 11-09-2001, was pushed to the background by another set of statistics, 6-4, 6-3.
Even as 67 candles were lit in London's Grosvenor Square to remember the Britons lost from the 2,977 people killed in the Twin Towers on the 20th anniversary of 9/11, the 18-year-old British tennis player Emma Raducanu was smashing her way to victory against Canadian fellow teenager Leylah Fernandez in the US Open before 24,000 spectators at Flushing Meadows in New York.
Maybe Emma's win is equivalent to Kapil Dev's World Cup triumph at Lord's in 1983 which transformed Indian cricket. Emma opened up her bleeding knee in the final game with the score tied at 40-40, prompting furious complaints from Leylah who believed her opponent was playing for time. But at the end the two shared a warm hug.
The match was seen live in Britain, thanks to a £1m deal cut by Channel 4 TV with Amazon Prime.
Emma's remarkable victory — she did not drop a set in the entire championship — has left Britain quite breathless with excitement, with everyone from members of the royal family, led by the Queen, to politicians, including Prime Minister Boris Johnson, piling in to congratulate "the first British female winner at Flushing Meadows since Virginia Wade in 1968".
The normally matter-of-fact BBC appeared almost lost for words: "Astonishing. Ridiculous. Meteoric. Unbelievable. Take your pick – but no word can ever really sum up what Raducanu has achieved."
But from the point of view of Britain's ethnic minorities, perhaps the most profound comment came from a south London Labour MP and medical doctor, Rosena Allin-Khan, who said: "Emma Raducanu's parents are Romanian and Chinese, she herself was born in Canada but she still proudly identifies as British. Remember this, being British can comprise a real mix. It's why we must be an open and welcoming country."
Emma is not an English rose sort of girl, with blond hair and apple cheeks. She was born on November 13, 2002, in Toronto, Canada, to Ian and Renee, who originate from Bucharest, Romania, and Shenyang, Liaoning, China, respectively. Her parents moved to Britain when she was two and Emma took up tennis at five. In her A-level school finals a couple of months ago, she obtained an A* in mathematics and an A in economics.
Her opponent, Leylah, against whom Emma has played since they were 12, is also a post-9/11 child. Leylah was born in Montreal, Quebec, Canada, on September 6, 2002. Her father Jorge is from Ecuador and is a former football player and her mother Irene (née Exevea) is a Filipino Canadian.
On Saturday, the US national anthem was played during the Changing of the Guard at Windsor Castle, while the Queen sent a 9/11 message of sympathy to President Joe Biden in an attempt to repair the US-UK special relationship that has been badly strained by the hasty manner of the American withdrawal from Afghanistan.
"My visit to the site of the World Trade Center in 2010 is held fast in my memory," she recalled.
She had to send a second message later in the day — this was handed over to Emma after her victory and read: "It is a remarkable achievement at such a young age, and is testament to your hard work and dedication. I have no doubt your outstanding performance, and that of your opponent Leylah Fernandez, will inspire the next generation of tennis players."
Sunday's newspapers initially had photographs of former US President George W Bush in prayer on their front pages but he was thrown out to accommodate Emma's pictures in late editions of the Sunday Telegraph ("She did it!") and the Sunday Times ("Huge win in the Big Apple"), while others carried headlines such as "Absolutely Emm-Ense" and "Queen of New York". The Sun on Sunday called Emma "one of the most marketable athletes in sport".
Virginia Wade, who was present at Arthur Ashe Stadium to witness Emma's win, was the last British woman to win a Grand Slam singles title — at Wimbledon in 1977.
"A star is born," tennis legend Martina Navratilova said. "Emma Raducanu makes history and she is just getting started."
The comment from Billie Jean King, introduced as "legend meets upcoming legend!", was: "What a terrific display of competition and maturity from two exceptional players. It is wonderful to see this generation living our dream."
Emma, who is expected to rise in world rankings from 150 to 23 when the WTA rankings will be announced on Monday, takes home £1.8m ($2,500,000) in prize money.
But brand expert Jonathan Shalit, chairman of the InterTalent Group, predicted a huge range of companies will now want to sign her up to advertise their products, adding: "We would say that she has the potential to earn £100 million over the next five years if she keeps winning. She is completely fresh and new, she is gorgeous and always happy, which is what we are all looking for as we come out of the pandemic."
In today's world, ethnic origins are a bit mixed up.
In the Toronto Star, commentator Rosie DiManno said: "The whooping Brits will be insufferable, basking in the glory of their first female Grand Slam champion in 44 years. You know, though, Raducanu, who was born in Toronto two months after Fernandez was born in Montreal, has a Canadian passport and dual citizenship. Canada could, if we wanted to be really mingy about it, claim Raducanu as our own, at the very least get all co-proprietary about it. Nah. We'll stick with Fernandez and revel in a marvellous tournament that ended one stride short of the triumphant finish line."
Cristian Poepscu from Romania's Digi 24 TV network pointed out: "The only thing we can say is Romanian, without any hesitation, is her name Raducanu."