Message in mother 'tongue'
Shortly after defeating Italian Camila Giorgi, Osaka was led to a courtside big screen to take a video call from her mom in Florida; she, however, faced audio connection issues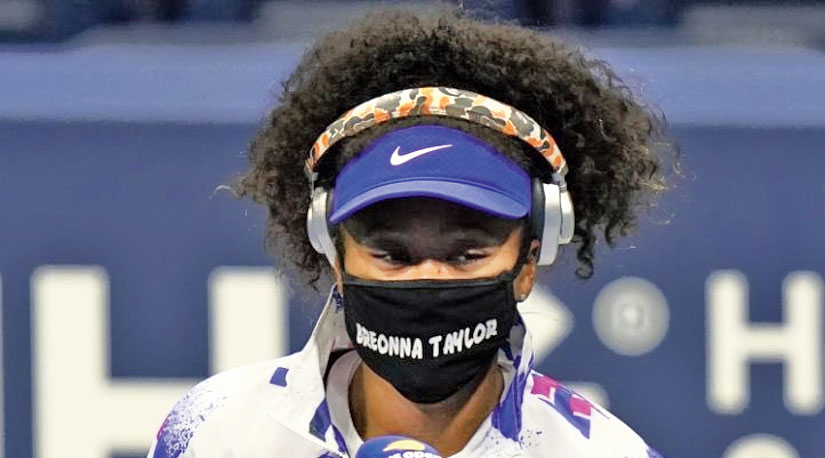 ---
|
New York
|
Published 04.09.20, 04:05 AM
---
Naomi Osaka received plenty of encouragement and advice from her mother Tamaki after her second round victory at the US Open on Wednesday, although it came in the form of emojis printed on a sheet of paper.
Shortly after defeating Italian Camila Giorgi 6-1 ,6-2, 2018 champion Osaka was led to a courtside big screen to take a video call from her mother in Florida, which momentarily caught the 22-year-old off guard.
What followed was a slightly awkward exchange between mother and daughter amid audio connection issues, before Tamaki held up a sheet of paper with her message.
"I wasn't expecting it (the call) to happen. It was a surprise. Apparently my sister told my mom to do it," Osaka told reporters, before deciphering her mother's message.
"There were four lines. Thumbs up fire, which is like 'good job'. There was like a Twitter bird, whatever... And 'I love you'.
"... It was kind of a tech issue because normally I'm able to talk to her quite soundly. It would be kind of bad if all our conversations ended up like that. Definitely was a tech issue."
Mask says it all
On Wednesday, Osaka stepped into the Arthur Ashe Stadium wearing a mask that read "Elijah McClain", harnessing tennis's global appeal in her fight for racial justice.
The 22-year-old's mask honoured McClain, the 23-year-old Black man who died after a violent encounter with Aurora, Colorado, police officers in 2019. "I think tennis — people watch it all around the world," she said in a televised interview after her match. "Things that we think (are) common names (are) probably not common overseas."
She had previously worn a mask honouring Breonna Taylor, a Black woman killed by police officers who burst into her apartment in March, at her first-round match on Monday, and said she had seven different masks with her at the tournament.