'Two more' than Roger, too little for Advani
Sunday's title was his fourth on the trot in the 150-up format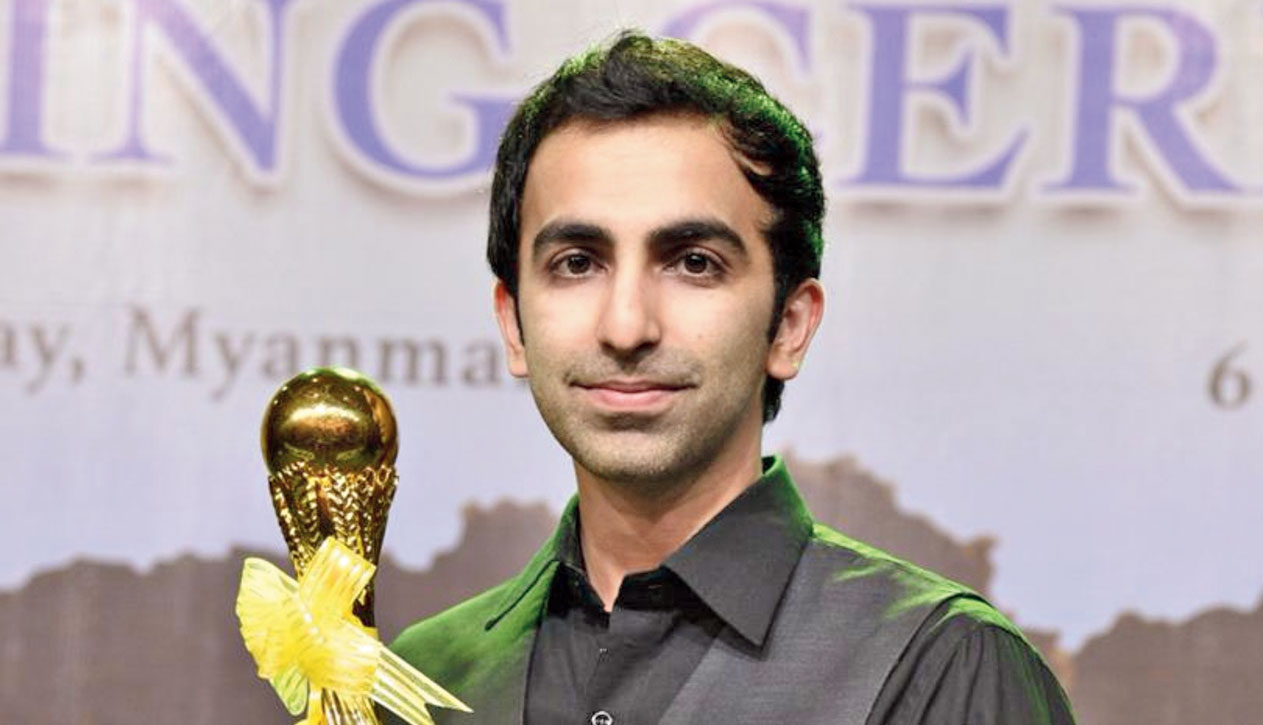 ---
|
Calcutta
|
Published 15.09.19, 08:23 PM
---
Twentytwo and counting. That's Pankaj Advani for you.
On Sunday, in Mandalay, Myanmar, the 34-year-old Advani added one more to his already bulging kitty of world titles by beating local favourite Nay Thway Oo 6-2 in the 150-up format of the IBSF World Billiards Championship.
So when The Telegraph asked him if he has any plans to stop, the 34-year-old replied laughing: "Do you want me to?"
It's amazing how Advani keeps raising the bar. He has extended his remarkable run of winning global crowns since 2003 and the Bangalore-based cueist has now won more world titles in his sport than anyone else. Sunday's title was his fourth on the trot in the 150-up format and, interestingly, beating the same opponent for the second year in a row by an identical score.
"I play four to five World Championships a year. Unlike others, who concentrate either on billiards or snooker, I play all the formats. That's a huge plus for me," Advani said on Sunday evening. "And I am still as motivated and excited as I used to be in 2003 or 2004. I do not like resting on my laurels and keep pushing myself. So there is no dearth in motivation," the articulate cueist said.
In the short format of billiards, this is Pankaj's fifth title in the last six years. So how does he see that? "It's such a touch-and-go format and so unpredictable that winning this four years on the trot and five out of the last six is extremely special," he said.
His favourite Roger Federer has won 20 Grand Slam titles. So how does it feel to win two more than the sportsperson he admires the most? "Not bad. But on a serious note, as I said earlier, I play more world meets than anyone else."
In individual sport, India has seen icons like 1980 All England badminton champion Prakash Padukone, five-time world chess champion Viswanathan Anand and wrestler Sushil Kumar, Olympic medallist in 2008 and 2012, inspiring a generation of athletes. But we haven't seen that many youngsters take up cue sports following Advani's stupendous performance.
"Well, it's unfair to say cue sports is not there compared to badminton, chess or wrestling. It's catching up first, but maybe it has to make more noise. The schools and colleges are giving space to this game.
"So that's a huge plus I think. And if you ask me about my contribution then the impact of Pankaj Advani's contribution to the game would only be felt 25 years down the line…. When it goes to every nook and corner of the country," the 2018 Padma Bhushan awardee said.
His Cue School by Pankaj Advani (CSPA) is India's first chain of cue sports academies and DPS Sarjapur is already up and running. "It's already there and there is a huge response. And now I am planning to have another one with the Jain Group of Colleges where I studied. They are investing a lot on cricket, football and also cue sports. So that will start in another six months," he said.
Talking about the match, from the word go, Pankaj was in full flow. He was leading 3-0 at the halfway mark thanks to fluent breaks comprising 145, 89 and 127. Such was his dominance that Oo was yet to open his account.
After pulling one back with breaks of 63 and 62, Oo was forced to watch Advani extend the lead. He executed with flair as his sheer brilliance was on display, wowing the Myanmar crowd as they couldn't help but appreciate his brilliant billiards.
So what next? "I have to now adjust to snooker. The IBSF World Six-Red Snooker starts on Monday and then there is World Team Snooker Championships."