'There's a definite sense of insecurity' - Chappell is first concerned about himself... His happiness counts most, says Team India player
Read more below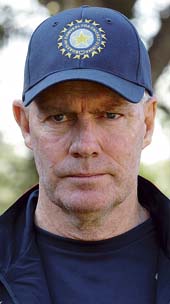 ---
|
Calcutta
|
Published 30.03.07, 12:00 AM
---
Greg Chappell
Calcutta: It's unclear just how many of his wards genuinely respect Greg Chappell, but Tuesday's SMS-leak hasn't increased the coach's popularity among those who share the dressing room.
"The SMS confirms what most of us realised a long time ago — that Chappell is first concerned about himself... His happiness counts most... Everything else comes later," remarked one of the Team India players in a chat with The Telegraph.
Speaking some hours after returning from the World Cup, he added: "Some of us got to know about the SMS as we were leaving the West Indies, others during transit in London... It's not nice knowing that the coach wasn't pleased with the bunch that went to the World Cup... I wonder why he didn't make an issue when the selection was done?"
Among other things, Chappell's SMS to a Bangalore-based journalist some days after the 15-strong squad was picked, talked of his unhappiness and chief selector Dilip Vengsarkar's reluctance to take youngsters.
"The allegation about seniors ganging up (to keep out youngsters) can't do much for team spirit... This leak couldn't have come at a worse time... Confidence is low... We're depressed and there's a definite sense of insecurity," the player said.
However, it's comforting that "nobody" wants to indulge in a blame-game. "The good thing is that we've realised nothing can be gained by blaming X or Y... We didn't set out to, but the reality is we failed collectively... It's terrible being back home so soon."
The janata may want to lynch the players, but they need space and time to prepare for the challenges ahead: Chiefly, the tour of England, a home series versus Pakistan and the tour of Australia.
Incidentally, Chappell's SMS has landed Board president Sharad Pawar too in an awkward position. After all, the national team is announced only after the supremo's consent and, clearly, like the selectors Pawar felt the best had been picked.
Chappell was contracted till the World Cup and the "mood," so to say, is against an extension. Sources, though, inform that somebody very influential in the Board is "lobbying" to keep him on board.
"This person is known to have strong views on players and holds them alone responsible for their failure... It's to be seen whether anybody gets convinced about the need to continue with Chappell," is how one source put it.
Chappell was among those who landed in Mumbai late on Wednesday, but Board secretary Niranjan Shah (who received the ones who touched down there, with chief administrative officer Prof. Ratnakar Shetty) insisted they didn't really interact.
"Whatever is to be communicated will be done on April 6, when the president meets the captain (Rahul Dravid), coach and the manager (Sanjay Jagdale)," Shah maintained.
He added: "You must not expect developments between now and then..."