T20 World Cup: Bhuvneshwar Kumar's Dravid praise
The Indian cricketers will get more time to adapt to the conditions before the T20 World Cup as the remainder of this year's IPL is also slotted in the UAE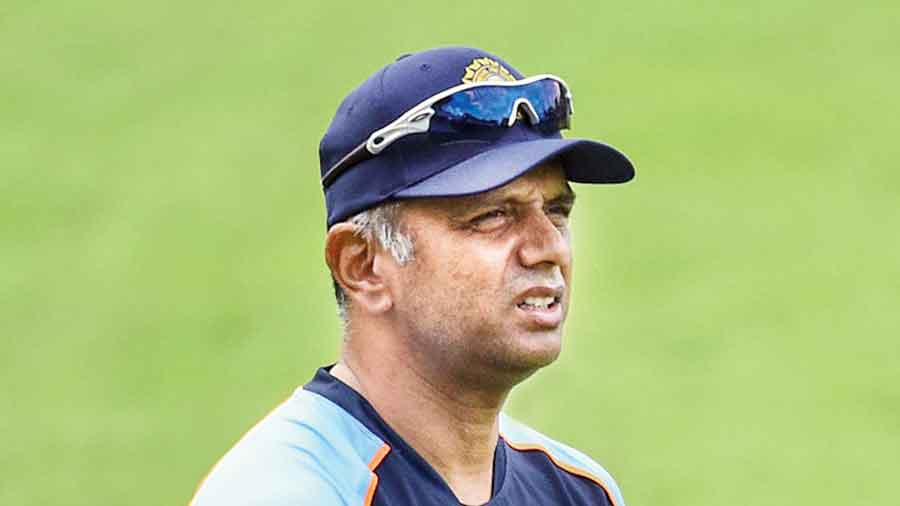 Head coach Rahul Dravid's uncomplicated approach has also kept the side in good mindspace, Bhuvneshwar said. "What he seems to do is keep things simple and we enjoy them."
File picture
---
Calcutta
|
Published 17.07.21, 01:00 AM
|
---
The success Bhuvneshwar Kumar had bowling on belters in Pune during the limited-overs matches against England in March, it's obvious that he would be one of India's go-to bowlers in the T20 World Cup beginning from October 17.
The Indian cricketers will get more time to adapt to the conditions before the T20 World Cup as the remainder of this year's IPL is also slotted in the UAE. But in terms of T20Is, India have only three more games to play ahead of the showpiece event, the upcoming series versus Sri Lanka in Colombo that begins on July 25 after the three ODIs.
For Bhuvneshwar though, what's paramount is execution of skills.
"The World Cup is round the corner, so we want to do well in the coming T20Is. Individually, it's also about executing your skills along with performing.
"Sometimes you do well with the execution part, yet you don't get wickets. But of course, as a team, we want to win all matches which will keep us well placed going into the World Cup," the 31-year-old quick said on Friday.
Head coach Rahul Dravid's uncomplicated approach has also kept the Shikhar Dhawan-led side in good mindspace, Bhuvneshwar emphasised. "We spent 14 days in quarantine in Mumbai (before arriving in Colombo). After seven days, we were out for training in the gym. So we met him (Dravid) there first.
"What he seems to do is keep things simple. Both the seniors and young guys listen to whatever he has been planning. So when things are really simple, we enjoy them.
"And once the matches begin, there will be planning and strategic parts where we'll get to learn more from him," Bhuvneshwar pointed out.
Injuries have been a bane for Bhuvneshwar, sidelining him on several occasions in the past even when he seemed to be bowling in top gear. Being careful so that it doesn't happen again, he's focusing on aspects like workload, recovering quickly after a game and the advice from trainers and physios.
His ability to swing the ball both ways had some experts question his absence in the upcoming five-Test series in England. On his part, however, Bhuvneshwar doesn't appear to be too disappointed on not being among the India regulars for the England Tests. Neither does want to go into prioritising white-ball or red-ball cricket.
"Honestly, there's no priority for me as to whether it's red-ball or white-ball cricket. If I'm selected for a red-ball game, I'll definitely try to contribute. But I'm not looking to prioritise white-ball or red-ball cricket. I'm preparing for all formats.
For the record, Bhuvneshwar last played a Test way back in January 2018, versus South Africa in Johannesburg, which also happens to be his last first-class appearance.
Dasun Sanaka will lead Sri Lanka in the limited-overs series against India, replacing Kusal Perera who is sidelined with a shoulder injury, the country's cricket board said on Friday.
Hopeful Lankans
For the beleaguered Sri Lanka, hope alone can be their guiding force in the limited-overs matches versus India, feels Russel Arnold.
"Kusal Perera going out of the team also lands a mental blow to the side.
"So can Sri Lanka pick themselves up from such a situation? They are hoping that someone shines, someone pushes India and then they are able to trip the visitors. So that's the starting point before I can say how to beat India.
"I'm just hoping for a special performance from someone somewhere," the former Sri Lanka middle-order batsman, who played 44 Tests, 180 ODIs and a T20I, told select media during an interaction facilitated by Sony.