T20 World Cup: Back in form, David Warner does a Cristiano, almost
It is safe to assume that the Australian has just rediscovered his form and mood to play such cameos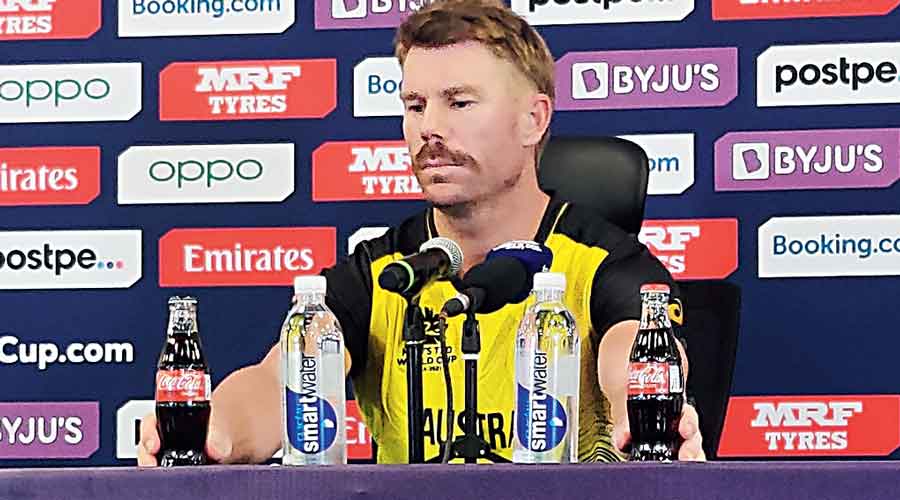 David Warner during the media conference in Dubai on Thursday.
Twitter
---
Published 30.10.21, 01:26 AM
|
---
Post a prolonged dry run with the bat, coupled with the humiliation of being dropped from the team during the IPL, one cannot really blame David Warner if he felt like Cristiano Ronaldo after getting back among runs on Thursday, in the T20 World Cup match against Sri Lanka in Dubai.
What did the Australia opener do? He did a Cristiano by removing Coca-Cola bottles, a couple of them, placed in front of him during the post-match media conference. It was done in jest though and the bottles returned to their designated places after a brief while. 
"Can I remove these? Though I have to put it there," Warner said with a smile, visibly relieved after playing a good hand in Australia's seven-wicket win over Lanka. "If it's good enough for Cristiano, it's good enough for me. That's right," he added while putting the two bottles back.
Cristiano had famously removed bottles of the soft drink during a media conference ahead of Portugal's European Championships match against Hungary in June earlier this year and it had reportedly cost the global beverage giant a whopping $4 billion. The soccer superstar had instead chosen a bottle of water, seemingly urging people to choose it over aerated drinks.  
Warner, however, did not drop any such specific message, neither is there any report of his act, which too has gathered considerable social media traction, of triggering any financial after-effect.
It is perhaps safe to assume that the Australian has just rediscovered his form and mood to play such cameos. 
Criticism welcome
Despite facing heavy criticism in the last couple of months, the left-handed opener made it clear that he doesn't intend to duck to any tough questions that is thrown at him.  
"Shutting the critics down? No, never. That's the world of sport. When you ride the highs, you've got to ride the lows and you've got to stay confident, keep a smile on your face, and never let it get to you," Warner, who scored a 42-ball 65 on Thursday, said at the media conference.
He had scored 0 and 2 in the two IPL matches for Sunrisers Hyderabad in the second leg before being sidelined. Warner did not fare any better in the warm-up matches ahead of the World Cup, scoring 0 and 1, before managing a 14 in Australia's tournament opener against South Africa.
"I had to obviously start fresh. Everyone was talking about my form, which I reiterated was not a thing I was worried about. It was about going out there and starting well," said Warner.            
He also practised on concrete wickets ahead of the Lanka match, about which he said: "You need to sometimes go back to a little bit of basics and getting bat on ball and just doing your normal drills and get your feet dancing. I think that's helped, and that's something we'll keep continuing through this World Cup."    
About their strategy against the Lankan bowlers, Warner said: "For us it was really important to have a nice stable base, and seeing (Aaron) Finchy play straight down the ground and that nice back cut, that's nice and still. It means you're watching the ball. It means your weight is going through the ball. It's the same process with myself. You've got to have a nice stable base on these wickets."