Sunil Chhetri asks youngsters to watch out for 'sign' of trouble
The charismatic striker, who completes 15 years in national colours on Friday, talks to The Telegraph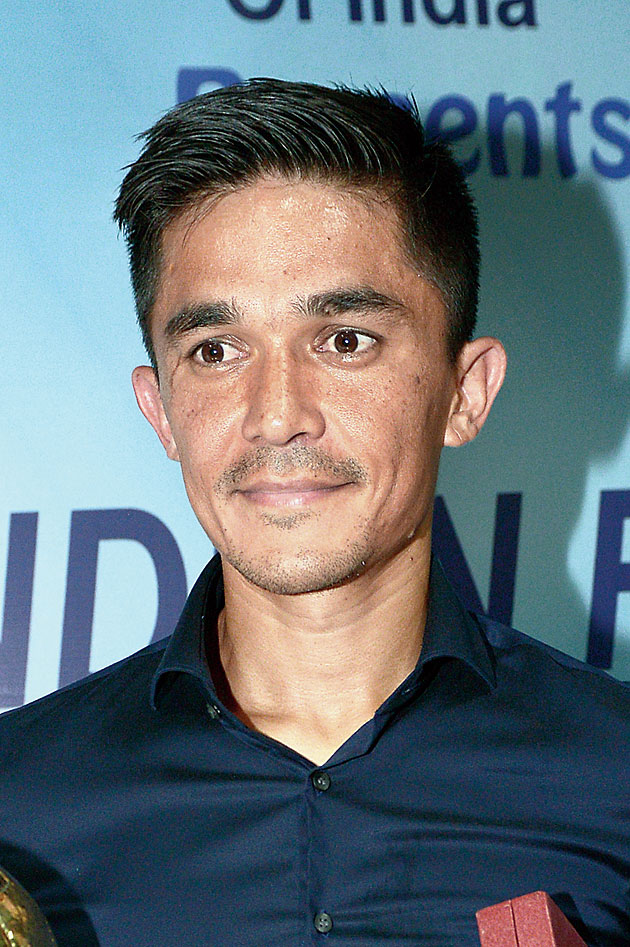 Sunil Chhetri
(File picture)
---
Calcutta
|
Published 12.06.20, 02:32 AM
|
---
Articulate and savvy, Sunil Chhetri is always a delight to talk to. The Bengaluru FC and India national football team captain completes 15 years in national colours on Friday. On the eve of the red-letter day, the man with 72 goals in 115 matches for his country took time out to speak to The Telegraph from the JSW-owned Inspire Institute of Sport in Bellary, Karnataka.
Excerpts
The Telegraph: Will muscle memory be a challenge for a sportsperson when he or she returns to action after lockdown?
Sunil Chhetri: I don't think so. To come back to the same fitness level as a team will be a challenge because you never know who was doing what at home, although the club (Bengaluru FC) and the national team are working hard, providing us with all the training methods and drills. We have WhatsApp groups for the club as well as the national team where our fitness coaches are providing us with all the training structure. I hope all of us are following it. It's not going to be the same as what you do at a proper pitch or a gym, but still we are trying to stay as fit as possible. So I do not think muscle memory will be a problem, but to attain the same level of fitness as a team would be one.
The AFC has tentatively slated three remaining World Cup qualifiers in October (8th and 12th) and November (17th). That means the ISL may not start before last week of November. Do you think pre-season of ISL clubs will get hampered since national coach Igor Stimac would love to have a longer camp this time around?
If we are going to play the first match on October 8 against Qatar, then probably we will have pre-season with the national team eight weeks before that. If we start from August and ISL, as you are saying, starts from November, then the pre-season for the ISL clubs would begin in September. That means clubs will lose the players who are with the national team for the pre-season. But that is something which is not new. It has happened before also. The boys who do not get selected for the national team go back to the clubs and carry on with the pres-season rituals.
During lockdown, we have seen clubs applying the force majeure clause to unilaterally terminate players' contracts. Players also often complain about clubs taking them for a ride. What will your advice be to young players on signing a contract?
Do not sign things which you do not understand. That's the first and very important thing for all young players. Do not get carried away by what you hear in terms of money. Whenever you are signing anything, read it a hundred times with the people you trust. It can be the agent, can be your parent or brother… Whoever you trust. Make sure you get as much help as possible from a lawyer. Do your research and be as sure as possible before signing it. I also understand it's a difficult time when everyone is losing money and everyone is feeling the pinch. But the clubs must realise that if you treat players like this, then the players will not be able to perform to the best of their capabilities. You rather be a club where you sign one or two players less, but have everyone, fulfil their potential and be happy at the club. If say an X club do not pay the players, then there could be a situation where other players may not be keen to sign for that club. So I do not think this a good sign for the system. Respecting the contract is very important for both the sides - the players as well as the club.
What has the lockdown period taught you?
I have learnt a lot of things… Most important, to stay calm. Also, I feel I am blessed and fortunate when I see all the miseries my fellow countrymen are going through. I do not think, to be honest, apart from not going out, I have faced any problem. There was so much distress my fellow countrymen have faced. I think I personally have to be very kind and considerate in giving more to the country than what I have been giving. Also I have a new-found respect for life. Anything can happen anytime and we shouldn't take life for granted.
On Friday you complete 15 years in India colours. What are the changes you have seen in the last decade-and-a-half?
A lot of changes have taken place in Indian football in the last 15 years. Awareness among the people - football also has started getting more importance now than it used to get 15 years ago. Whether it's the infrastructure or facilities or identifying talent, everything has improved by leaps and bounds. We still have a long way to go though. You cannot just sit back and relax. If we aspire to be in the top-10 of Asian football and stay there for a long time, we have to work really hard.And when I say we, I mean every one of us.
What are your highs and lows as an India player?
It's difficult to pick out one match. Most memorable will be my debut as the national team player (on June 12, 2005, versus Pakistan, in Quetta). I mean, when you start playing football your dream is always to represent your country. So that is memorable. Then when we defeated Thailand 4-1 in 2019 Asian Cup… That was an important milestone. Worst match if I can remember was the game we lost to Myanmar in a qualifying match for the Asian Cup. That loss ruined our chances of advancing. Me and my team were desperate to play the Asian Cup finals for the second time running. If we had played in 2015 after 2011 and then again we played in 2019, that would have been a consistent graph.
When you started, did you think of serving India for this long?
No chance. When I started… that first day in Mohun Bagan, I did not think I would be playing for the national team. The dream was there but playing for 15 years, captaining India, playing over 100 matches.. No, I never dreamt of those things.
What's your take on football without fans?
I do not think it's an ideal situation. I am a little bit orthodox on this. One of the main reasons why we play football is for the fans. So it's going to be difficult and will not be the same. But having said that, a few weeks back I saw a Bundesliga game and as a fan I was very happy. If we cannot get the best option, which is to have fans, the second best option is the watch on television. And even that gives us happiness. So I think football or any other sport can restart when it is safe, even if at that point in time fans cannot come. Because, live matches are still a treat to your eyes.