Signal of new dawn in tennis
After 4th ATP title, teenager Carlos Alcaraz seen as legacy-bearer of Big 3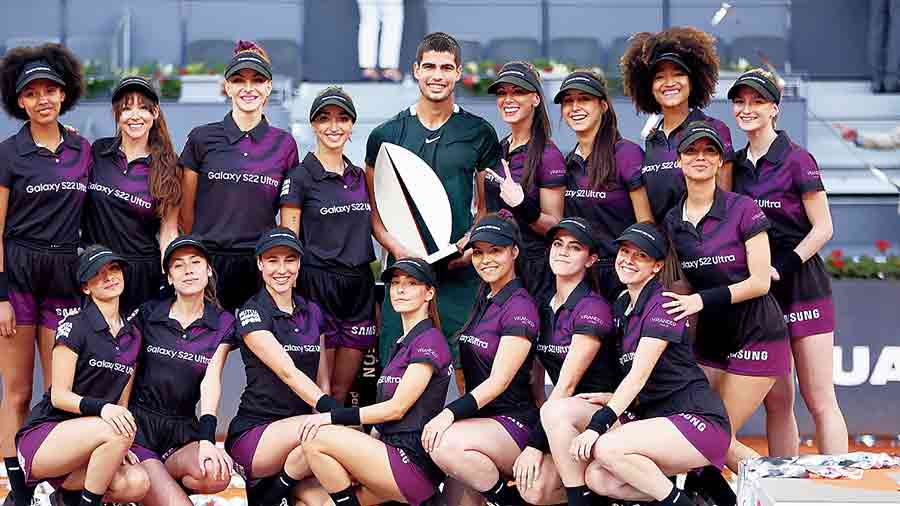 Carlos Alcaraz holds the Madrid Open winner's trophy as he poses with the ballgirls in Madrid on Sunday
Getty Images
---
Calcutta
|
Published 10.05.22, 02:10 AM
|
---
It is not easy to stay grounded as a teenager, it is tougher to be a teen sportsperson, as Emma Raducanu is finding out, and it can only get even more difficult when you are compared to someone who has bagged 21 grand slam singles titles.
But 19-year-old Carlos Alcaraz seems to be handling the pressure well, so far. The dazzling smile the teenager flashes every time he chips away at some record or gives far more established players a run for their money underscores his confidence and indicates that he has it in him to reach the very top.
Having turned pro at the age of 15, the youngster from El Palmar, a village in Murcia, Spain, has already been touted as the next Rafael Nadal.
It may sound like a tall order, but the past week in Madrid is testimony that he has arrived, and is certainly a candidate who can change the face of international tennis that has largely been dominated by the Big Three — Roger Federer, Novak Djokovic and, of course, Nadal.
On Sunday, Alcaraz captured his fourth ATP title of the season at the Madrid Open. What made the title special was not just the fact that he thrashed defending champion Alexander Zverev 6-3, 6-1 in the claycourt final, but had got the better of Nadal and Djokovic en route to the title clash.
Outside the top 100 a year ago, Alcaraz is now ranked sixth. He became the youngest champion in Madrid, and the first player to beat both Nadal and Djokovic at the same claycourt event. He is also the youngest since the start of the ATP Tour in 1990 to defeat three top-five players at the same event.
Having won at Miami earlier, Alcaraz is now the second youngest player to win two ATP 1000 titles, headed only by compatriot Nadal, who was 18 when he captured his second.
Zverev summed up what many in the tennis circuit must be feeling at the moment. "Right now you are the best player in the world," Zverev said on Sunday, after losing the final. "It is great for tennis that we have such a new superstar that is going to win so many grand slams, that is going to be world No.1 and I think is going to win this tournament many more times."
Alcaraz, however, has shown only humility. "Look at Rafa, Djokovic, Federer, all of them improve and they have things to improve," he said, looking ahead to the French Open, which starts on Monday.
"Right now I'm trying to just assimilate everything that I am going through. This year ... people are going to think that I'm going to be one of the favourites to win Roland Garros. I have it as a motivation... I am really looking forward to show my great level in a grand slam too."
The Spaniard, however, has pulled out of the Italian Open due to an ankle injury which he sustained during the quarter-final in Madrid against Nadal.
His coach, Spanish former world No.1 Juan Carlos Ferrero was comfortable playing on all surfaces. Alcaraz seems to be emulating that. He also has the ability to mix fantastic groundstrokes with drop shots and net play that keeps his opponents guessing. That has also earned him a bit of a comparison with none other than Federer.
Nadal had been generous in his praise for his young compatriot. "I think he will be unstoppable in terms of his career. He has all the ingredients and passion. Also, he is humble enough to work hard. Carlos reminds me a lot of myself when I was 17 or 18. I think he has the passion, talent and physical components...
"To have another young tennis star from Spain is fantastic. Our compatriots will have a chance to enjoy his matches for many years. Carlos is a great guy; I like him and wish him all the best," Nadal had said in March during the Indian Wells Masters.
Will Alcaraz be the next GOAT? The answer may take a few more years to come. But he surely has the advantage.
(Written with inputs from Reuters)