Sanjiv Goenka and Antonio Lopez Habas on ATK's recipe for success
ATK recently beat Chennaiyin and notched up their third win in ISL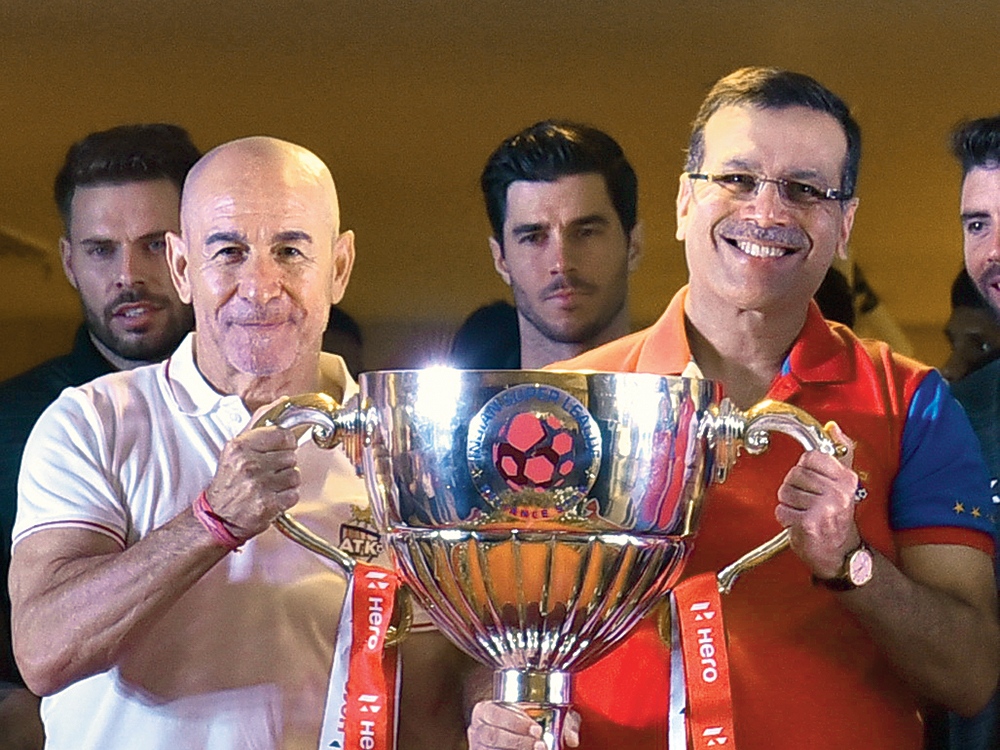 ---
---
When we had caught up with ATK's principal owner Sanjiv Goenka and head coach Antonio Lopez Habas, who was coming back to the team after a hiatus, in October 2019, just before they played their first game of ISL, there was a quiet assurance of delivering and a subtle upbeatness about an exciting season with a fresh team. Remember they were the two-time champions of Indian Super League (ISL), trying to turn it around, after a couple of lukewarm seasons. They wore cautious but confident smiles.
The confident smiles had turned joyful on Sunday when we met the duo again, this time as the champions of ISL 2020. ATK beat Chennaiyin FC 3-1 to empty stands in Goa on Saturday, notching up their third win in ISL. "Failures make you stronger and wiser," said Sanjiv, before settling down for the mandatory victory chat.
So, Sanjiv, all's well that ends well…
Sanjiv: It's been a season which has had a lot of planning… he (head coach Antonio Lopez Habas) thinks. Even yesterday in the finals… the changes he made… unconventional… he got in Mandi for Roy (Krishna) and (Victor) Mongil for Mandi. Very interesting changes. And they worked. Playing with three foreign strikers, he made that change a few games ago. He's constantly changed the combination… the three-five-two… that was a unique thing for Indian football. He's constantly innovating, adapting, depending upon the opposition and I think these two work very well. They brought in huge discipline to the team and among the players.
Sanjiv, you look calm vis-a-vis the first time. What is the difference in terms of feeling?
Sanjiv: …feel happy… feel satisfied… as you get older, responses to every situation becomes a little different. For me, celebrations are becoming different. It's quiet and muted. You mentally and emotionally thank everyone who have contributed to the success and you thank god for all the blessings. The expression and communications become different.
I think right now… what's on my mind is… since the morning… I have spoken with Raghu Iyer (CEO, ATK) twice… what are the improvements we do for next season. You can't win every season... this is a sport... there are days you play well and there are days when nothing goes right for you. Having said that, it is about building a team that blends well together. You know the old saying that 1+1 is 11… so, if 11 players are combining well, they can be a very potent force. You had a situation where Roy could have taken the penalty in the second leg of the semi-finals but he allowed David (Williams) to do it. So, he sacrificed his Golden Boot to give boost to another player and then you saw after that goal how encouraged David became and how he got that header which was the winning goal. It's about teamwork and it's about giving everyone space and encouragement and motivation. So, it's not about individual goals and I think that's one thing that Antonio does very well.
Sanjiv, you watched ATK lift the ISL trophy for the third time in an empty stadium (a move to combat coronavirus)!
Sanjiv: At the end of the day, everyone's health and safety is far more important. For any sport, crowds are an integral part of the thing but you have to recognise that this is a national need and you have to go with that.
Antonio, you had told us at the beginning of the season… it's one game at a time. That's paid off…
Antonio: That was the strategy because practically we didn't know the team or most of the players. It was more intelligent for us to go match to match. We had to choose the best possibility to win the games. What was more important for me was that the players grow with the team. I am training in professional football for 32 years. I feel I have never had one squad with less problems. They should be working towards the same target. No arguments or fights.
Antonio, what were the high points for you?
Antonio: I feel we were a solid team. We found a balance between attack and defence.
Antonio, it is a long tournament with highs and lows. As a coach, what is your motivation mantra?
Antonio: I feel the best manner to play or consolidate is to think as a team… the unity and solidarity. As a coach, it is important to keep the attitude intact. You'll also have to control too much motivation. I think Bengaluru FC and Goa (Goa FC) at home, NorthEast (United FC)… we won 3-0 and it was a constant motivation for the rest of the matches.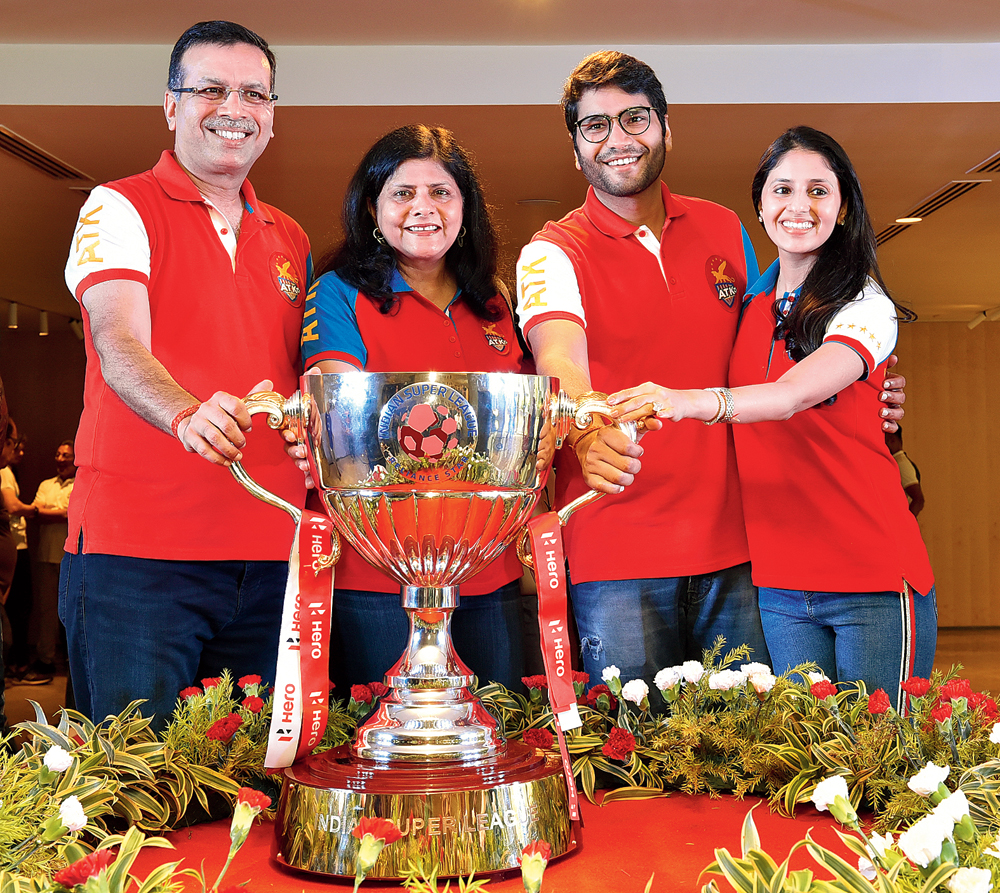 What about you, Sanjiv?
Sanjiv: I think to me, the game against Bangalore in the second leg of the semi-finals was a significant game. I can actually think of many moves and moments which were crucial and defining. This is what makes a season. The memories, the actions…. I think him (Habas) actually going with all three strikers in the semi-final is something we hadn't done before…. That was a huge difference. He's not standard. I don't know how else to describe it. He changes.
Sanjiv, you have worked with him for three terms…
Sanjiv: Frankly, for the first two years, I wasn't involved and it was ATM (Atletico Madrid) which was running the show. Yes, we did meet on those occasions and we've had one-on-one interactions, but this is the first season we really worked together and I think he is a wonderful person to work with.
I can't say that I discovered something that one didn't know. I saw at closer lengths his ability to think, change, motivate players. Yesterday at the team meeting before the finals, each player had a specific brief. This has happened before other matches too. For many, playing the ISL final was a very big thing. They were nervous. How he spoke to them, how he calmed them and gave them directions on what is to be done….
In the game against Goa, (Ferran) Corominas wasn't allowed to move. He had him blocked. Against Bangalore (Bengaluru FC), he had (Sunil) Chhetri blocked. Yesterday he had (Nerijus) Valskis blocked. It sounds very easy when you say it, but it is difficult. I am aware of how he spoke to every player in detail. He didn't let pressure get to them. I think these are the hallmarks of a great coach.
Was there a turning point which made the belief firm that ATK is winning ISL this time?
Antonio: May be after the match here in Odisha, we created a half possibility to play in the semi-finals.... The situation was more clear for us.
Sanjiv: Quite honestly, after our third game, I somehow felt that we have a really good chance of winning. We were stronger than other teams and more balanced. I have not once since then felt that we are not winning.
Yesterday, I watched Lamhe before the finals, something I wouldn't have done in the previous seasons. I was so relaxed…. Lamhe is one of my favourite films.
Where do you see ATK now vis-a-vis previous seasons?
Sanjiv: ATK has grown a lot but so have other teams and we have to keep growing. Every season it going to be a redefinition of standards and benchmarks. We have to keep growing, but what's amazing about the league is when you see the leadership of Mrs (Nita) Ambani and you see her vision. You just stand at a distance and say 'hats off'! You see some of the owners. You see Parth Jindal (Bengaluru FC). And you see the passion and the warmth. You see Vita Dani (of Chennaiyin FC). It is about interacting with great people and good human beings.
Antonio, any weaknesses you have noticed in the ATK team you have come back to?
Antonio: May be the loss of important players… technically we have to improve. All the teams want to win and we have to be the better team and more consolidated in the competition.
And, double bonanza for you Sanjiv. Mohun Bagan won I-League…
Sanjiv: I say this is god's blessing. Achievement is always celebratory. It's a recognition of effort and so it is very satisfying. Mohun Bagan is a legacy club and a great club. We are fortunate to have Mohun Bagan as part of the family. I think you learn from everyone. Every day is a new day. He (Habas) was sitting out in a game and I was seeing how he was giving instructions. You learn from that. You learn from every situation.
Sanjiv, next year is going to be special (with ATK and Mohun Bagan merging)...
Sanjiv: It's a little early in the day, but all I can say is we will definitely be better than what we were this year.