Saha expects Sourav to be players' president
Sourav wants Saha to perform "in front of the stumps too" if he had to play "more" Test matches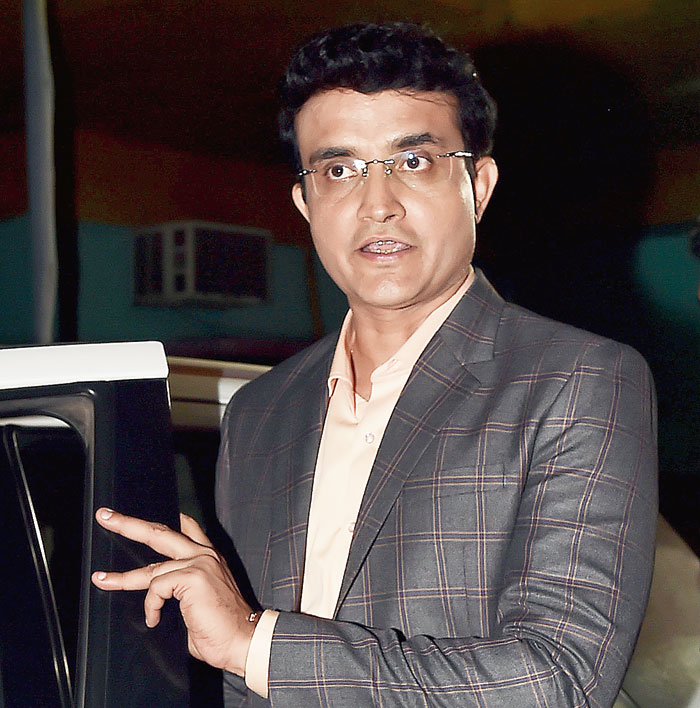 ---
Ranchi
|
Published 18.10.19, 09:02 PM
|
---
Sourav Ganguly's ascension to the BCCI throne, which remains a mere formality to be performed on October 23, will not only be beneficial for Indian cricket overall, but also will help the players since the Board's president-elect used to be a cricketer himself, feels Wriddhiman Saha.
"I would like to say that Dadi being in this position will benefit Indian cricket and also the players particularly. I believe so.
"Dadi has represented the country for such a long time and dominated both as a player and captain. He knows really well the demands in the field of sports and players' mindset and what they want.
"So, he can help us and his advice could benefit the team or an individual. It could also be about a team goal… He might certainly bring about more improvements.
"If anything that we require is not happening, Dadi can make that happen because he knows how to get it done," said Saha, on the eve of India's third and final Test versus South at the JSCA International Stadium.
When reminded that Sourav wants him to perform "in front of the stumps too" if he had to play "more" Test matches, Saha said: "Everyone who's there in the team tries to contribute in whatever way he can. Like I do as a wicketkeeper... But on some days it works, some days it doesn't. That's how it is."
Saha's comeback in the team and his wicketkeeping so far in Visakhapatnam and Pune make it all the more tougher for Rishabh Pant to return to the Test XI.
But the Bengal stumper talked about coordination, and not competition, between Pant and him.
"Look, we discuss things between ourselves. That is what normally 'keepers do… Two of us and the fielding coach R. Sridhar discuss/work on how to keep on certain wickets.
"Rishabh observes from outside what I am doing and I also do the same when he plays. Just like I was a keen observer of what he did in the Test series in the West Indies.
"So, we work on these things during practice sessions. The coordination among us is just wonderful. If I make a mistake, he points it out and if I feel he needs improvement in any area, I tell him accordingly. That's how it works," Saha explained.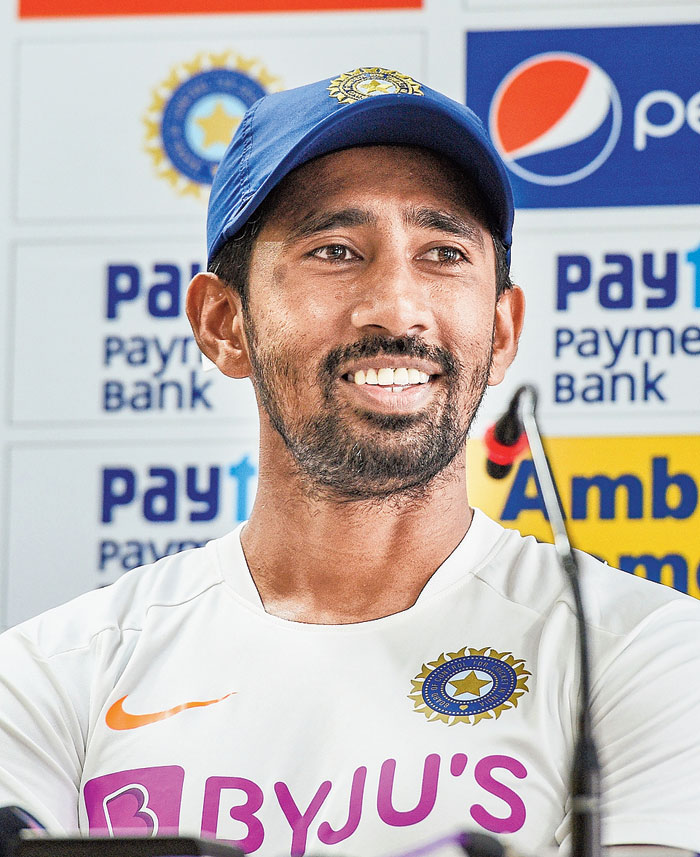 Saha has fond memories of Ranchi, as the previous Test — which was also the first here — versus Australia witnessed a magnificent 199-run stand for the seventh wicket between Cheteshwar Pujara and himself.
"I had made a century… Scored 117 if I remember correctly, in the last Test here. That's obviously there on my mind… how I approached that knock. Unfortunately, the match was drawn, but we will definitely try to win this one and make it 3-0 in this series," Saha vowed.
However, the attitude of some towards wicketkeepers makes Saha feel 'keeping is a "thankless" job. But the job is never easy especially on Indian wickets when keeping to the likes of Ravichandran Ashwin and Ravindra Jadeja.
"If you watch carefully, it's not quite easy keeping anywhere. Wicketkeeping is more of a thankless job as people think since the bloke is wearing gloves, he will catch each and every ball. But it's never easy, no matter where you are 'keeping — on a turning track or a pitch with uneven bounce.
"So, what we do is read the wickets carefully. As for keeping against Jaddu and Ash, I have been keeping to their bowling for quite some time, so I know their variations and their pace. I adjust accordingly," he said.
Saha iterated that he kept following the process without making any changes to his preparation when he was out of the national team. "I was out of the team for a long time because of injury. Then I played domestic cricket, played some matches for India A, performed in them and then found my name on the India list.
"Honestly, my preparation didn't change. I continued with what I did while batting and 'keeping, and then I got selected for the home series.
"I have contributed for my team and am happy with it," Saha said.