Saha ahead in Test race
Technique and temperament could help Bengal wicket-keeper prevail over Pant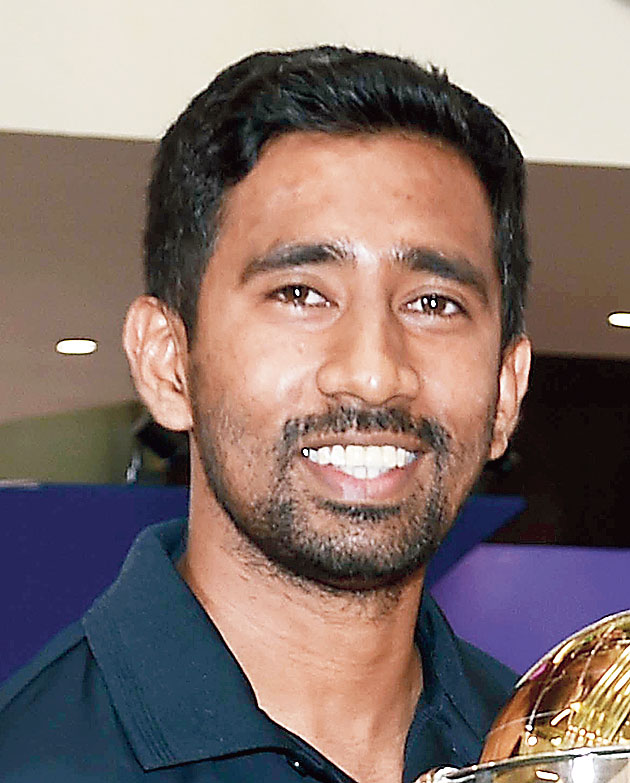 ---
|
Calcutta
|
Published 23.07.19, 10:32 PM
---
MSK Prasad, the national selection committee chairman, has spelt out India's plans for the future but hasn't made it clear as to who would be the No.1 wicketkeeper in Test matches in the West Indies.
Prasad has backed Rishabh Pant as the wicketkeeper "to be given as many opportunities as possible" and "groomed" while picking Wriddhiman Saha in the Test squad.
The 34-year-old Saha, who has played 32 Tests against Pant's nine, has made a comeback following his recovery since suffering an injury during the first Test in Cape Town in January 2018.
Saha is currently with the A squad in the West Indies and will feature in the three four-day unofficial Test matches, the first of which begins in North Sound on Wednesday. No wonder Saha's performances will be followed with keen interest.
Prasad refused to speak on Tuesday citing the Board of Control for Cricket in India (BCCI) restrictions, but The Telegraph has reliably learnt that the selectors consider Saha as the No.1 wicketkeeper when it comes to Test matches.
Sources said that Saha, who returns to the squad after missing 14 Tests, is better placed when it comes to wicketkeeping skills though Pant has delivered in the series in England and Australia.
It is widely believed that "quality matters" in the game's longest version and the team management will be unwilling to compromise when it comes to a specialist position. Technique and temperament will be put to the test and Saha, according to the sources, is ahead on both counts.
Another factor expected to work in favour of Saha is the home series that follows the two Test matches in the West Indies. India will be playing five Tests at home — three against South Africa and two versus Bangladesh — as part of the Test Championship.
A wicketkeeper's skills will be tested during the home series as turning tracks will expectedly be on offer. Experience, too, will count in such situations.
Pant hasn't exuded confidence as a wicketkeeper on home pitches so far and the selectors do not want a situation where a vital catch is dropped or a stumping missed at a critical juncture.
Pant's lapses behind the wickets during the last ODI series against Australia could also act as a deterrent.
Pant may be regarded as a better and flamboyant batsman but Saha also has three centuries to his name, including one against the West Indies in Gros Islet and versus Australia in Ranchi.
Former India stumper Ajay Ratra, who worked with Saha at the National Cricket Academy (NCA) during his rehab programme, sounded optimistic.
"I worked with him at the NCA for sometime... I had basically focused on his diving technique to ensure there was less impact on the shoulder after his surgery," said Ratra.
"But that was almost five months back. He played domestic cricket and IPL after that. I'm sure he has improved since... I expect him to be at his peak, fitness and skillwise.
"His work ethics are really good. His wicketkeeping is the best in business and I'm sure he will live up to the rigours of the five-day game."
There is also a school of thought which feels that Pant should be groomed only for the shortest version keeping an eye on the T20 World Cup next year.
India will be playing three T20Is each against South Africa, Bangladesh and the West Indies at home this season.
Besides, there will also be three ODIs each against the West Indies, Australia and South Africa during the same period.
Moreover, if the preparations for the next 50-over World Cup has to begin now, Pant is expected to be Prasad and Co.'s preferred choice.
So it would be prudent to restrict his role to the limited overs version and "groom" him.
Saha clearly has to start afresh and perform in the West Indies tour. With Andhra's K.S. Bharat also coming into the reckoning, Saha might otherwise find the going tough in the long run.