Russia, Ukraine set to clash over next head of global chess federation
Grandmaster Viswanathan Anand backs ex-Russia deputy PM for re-election as FIDE president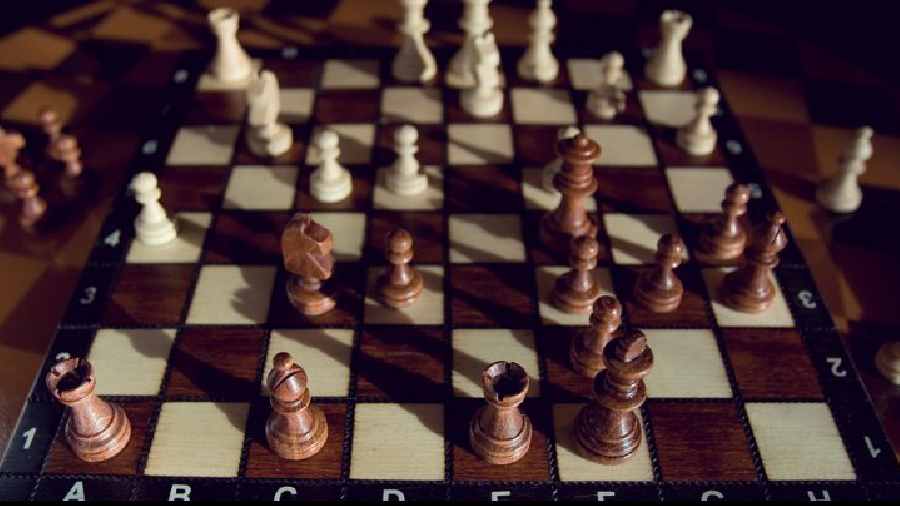 Russia and Belarus were banned from the Olympiad in the wake of the Ukraine war
Representational picture
---
New Delhi
|
Published 29.06.22, 03:07 PM
|
---
It's the unlikely new front in the war between Russia and Ukraine: Mamallapuram, the ancient temple town just outside Chennai. This is where the International Chess Federation FIDE will meet to choose its new president. Squaring off for battle are the chess ruling body's current president Arkady Dvorkovich, a former Russian deputy prime minister who's seeking a second term. Against him is Ukrainian Grandmaster Andrii Baryshpolets.
Dvorkovich, who's built a reputation as an able administrator, has made the first move on the FIDE political chessboard, by persuading India's five-time world champion Viswanathan Anand to be his deputy. Till now Anand has always stayed clear of the game's often rough-and-tumble politics.
In another twist to the chessboard struggle, the Ukrainian grandmaster's choice for a deputy is Anand's ex-coach Peter Heine Nielsen, an outspoken critic of Russia's muscular dominance of the game. Chess is till a strong symbol of Russian national pride and closely entwined in Russian politics.
The FIDE president has a four-year term.
Russia and Belarus were banned from the Olympiad in the wake of the Ukraine war. But this created a particularly tricky situation because Russia had been scheduled to host this year's Olympiad.
The All India Chess Federation moved quickly and, with strong backing from the Tamil Nadu government, assembled a proposal in 10 days for the contest to take place in Mamallapuram. The Tamil Nadu government will spend about Rs 75 crore to cover the tournament's costs. The tournament's main venue will be Mamallapuram's Four Points by Sheraton which has a huge convention centre. India has 73 grandmasters out of which 25 are from Tamil Nadu.
India fielding two teams
As the host nation, India gets to field two team in the open category and two women's teams. Each team has five players and a total of 20 Indians chess champions will get a chance to take part in the tournament.   
India was originally the fourth-ranked team in the tournament. The US is the tournament's top-rated team and China was in second position. However, the Chinese have pulled out of the tournament without giving any reasons. Azerbaijan was third-ranked with India and Ukraine following.
Country rankings are determined according to the ratings of the team's grandmasters. India's medal chances have now improved considerably because the Chinese have pulled out and we get to field two teams. China was the winner at the last chess Olympiad. Vidit Santosh Gujrathi and Pentala Harikrishna are India's top two players
Opposition to Russia
There's big opposition to Russia in the chess world because of its Ukraine invasion. More than 40 leading chess figures – including top Russian players – have signed an open letter calling on Putin, "to stop the war."
Baryshpolets, 31, has condemned what he calls "FIDE's political and financial dependency on the Russian government." He also savages Russia and says it's been "using FIDE as a soft power to whiten its reputation" and is doing so now "amid its military aggression against Ukraine."
Dvorkovich was Vladimir Putin's choice for candidate when he won his first term in 2018. He insist that his close relationship with the Kremlin now is a closed chapter. Observers believe Dvorkovich, 50, whose father was an international "arbiter" or referee, could still checkmate his opponent for the presidency, despite the fact he's Russian.
Voting for the president's post by representatives of some 189 countries is scheduled to take place on August 7 at Malappuram.
Kremlin dominated FIDE
Nielsen, Anand's former coach who's standing with Baryshpolets, says the Kremlin has always dominated FIDE and the chess organisation needs to shift away from Russia's influence.
The Soviet Union traditionally turned out the world's top chessboard stars. Soviet players won every championship from the time FIDE was formed in 1948 till 1991 when the Soviet Union disintegrated except for once in 1972. That was when Bobby Fischer, the erratic US chess genius, wiped out all his opponents.
But while chess is still an important instrument of Russia's soft power, the winning streak of Russian players has ended. The Russians face strong global competition and they haven't won at the Olympiads since 2002. Nevertheless, chess is still a highly regarded sport in Russia and followed with considerable avidity.
Dvorkovich was a former Russian deputy prime minister from 2012 to 2018 before being elected head of the chess organisation. He has surprised observers of the game by quickly breaking FIDE's links with Russia since the start of the war.
FIDE break with Russia
In the wake of the Ukraine attack, FIDE made a complete break with Russia. It condemned the attack, cut sponsorship ties with Russian state-controlled firms, barred Russian players from competing under the Russian flag and took away Moscow's rights to stage the Chess Olympiad. FIDE also suspended one of Russia's top grandmasters, Sergey Karjakin, for making stridently pro-war statements.
Dvorkovich has been equivocal, though, in talking about Russia's invasion. In March, he said his "thoughts are with Ukrainian civilians" and that he wanted to see "Ukrainian and Russian players competing again with each other. Not against each other, but together."
A couple of days later, he switched to a pro-Russian line saying the Russian war was a fight against fascism. He said "there's no place for Nazism" in the world. That's code for the Kremlin's propaganda that Ukraine's a Nazi state. 
Talking to the Indian Express, Anand defended Dvorkovich's statements and pointed out that he lived in Russia. "I feel he has shown he is sufficiently independent of Russia. But he lives there with his family which means he'll keep going back and forth." Anand also noted that FIDE has become much less dependent on Russian financing in the last four years since Dvorkovich took over. And even Baryshpolets acknowledges that the "current (Dvorkovich) team has brought more transparency and inclusivity in the FIDE management."
An eccentric predecessor
In the world of chess, Dvorkovich is generally given credit for cleaning up the mess left by his corrupt and eccentric predecessor Kirsan Ilyumzhinov and stabilising FIDE's finances.
Ilyumzhinov, who was the prime minister of a poor Russian region called Kalmykia, was the federation's boss for more than two decades and was, at one point, put on a US sanctions list for assisting Syria's Assad government, resulting in FIDE's Swiss bank accounts being frozen. More entertainingly, he claimed that yellow-suited space aliens visited his Moscow apartment and took him on a joyride to outer space.
Ilyumzhinov also apparently believed chess was created by aliens. He once said: "My theory is that chess comes from space. Why? Because (it has) the same rules, 64 squares, black and white. And the same rules are in Japan, in China, in Qatar, in Mongolia, in Africa. The rules are the same. Why?" … It seems maybe it is from space."
In an interview to chess.24 last week, Dvorkovich said he's walked a tightrope as president of FIDE and his past as a top Kremlin official. Dvorkovich told the portal he's faced "pressure in Russia" about protecting Russian interests and "had to make "tough decisions and hard choices. Not many people are happy about banning Russian teams… but in this case it's not about being happy, it's about reality."
FIDE torch relay
FIDE has, for the first time, initiated a torch relay, borrowing from the Olympic tradition, for the Chess Olympiad. Uttar Pradesh Chief Minister Yogi Adityanath handed over the torch to Anand in Lucknow for its journey to 75 Indian cities before reaching the Tamil Nadu tournament.
"We are proud the game rose from its birthplace and has made its presence felt throughout the world," Adityanath said. The chess body said that for future Chess Olympiads the torch relay would begin in India and journey onward to wherever the event is being held.