Remember their names, they played to win
Post Adelaide, every game, every session, every crisis, India had someone raising their hand to make a fist of it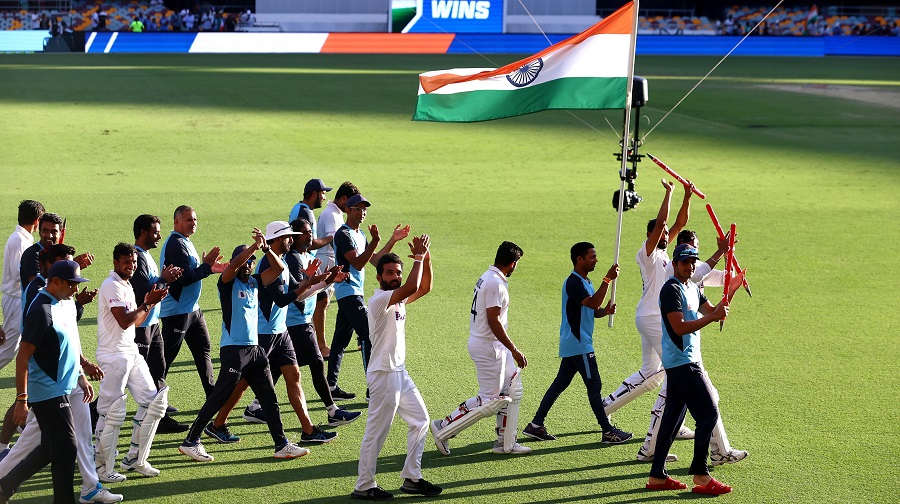 Indian team goes around Gabba after the win with the tricolour fluttering behind.
Twitter/@ICC
---
New Delhi
|
Published 20.01.21, 03:54 PM
|
---
The Indian cricket team didn't just win a Test series in Australia. India, and with it, world cricket too, was won over by the boys Down Under. Under the most intense pressure, they didn't stop to fight, till the battle was won. As India woke up this morning without the pre-set alarms that had become the norm for all of us trying to catch the cricketing action for a while now, the accolades keep flowing, even as we run out of adjectives to describe the superlative effort.
The beauty of sport lies in the trumping of unimaginable odds, of men and women with their backs to the wall, crafting their way to glory in memorable fashion, with incredible performances that stand the test of time. The conclusion we watched at the Gabba fits the same mould of sporting fairytales, just that it had its own added dimensions that elevated it to something extraordinary, way beyond previous instances of cricketing hurrah experienced by India.
Every cricketer knows how hard it is to win in Australia. And that too, after being shot out for 36 in the first Test at Adelaide exactly a month ago! By the time the Indian team took to the field for the final Test match, they had a string of net bowlers to front the attack at the Aussies' impregnable fortress. A host of debutants had some in the media call this an India A team, as the injury list had taken away most of the big-ticket names.
Consider this. Ishant Sharma and Bhuvneshwar Kumar didn't even make it to the flight to Australia. Reason – injuries. Mohammed Shami, one of the pace spearheads had his arm broken as India collapsed to 36 and despair in Adelaide. A pinged calf in Melbourne, a side strain in Sydney, and Umesh Yadav and Jasprit Bumrah were out of the series too.
A cracked thumb while batting put an end to Ravindra Jadeja's defining performances that aided in the Melbourne test win, and the draw that was fought out in Sydney. Ravichandran Ashwin led the wicket-taking charts for India till Sydney but a back injury meant he wouldn't have a final crack in the series finale. Even if you put aside Ishant and Bhuvi since they didn't make the tour, it still added up to India's three best pacemen, and the two best spinners who have five Test hundreds between them.
It's the bowling that wins you test matches abroad. Australia had Mitchell Starc, Pat Cummins, Josh Hazlewood and Nathan Lyon at Brisbane with over a thousand Test wickets. India went in with a five-bowler setup that had the combined experience of four Test matches and 11 wickets between them! Even Marnus Labuschagne, one of the stars of the Australian batting line-up, had more wickets to his name than the Indian attack. On paper, a complete mismatch.
1988. The last time Australia had lost a test match at the Gabba was when Marshall, Ambrose, Patterson and Walsh ran amok as Allan Border's team was consigned to a 9-wicket defeat in four days. Jan 2021. Mohammed Siraj had two Tests under his belt, Navdeep Saini one, Shardul Thakur only a dozen deliveries to speak off since injury cut short his debut against the West Indies two years ago. T. Natarajan and Washington Sundar were making their debuts. This was the context on which India took the field at a venue where Australia hadn't been beaten in over 32 years. And how did it go? Siraj, who lost his father recently while away on tour, charges in and snares David Warner in the very first over of Day 1.
Look at the batters who lined up and the men who were missing. Rohit Sharma in for only his second hit as an opener in an away Test, Shubman Gill playing his third, 6000-test run topper Cheteshwar Pujara who was still being panned by critics for his inability to score quickly, stand-in skipper Ajinkya Rahane who was slowly crafting the renaissance, Mayank Aggarwal – dropped as opener, only to be drafted back in as No.5 to stitch together the playing XI, and of course, Rishabh Pant, coming off a disappointing IPL with every failure raising questions about his future. Skipper Virat Kohli, the best batsman in the game currently, had gone home after Adelaide for the birth of his first child, Hanuma Vihari of the greatest resolve and a torn hamstring, both spawned after his match-saving stand in Sydney. No K.L. Rahul either after net practice produced an injured arm for him! Thus was the context in which the Indian batsmen firmed up to chase down 328 in the fourth innings and script history.
What we have witnessed in this series is beyond extraordinary. The fortitude, the resolve shown by this team far exceeds any other in the past. Many of them have been away from home for nearly five months and more, travelling from one bio-bubble to another, quietly going about what they had signed up for, one isolated with his team-mates while in bereavement, another yet to see his first-born child, seeing mates bruised and battered and felled off the squad, tested to their mental and cricketing limits like never before. Yet they didn't manage to fight. They willed themselves on, and believed they could win, believed they were the better side. While most of the Indian cricket fraternity were up and about on the final day of the Gabba Test praying that the team would hold on and stave off defeat, the young guns went about it in meticulous fashion, finally ripping off the 'invincible at Gabba' tag from the Aussies in spectacular fashion.
Rishabh Pant, forever under scrutiny, perhaps didn't think of saving the match. He rather chose to win it and the dash of audacity that rang in some of his breathtaking strokes resounded way beyond the Gabbatoir, as he took on the fired up Australian attack with a calculated assault that had as much flavor of arrogance as it did of discretion. Shubman Gill, already marked as one for the future, primed his repertoire with the initial charge, with the assault of Mitchell Starc in particular forcing the Australian captain to not bring him back with the second new ball. And there was Pujara, copping blow after blow, but staying in there, bat meeting ball with resounding grit, as he proved he was the toughest to dislodge, no matter where you hit him.
Post Adelaide, every game, every session, every crisis, India had someone raising their hand to make a fist of it, a new hero would take on the odds and the Aussies, and beat them at their game. Brisbane saw the Thakur-Sundar jugalbandi. After Australia had made 369 in their first innings, India had their backs to the wall having been reduced to 186/6. But Shardul Thakur and Washington Sundar put on 123 unbelievable runs that would be remembered more for the manner in which they took on the world's best bowling attack. Back after a concussion scare in the T20 series, Ravindra Jadeja put on a glorious stand of 121 with Rahane in Melbourne as India roared back from the abyss it had plunged to in Adelaide. In Sydney, with India at 272-5, with the tail to follow next, R. Ashwin withstood excruciating back pain to bat over 40 overs with Hanuma Vihari who was virtually batting on one leg to snatch a draw from the hosts.
Ashwin's incredible effort made sure he would take no further part in the series, but he bore it all, the pain, the pressure, to ensure he would be there to walk off at the end of the day having saved the game. It's this belief that seems to be the glue that bound this team together. The belief that they could not only compete, but best the Aussies in their backyard. And lest we forget, Ravi Shastri, Bharat Arun and the entire backroom staff, who can never be given enough credit for the impossible they took on – to get a team back on its feet after 36 at Adelaide, and return home as the kings of cricket.
Many editorials in Australia have summed up the series win as the incredible feat that bore fruit due to the efforts of a new breed of fearless Indian cricketers. Back  in India, we read about the son of a loom worker who couldn't afford shoes but ran on to deliver body blows to Paine and company, the rickshaw driver's son who couldn't say goodbye to the father he lost while he was on tour,  the debutant named after his father's benefactor, which is the same as the city where the new American President takes oath today, the young kid who had to play exhibition matches for 300 rupees to fund his cricket coaching. For a change, it would be nice, if I may add, borrowing from Ian Bishop's unforgettable commentary, to 'remember the names'. Mohammed Siraj, Thangarasu Natarajan, Washington Sundar. They deserve to play for India as much as the others who will be back in the team soon.
Sanjeeb Mukherjea is an anchor commentator with Star Sports