Puja sacrifice to get billiards world in his pocket
Sourav secured the World Billiards Championship crown in the UK last year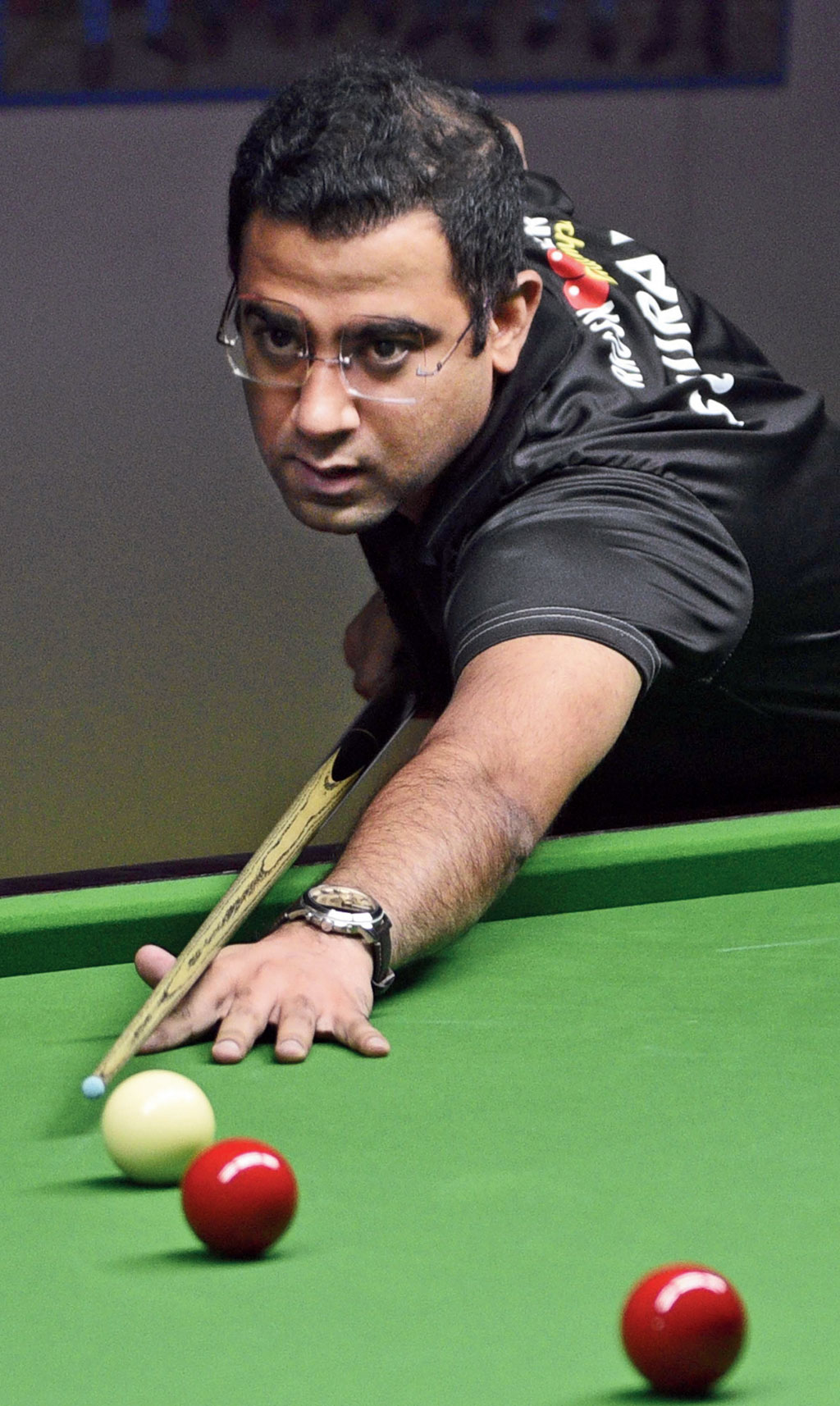 Sourav Kothari.
Telegraph file picture
---
Calcutta
|
Published 13.08.19, 07:58 PM
|
---
From thinking of quitting the game some eight years ago to ruling billiards at present — that has been the story of cueist Sourav Kothari.
Sourav secured the World Billiards Championship crown in the UK last year and then went on to become the No. 1 in India after winning both national selection championships in Bangalore last week.
For a Calcuttan, one of the toughest things is staying aloof from the environment and ambience during the Durga Puja. But to reach the top and be the best, one ought to follow the two Ds — dedication and determination — and avoid everything that could turn out as distraction.
Sourav too had his task — "back-breaking" by his own admission — cut out during October last year, as he embarked on his mission to be the World Billiards champion.
Looking back, he agrees that had it not been for those hours he spent in practice last year under the guidance of his father, Manoj Kothari, also a world champion and currently India's chief coach in cue sport, his dreams of becoming a world champion and India No. 1 would have remained unfulfilled.
"It was during Durga Puja and just before the world championship. My dad and I decided that no matter what happened, the Durga Puja, the festivities… all had to be cut off because I was going to change my technique while there were only 20 days left for the World Championship.
"You cannot be faulted for being distracted during that period. But for my father and me, it was a life and death situation.
"We decided no matter what, I had to be at my practice table from one o' clock or two in the afternoon till 10pm or so and I practised every single day, including the five days of the Durga Puja, and couple of days prior to and after that," Sourav told The Telegraph.
"My mind would have wavered had my father not been around. Around 5pm, we would take a one-hour break at the Bengal Rowing Club or Tolly Club, have a cup of tea and resume practice.
"In the World Championship, there were unforgiving tables, tight pockets... But I prevailed just because of those hours I had put in."
No wonder the constant support and encouragement from the senior Kothari lifted the spirits of Sourav during his disappointing phase.
He admits having faced a lot of pressure being the son of a world champion, while his mother Neeta too is a former world No. 3 and multiple-time state champion.
"My parents never created pressure on me to win titles. I still remember, after a string of disappointing results, I had even missed a flight at the Chennai airport (in 2011), despite having the boarding pass in my hand, because I was crying.
"I went back and told my father that I have to stop playing.
"But my parents kept telling me that what others think shouldn't matter at all.
"It gave me a lot of confidence and from 2014 onwards, I won the nationals, the Asian meet and the Arjuna. That year changed me completely."
After having made changes in his stance, shot selection and how he holds the cue, Sourav's immediate goal is to defend his world billiards title in Melbourne (in November) and making it big in professional snooker.
"I will be looking to defend the World title. And I want to now give professional snooker a whole-hearted try.
"It's a very long road ahead for which I will first have to qualify to play the main tour through the world snooker Q-school.
"So I want to dedicate myself to about 6 to 8 months of rigorous snooker training and make an attempt in England next year."