Prayer on lips, David Robertson counts days
'It's the most difficult phase of my life, I need to go back to Scotland as early as possible'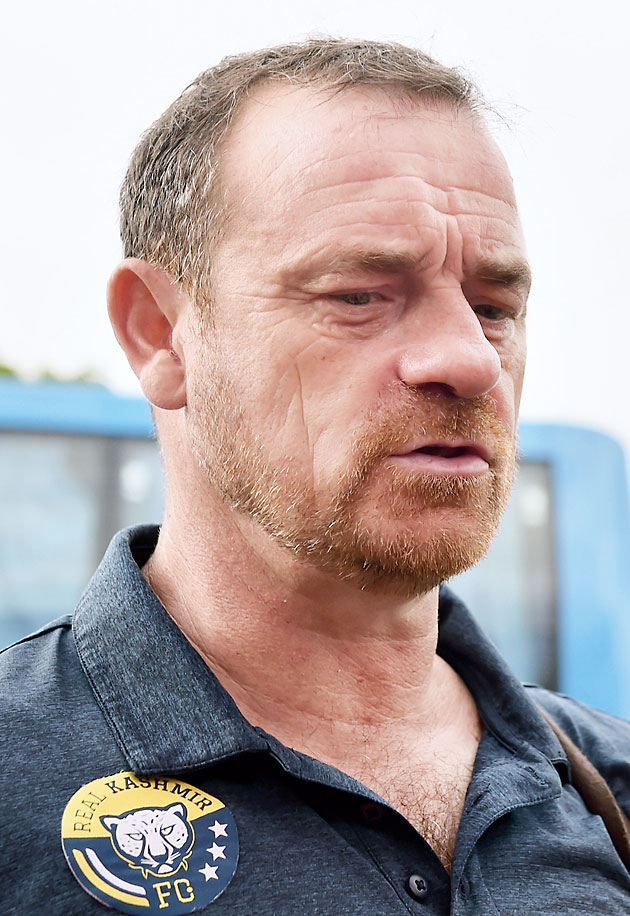 ---
|
Calcutta
|
Published 29.03.20, 09:05 PM
---
David Robertson is waiting on a bed of nails and hopes very soon a window will open which would see him fly back home to Aberdeen.
The Real Kashmir FC coach, his wife Kym, Mason, his son who is a vital cog in the team's wheel, along with other foreign players and members of the support staff, are stuck in Srinagar due to Covid-19.
"It's the most difficult phase of my life. I need to go back to Scotland as early as possible," Robertson told The Telegraph from Srinagar on Sunday afternoon.
"My parents (Leslie and Muriel) are there all alone, fending for themselves and I am really worried for them. My mother is undergoing chemotherapy. The days are long and I just can't sleep at night," he says.
When a strong personality like Robertson, known for turning a fledgling Real Kashmir FC into a tough team, starts to wilt, you realise what's in store. "Let's pray we all will come out of this mess unscathed," he says.
"I am not happy with the way the British government is handling the situation.
"There are so many British people stuck in different parts of the world. When other countries can airlift them, why can't the British government do the same? I just hope there will be a window for airlifting after the lockdown here ends on April 15. Till then we just wait."
Robertson, who played as a left back for Aberdeen (under Sir Alex Ferguson), saw the clampdown in Kashmir after the abrogation of Article 370. "I tell you in the last three years in Kashmir, this is the worst I have seen.
"In the initial days of the clampdown, we were travelling across the country, using facilities of different ISL clubs to prepare for the 2019-20 season.
"Then we came back to Srinagar. The scenario was not good but at least we were able to go out and play football. The game kept us going. But now we all are inside the hotel," he says.
Kym flew to Srinagar four weeks back, thinking she would return with Robertson and Mason once the season ended in mid-April.
Real Kashmir were still fighting for the runners-up slot in the I-League when the league was postponed till March 31 and later, after a directive from the sports ministry to the National Sports Federations, the postponement was extended till April 15.
"Given the situation, I do not think the organisers (All India Football Federation) would be able to complete the League. We had a match against TRAU FC in Srinagar (on March 14) but that was postponed at the last moment. And since then, there has been no football.
"The Indian footballers have left for home. I am worried about my foreign players. Sandeep (Chattoo, co-owner of the club) hasn't gone back to Jammu to be with his family and is staying here at his hotel with us. I haven't seen a situation like this in my life, but Sandeep is trying his best to ensure we leave Srinagar at the earliest."
Apart from Mason, Real Kashmir have players Kallum Higginbotham (Scotland), Aaron Katbee (Zimbabwe), Loveday Okechukwu (Nigeria), Bazie Armand and Gnohore Krizo (both Ivory Coast) on their roster. Add to that two members of the support staff (James Alexander Lindsay and Jonathan Charles Criag).
"Mason's fiancée is in US, so he is very tensed. Kallum, Kataby are all at their wits' end," Robertson said.