India-Enland test: Players refused to play, says Sourav Ganguly
The Board of Control for Cricket in India president opened up during an interaction over the phone with The Telegraph late on Saturday night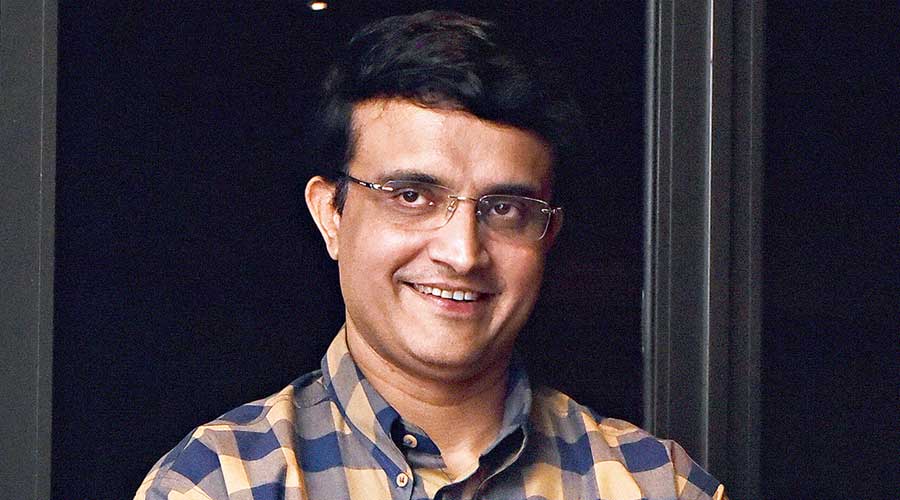 Sourav Ganguly
File picture
---
Calcutta
|
Published 13.09.21, 01:44 AM
|
---
Sourav Ganguly has preferred to keep himself away from the media glare of late. Be it the appointment of Mahendra Singh Dhoni as Team India mentor for the T20 World Cup in the UAE or the postponement of the final Test of India's tour of England, the former India captain has remained silent.
Sourav, 49, the Board of Control for Cricket in India (BCCI) president, opened up during an interaction over the phone with The Telegraph late on Saturday night.
Excerpts:
When will we know the exact status of the Manchester Test against England?
Sourav: The Old Trafford Test has been cancelled. They have incurred a lot of losses and it's not going to be easy on the England and Wales Cricket Board (ECB). Let things settle down a bit, then we can discuss and decide. Whenever it's held next year, it should be a one-off match since it cannot be a continuation of the series any more.
You are supposed to be in London later this month. Will any discussion take place then?
We've given them the option of taking some more time since it's just got over. I will be going to London on September 22 for (daughter) Sana's college admission. Let's make one thing clear: it's not easy postponing matches. I don't think it should ever happen again.
You were part of the discussions with the players. Can you tell us what happened?
The players refused to play but you can't blame them. Physio Yogesh Parmar was such a close contact of the players. Being the only one available after Nitin Patel isolated himself, he mixed freely with the players and even performed their Covid-19 tests. He also used to give them a massage, he was part of their everyday lives.… The players were devastated when they came to know that he had tested positive for Covid-19. They feared they must have contracted the disease and were dead scared. It's not easy staying in a bubble. Of course, you have to respect their feelings.
Ravi Shastri's book launch event in London is being blamed as the reason for the spread of the virus in the squad. Was it the right decision to have the event before the Oval Test?
No comments. I don't wish to say anything.
Did the BCCI give permission for the event?
No permission was sought.
Is the BCCI contemplating any action against Shastri?
Nothing. How long can you stay confined to your hotel rooms? Can you stay locked at your home day in and day out? You can't be restricted to a life where you go from the hotel to the ground and return to the hotel. This is humanly not possible. I was there at the shoot for a Dadagiri episode today. There were some 100 people there.… All fully vaccinated but you don't know what will happen. People are contracting the virus even after two doses. This is how life is now.
Was it a mistake not to have the bio-bubble in the UK?
You can't stay in a bubble forever. Life has to open up. These players and support staff have been in a bubble for more than a year now. It's no joke. It's very demanding physically and mentally. They are human beings and it's unfortunate. From the UK, the players are already in another bubble in the UAE. Another round of quarantine, another bubble.… Then there will be the bubble for the T20 World Cup. It's not easy.
Did the IPL play a role in the cancellation of the Test, as is widely believed?
No, no, the BCCI will never be an irresponsible board. We value other boards too.
Dhoni will be Team India's mentor at the T20 World Cup. This must have been your idea?
Doesn't matter whose idea it is. The main thing is India's success and that is all that matters.
Why did you decide to have Dhoni when you already have a full, high-profile complement of support staff in place?
It's just to help the side in the World Cup. He has a good record in the T20 format for India and the Chennai Super Kings. There has been a lot of thought behind it. We discussed a lot and then decided to have him on board. We haven't won an ICC trophy since 2013. Remember Australia had Steve Waugh in a similar role when they drew the Ashes 2-2 in England the last time. The presence of such heavyweights in big-ticket events always helps.
Could we see Dhoni as a permanent part of the support staff in future?
He will be there only for the T20 World Cup. He's made it clear to us.
Who will be India's head coach once Ravi Shastri's term ends? Rahul Dravid?
I understand he's not interested (in the job) on a permanent basis.… But we haven't asked him about it specifically. We will see when we come to it.
Ravichandran Ashwin makes a comeback to limited-overs cricket. Your thoughts?
It's not a surprise. He's a class act and we need to bring in quality players. Out of the squad doesn't mean you will never play again. He's a match-winner in any format.
Luv Films will produce a biopic on your cricketing journey. Excited?
Thrilled, of course. I signed the contract on Friday. The actors and actresses will be decided later, depending on their availability. It also depends on the production house. Fingers crossed.…
Ranbir Kapoor's name has been doing the rounds.
Depends if he is available when the shoot takes place. There's time and we will see.