Bengal woman eyes Mount Everest without oxygen
However, getting the requisite amount for funding the trip is arduous for Piyali Basak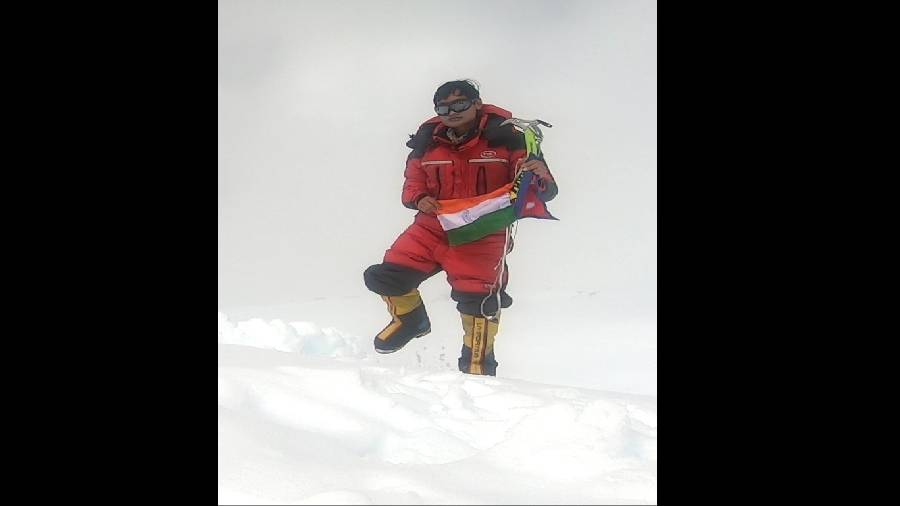 Piyali Basak.
The Telegraph
---
Calcutta
|
Published 08.03.22, 05:26 PM
|
---
Effusive, charismatic, tough, Bengal girl Piyali Basak, is the first woman to conquer Mount Dhaulagiri in Nepal without oxygen. And now she aspires to conquer the Mount Everest and yes without supplemental oxygen support.
And her unfliching focus is admirable.
"In Kathmandu when I made inquiries about an expedition to Mount Everest, it turned out that the season had ended. Besides, the estimated cost was around Rs 26 lakh. It was beyond my means. Later I decided to take a personal loan from a government bank. I have to pay back the Rs 30 lakh loan to the bank. It is all very difficult for me but I want to make myself and my country proud of me," says Piyali who plans to embark upon her mission on March 28.
Yes, getting funds for the mission is turning out to be an uphill task for the woman from Chandannagar.  She has been seeking help from NGOs for monetary support and honestly speaking, there has been no dearth of help. But Piyali deep down, knows her dreams will be shattered if she fails to garner funds on time. Yet, she dares to sound confident and ebulient.  
Looking back, mountaineering has always been her passion. Over to her - "I started my journey when I was just five. I could climb mountains easily without any support. I started going for treks at an early age and developed a passion for it. I used to go out trekking holding the hands of my parents and from there I started to fall in love with mountains. My passion for mountaineering is attributed to a textbook account of the expedition of Tenzing Norgay and Edmund Hillary. I was in Class VI then," says the 31-year-old mountaineer.
After graduating in mathematics, she took basic and advanced courses at the Himalayan Mountaineering Institute in Darjeeling. On October 1, 2021, Piyali conquered the seventh highest peak in the world Dhaulagiri without the use of oxygen cylinders.
There were two other Indians and four Sherpas on the expedition, the rest of the campaign was done with oxygen, but only Piyali completed the mission without the help of oxygen. Before that, she won the eighth peak Manasulu summit in 2016. Her first major expedition was to Mount Mulkila a 6,517m peak in Himachal Pradesh in 2010.
Piyali joined an advanced mountaineering training course at the Indian Mountaineering Foundation (IMF) in New Delhi. After a few months of learning and polishing her skills she set off for Mount Bhagirathi 2.
But the road to success has been tedious with impediments trying to impede her progress at various junctures.
"Mountaineering is my life. I have faced a lot of obstacles in my life where people out of jealousy have tried to harm me. During my expeditions, the Sherpas tried to sabotage my mission by trying to push, kick and pucn me in the face so that I failed to reach my destination. But my determination and love for mountains helped me conquer adversities. I was the youngest person to climb all mountains over 8,000 metre," says Piyali.
Mountaineering is more than climbing, panoramic view and wilderness experience. It is also a challenge, risk and hardship. Piyali wishes to make her state and country proud of her. "My mental agility, hopefully will see me through as I leave no stone unturned to reach where I wish to," she says. 
Unlike most, Piyali is in no mood to rest on her past laurels. The 'elusive' Mount Everest haunts and she is bent on scaling it come what may.
And on International Women's Day, here's hoping, she does the nation proud with an acheivement that should deservedly go down in the annals of history.