Pakistan coach Mickey has faith, is up for biggest 'challenge'
A distinctly lacking-in-passion performance against a turbo-powered India has made it worse for Pakistan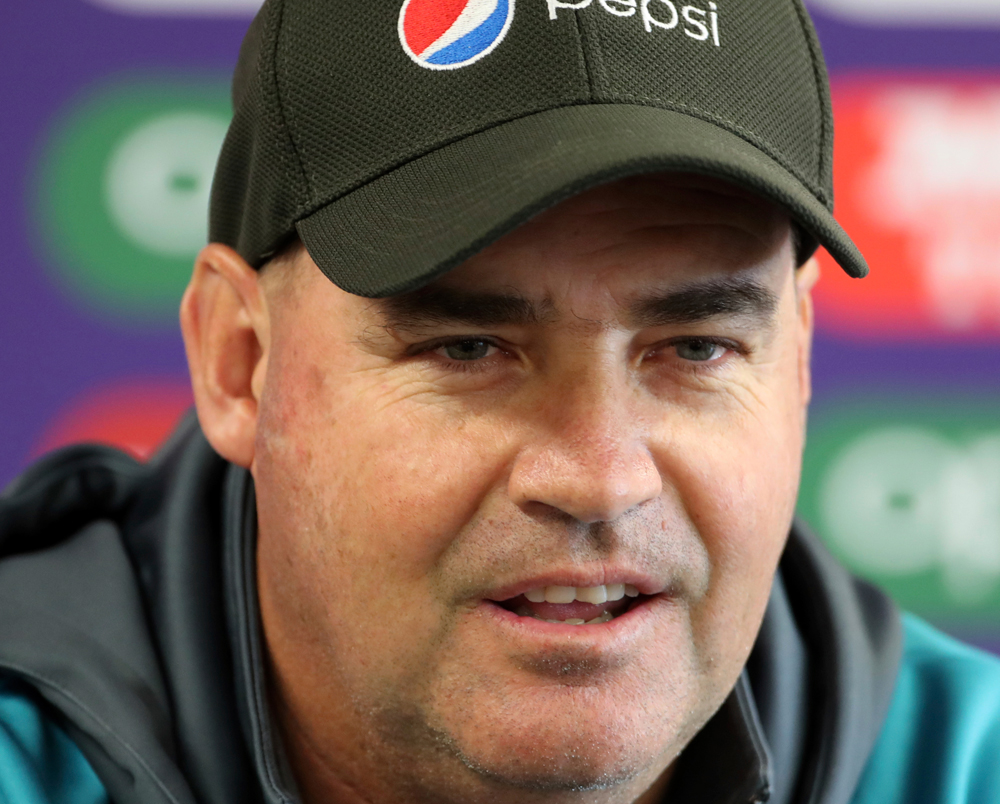 Mickey Arthur
Picture by AP
---
Calcutta
|
Published 19.06.19, 09:37 PM
|
---
Barring the stunning win over hosts England and the sharing of points with Sri Lanka, after the abandonment in Bristol, Pakistan have nothing to show in the World Cup's 12th edition.
A distinctly lacking-in-passion performance against a turbo-powered India, on Sunday, has made it worse. From former Internationals to fans, all have torn into Sarfaraz Ahmed's team.
Sport is about winning and losing, but you definitely don't turn your back on the challenge. If you do, then you better stay away from TV channels and social media.
That Sarfaraz was caught yawning in the closing stages of the India innings exposed both the captain and his team to venomous ridicule.
With some of the attacks unjustifiably getting personal, senior-most pro and former captain Shoaib Malik tweeted an appeal: "On behalf of all athletes, I would like to request Media and the people to maintain respect levels in regard to our families, who should not be dragged into petty discussions..."
Shoaib (just a few months from completing 20 years as an International) and wife Sania Mirza have often been targeted for the collective failure of the Pakistan team.
It's inexplicable and terrible.
Sarfaraz has won the 2017 Champions Trophy, so it's not that he has nothing to show as captain. However, the yawn will haunt him for the rest of his career.
And beyond too.
Clearly, this is the latest tough phase in Pakistan's cricket history, but head coach Mickey Arthur is confident his team has what it takes to come out stronger.
Naturally, this is Mickey's biggest test in his three years with Pakistan.
Mickey's strong credentials — he took South Africa to No.1 in Tests and ODIs, Australia to No.1 in ODIs and Pakistan to No.1 in Tests and T20Is — would, one assumes, help him through this period.
What cannot, of course, be ignored is that multiple reports of "camps" within the team will challenge Mickey's man-management skills.
"Indeed, this is my biggest test and I'm up for the challenge. It's in such situations that your skills as (head) coach get tested...
"Let me add, it's in such circumstances I thrive," Mickey, who has featured in 110 First-Class matches in South Africa, told The Telegraph on Wednesday evening.
Mickey was speaking from London.
Commenting on the barrage of criticism after the thrashing by India, Mickey said: "I hate reading criticism because I know how hard we have worked and how much our boys are hurting...
"What we do know, as a group, is that much of the criticism is based on emotion. Also, that when we play well, we can beat anybody — we just have to nail the basics and nail them well."
But, surely, it must be hard on Sarfaraz and the rest.
"We are a strong team and have to stay positive. We have to keep believing in our skills and in our ability...
"Actually, we are (in the present situation) fine. We know that if we win, the sentiments would change...
"Just that someone has to be brave and change things for us," Mickey maintained.
With five matches gone, Pakistan are second-last on the points table, ahead of Afghanistan. Massively embarrassing for the champions in the 1992 World Cup and finalists in 1999.
Pakistan's next match, against South Africa, is at The Oval on Sunday.
The Pakistan Cricket Board (PCB), meanwhile, had a scheduled meeting of its Board of Governors earlier in the day in Lahore.
Conceding that the team's performance in the ongoing World Cup had been "below expectations," the Board nevertheless "expressed faith, support and confidence" in Sarfaraz and his men.
As first announced on May 29, the PCB will "carry out a robust review and analysis" of the country's performance across the three formats over the past three years.
The "robust review" is to cover the players, support staff and the selectors.
In keeping with tradition, the Prime Minister — World Cup-winning captain Imran Khan at this point in time — is the PCB's patron-in-chief.