No short-cuts, Test remains cricket's premier league
Study shows that cricketers who are successful in the longest format generally get a successful stint in T20 as well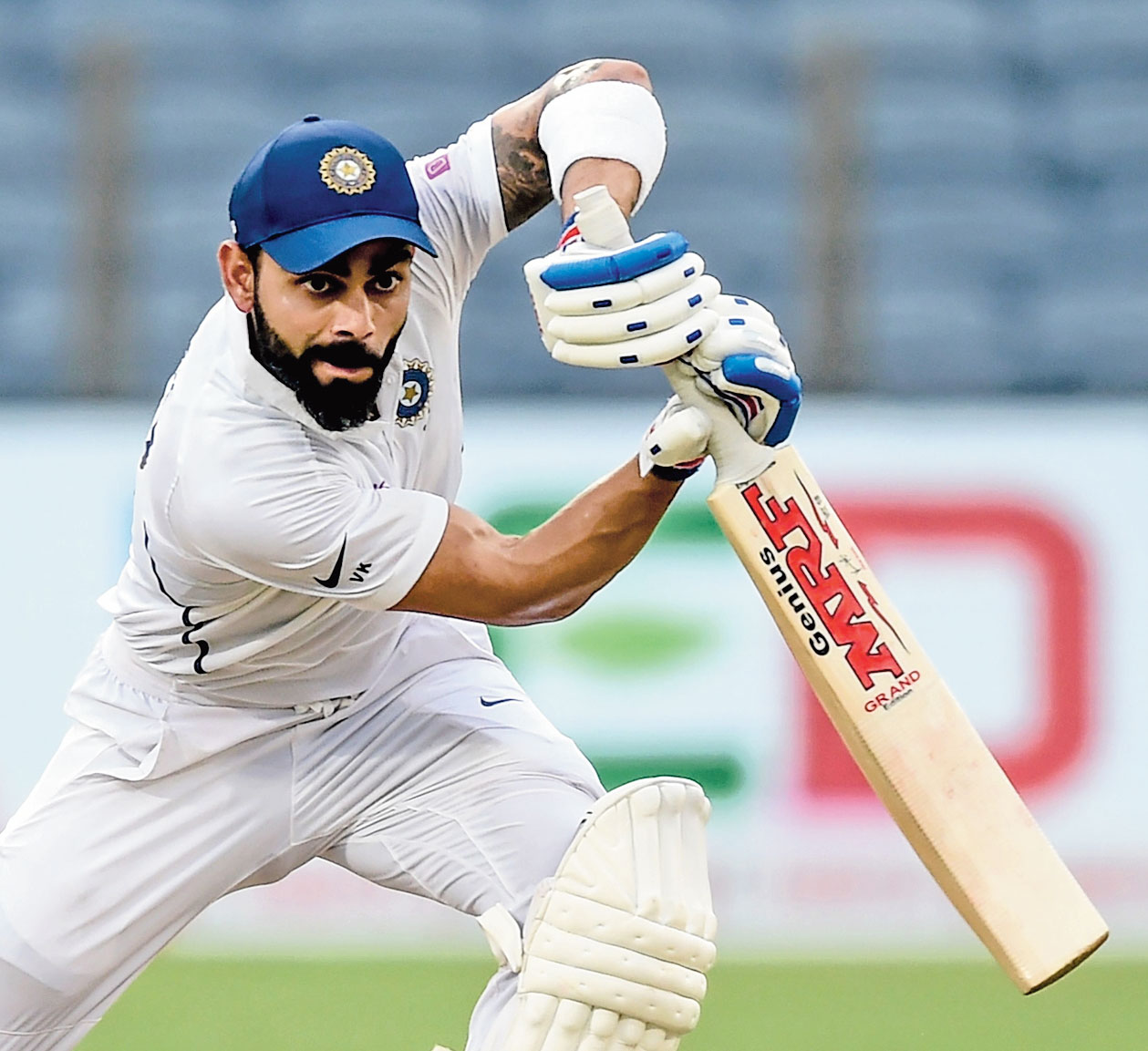 Virat Kohli
Sourced by the Telegraph
---
Published 24.05.20, 10:31 PM
|
---
Sports provides a high-risk, high-consequence environment where each sportsperson aspires to earn an entire life's livelihood during his or her playing span. Sport career transition (SCT) studies have revealed that post-sport life is full of uncertainty, even for elite athletes.
Cricket being the most popular sport in India, it is an interesting topic of research to find out how Indian cricketers are shaping their career with an ever-increasing volume and variety of the same (Test, ODI, T20I, IPL and other similar T20 and T10 leagues and first class cricket), notwithstanding the surge in post-career options in upstream (e.g. facility creation, manufacturing of equipment) and downstream (e.g. sports journalism, coaching) activities.
One of the most common criticisms of the IPL is that it brings players into limelight quickly and they pass into oblivion even quicker. A few scintillating knocks or incisive bowling spells in the IPL is all they need to catch the attention of millions of viewers, more importantly the decision-makers (read selectors) to gain a berth in the Indian ODI or Test teams; however, most of them fail to meet the expectations of the longer format is the claim.
Both the claims were put to test and the outcome was recently published in XLRI's peer reviewed journal, Management and Labour Studies, Vol. 45(2).
As many as 57 players started their Test career during the period April 1, 2000, to March 31, 2016; 30 before IPL and 27 after the first edition of IPL in 2008.
Four players (Saba Karim, Sairaj Bahutule, Sameer Dighe and Iqbal Siddiqui), who debuted pre-IPL, and five cricketers (Subramaniam Badrinath, Shikhar Dhawan, Stuart Binny, Pankaj Singh and Naman Ojha), who made their debut post-IPL 2008, are excluded from the first part of this study because of their exceptional pattern.
All these nine players had to wait for around 10 years after their first class debut before they played their first Test match. Saba Karim tops this list with 18 years of first class cricket before making his Test debut.
The average number of years of first class cricket before debuting for Test matches during the pre and post-IPL era came out to be 4.96 and 5.73, contrary to common belief. The statistical study also concludes that there is no reason to believe that a player gets selected faster in the post-IPL era; in fact, the wait has gone up, signifying the cut-throat competition at the highest level of cricket.
In the second part of this study, a pattern analysis was conducted on all the 57 players to probe into their longevity. The similarity measures were drawn up based on parameters like "number of Tests played", "number of T20 matches played", "total playing span in years", "years in Test cricket" etc. The analysis yielded four patterns of players:
Not very successful in Test cricket but picked up T20 cricket (primarily IPL) that elongated their playing career (Lakshmipathy Balaji, R.P. Singh, Munaf Patel, Pragyan Ojha, Subramaniam Badrinath are some of the members)
Not very successful in Test cricket and also did not succeed in T20 as well. However, their playing career got extended owing to first class cricket (e.g. Shiv Sunder Das, Saba Karim, Vijay Dahiya, Sarandeep Singh, Rahul Sanghvi, Sairaj Bahutule, Sameer Dighe etc.)
Most successful bunch of cricketers who are good in Tests, T20Is and IPL (e.g. Yuvraj Singh, Gautam Gambhir, Mahendra Singh Dhoni, Virat Kohli, Ravichandran Ashwin etc.)
Similar features of the earlier point but most of them started their career during the early years of the millennium and hence did not get much chance to play in T20Is for India (e.g. Zaheer Khan, Virender Sehwag, Parthiv Patel, Irfan Pathan, Dinesh Karthik, Piyush Chawla etc.)
The study shows that cricketers who are successful in Test cricket generally get a successful stint in T20 as well. The cricket boards should counsel budding players about this and create an aura for this elite level.
In a competitive world, like in any other field, the best will elevate to the Ivy League. For the rest, there is enough encouragement from this study as players can embrace T20 as an alternative career option and continue playing for 15-16 years.
The writer is a management consultant and is currently a member of the faculty of business analytics at IISWBM, Calcutta