No Ranji return for Wriddhiman
Saha has been told by the physios at the NCA to avoid taking the field in the coming week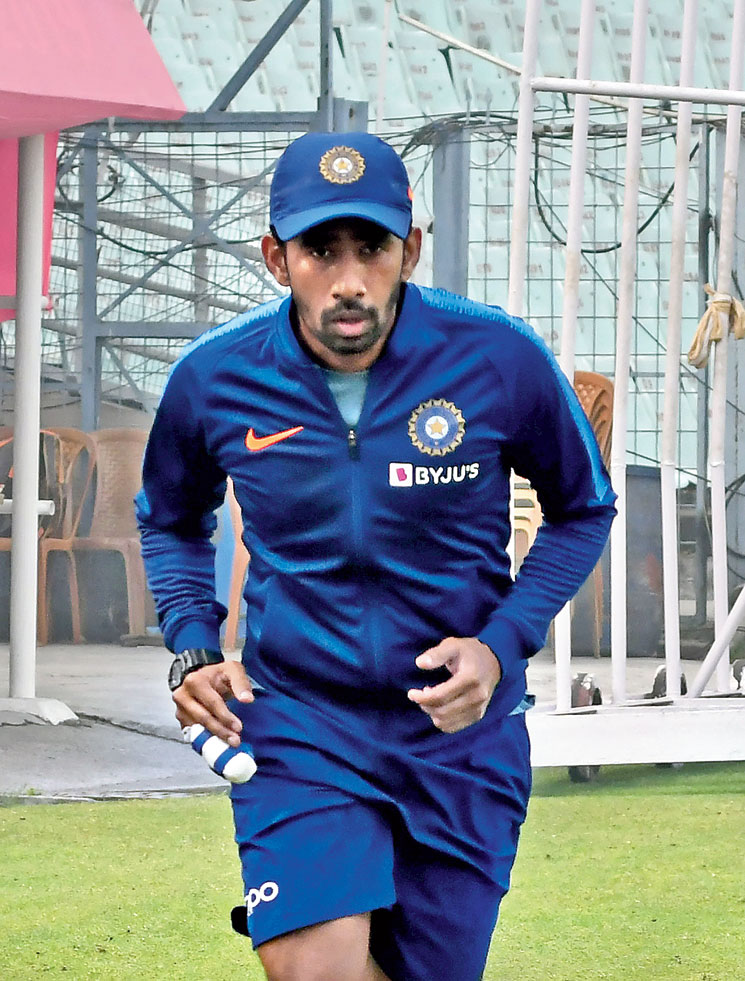 ---
|
Calcutta
|
Published 21.01.20, 09:23 PM
---
Wriddhiman Saha's recovery is on track, but he has to wait for a few more days to be back on the field.
The wicketkeeper-batsman, who was out with an injured right ring finger, had earlier stated he would like to play at least one Ranji Trophy match for Bengal before leaving for the tour of New Zealand. But he has been told by the physios at the National Cricket Academy (NCA) to avoid taking the field in the coming week, as that might prove to be risky.
Saha, thus, will be able to return to action when India A face New Zealand A in the second four-day game in Lincoln, starting February 7. Saha, in fact, was included only for the second four-day match of the A tour.
"To speak of my progress, it's going on well on a gradual basis. But the NCA physios want me to play straightaway for India A (in New Zealand).
"In other words, they don't want me to take a chance and play a Ranji Trophy game. Since the New Zealand series is far more important, so they want me to focus on that.
"Now if I still play in the Ranji Trophy, I may have to do so taking extra protection and all… And since I have come to the NCA for recovery, I need to go by what they prescribe," Saha told The Telegraph from Bangalore.
Saha, according to sources, had preferred to play in the Bengal versus Delhi game at the Eden, beginning January 27, before his departure for New Zealand.
Board president Sourav Ganguly, when queried about Saha's return, said: "He can play only after he gets the 'fit' certificate from the NCA."
Saha, though, shouldn't be having any problem as such to be ready by the time India's two-Test series against the Black Caps get underway. The first Test starts February 21 in Wellington.
"See, apart from the exercises that I have been asked to do, another important aspect is trying to bend the finger, which couldn't be moved for a month because of surgery. In fact, it doesn't bend so early.
"Now since that hasn't happened, I was told not to play the Ranji Trophy and play straightaway in New Zealand," he said.
"The condition of the finger has certainly improved. But they want me to give some more time in order to ensure an even better improvement. There's still some time for the New Zealand Tests to begin, so no worries on that front…
"I will have to be at the NCA for a few more days, say for another week or so, as they will assess how the finger is responding," Saha added.
Saha, at present, is focusing mainly on the exercises to increase the strength of his right ring finger.
Contracts not an issue
Saha, by far, is the best wicketkeeper at present in the country with India captain Virat Kohli rating him as the "best in the world" some months ago. Yet, Saha found no place in the Grade A category of the Board of Control for Cricket in India's annual player retainership 2019-20.
However, Saha has no complaints.
"You need to recall that last year, I was at Grade C. So from C, I have come up to Grade B. I look at it that way.
"I really don't have much to say about this. It's okay… Don't want to complain…" he said.