No email from Chaudhry, but he's willing to depose in Rahul Johri case
Petitioner/respondent Aditya Verma targets independent probe panel with missile from Patna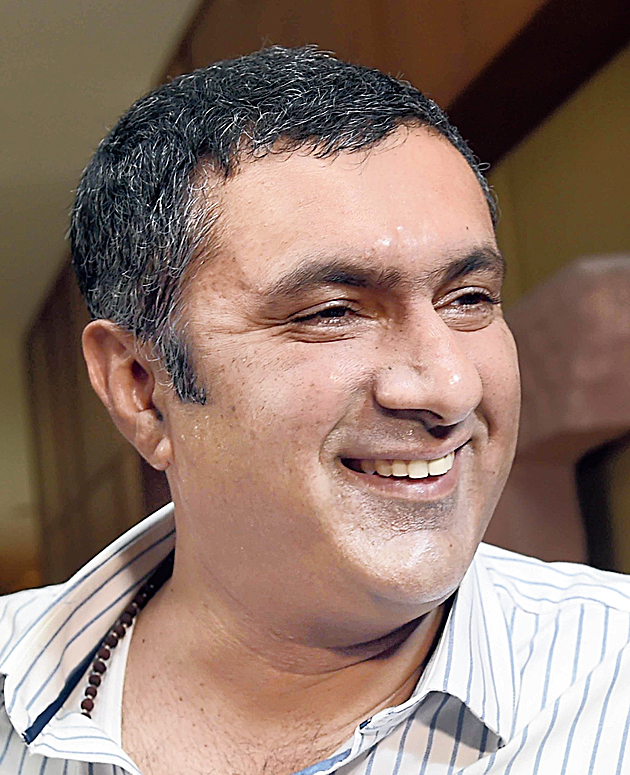 ---
|
Calcutta
|
Published 09.11.18, 10:19 PM
---
It's a major development on the Rahul Johri front, but there's also the risk of nothing coming of it. In the near future, at least.
The headline-attracting development concerns Anirudh Chaudhry, the Board of Control for Cricket in India's elected treasurer, who is "open" to appearing before the three-member independent panel constituted to probe allegations of sexual harassment against CEO Johri.
"I am an elected office-bearer and don't have to establish my bona fides or locus standi before the panel...
[The panel comprises Justice (Retd) Rakesh Sharma, Barkha Singh and Veena Gowda.]
"If the panel could meet the two members of the Supreme Court-appointed Committee of Administrators, chairman Vinod Rai and Diana Edulji, on November 1, the day they took charge, they should surely be meeting us office-bearers too," Anirudh told The Telegraph late on Friday.
Anirudh, however, made it clear he hadn't emailed the panel that he was willing to depose on a sensitive issue, Rai's handling of which has thrown up multiple questions.
Friday was the deadline to intimate the panel. It's to be seen whether it will actually take cognisance of what Anirudh has stated to this newspaper.
Around midnight, Anirudh added: "Closure needs to be given to this (Johri) issue as the Board's image is getting adversely affected...
"Equally, there must be transparency...
"Also, a perception that people are being discouraged from deposing before the panel should be dispelled."
The possibility of the manner in which the panel was unilaterally set up by Rai, as Diana dissociated herself in protest, being challenged in a court of law remains high.
A fortnight ago, the Board's acting secretary, Amitabh Choudhary, had spoken out on the Johri issue and the panel.
Now, to talk of Aditya Verma...
Most of those associated with cricket in the country describe petitioner/respondent Verma as a "loose cannon," but he's quite capable of igniting an explosion.
No wonder, many are wary of Verma.
It's no surprise that the Patna-based Verma wished to depose against Johri. On being asked by the panel to prove his "bona fides" and "locus standi," among other things, Verma sent a stinging lawyer-drafted response.
To start with, Verma questioned the bona fides and locus standi of the panel!
The tone and contents of the email sent out by the panel to those willing to depose got taken apart by Verma.
A copy of Verma's reply is with this Reporter and, at one place, he has said: "The hostility that you have expressed through your email to someone who wished to present something has sent a message in no uncertain terms that this is a committee that is sympathetic and partial to Johri."
More followed: "The message that your email carries seems to be one to scare away complainants rather than to make it conducive for them to complain about being harassed. It lacks the basic sensitivity required to deal with such situations."
True.
Besides, Verma has made public IPL chairman Congressman Rajeev Shukla's role in settling an internal case of harassment against Johri.
It was, according to top sources within the Board, a "fit case" of sexual harassment, but the lady employee who'd complained and, briefly, quit was "persuaded" (a) not to mention "sexual" in her complaint and (b) to take back her resignation.
Apparently, on Diana's insistence, Johri had to tender a "written apology." Why did he, if nothing wrong had been done?
The lady employee, who was persuaded to compromise, was then made to report to "another boss."
Those in the know of what transpired were left aghast when Johri's services weren't terminated in February/March itself.
Rai backed Johri at that point in time and it's so obvious that he has taken a pro-Johri line now as well.
Verma is the secretary of the Cricket Association of Bihar, which doesn't have recognition from the Board, and first made headlines when he moved court after the IPL scandals in 2013.
Given Verma's scathing response, it's unlikely that the panel which meets again on Saturday, in Mumbai, will invite him to depose.
After all, Verma is no more than a petitioner/respondent who keeps raising issues and writing even to Prime Minister Narendra Modi.
In his reply, Verma has posed some of the questions asked in Friday's edition of this newspaper.
The buzz from New Delhi, meanwhile, is: Johri may still have the blessings of somebody with massive influence in the corridors of power.
Johri hadn't been at No.1 when the shortlist of the best possible candidates was drawn up in the weeks preceding his appointment in April 2016.