Nick Kyrgios raises hopes of 1st slam title
'I'm just glad I'm finally able to show New York my talent'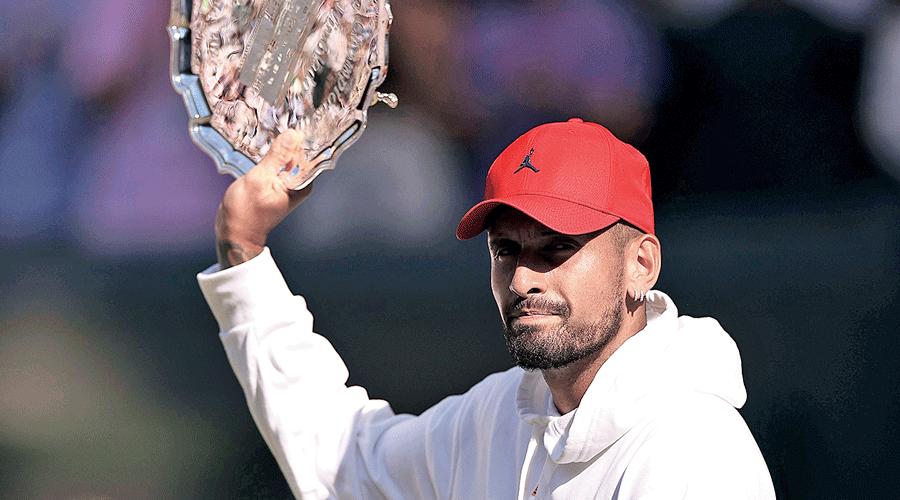 ---
New York
|
Published 06.09.22, 04:06 AM
|
---
Nick Kyrgios's finest season continues to get finer, and on Sunday he defeated No. 1 Daniil Medvedev, the defending US Open men's singles champion 7-6 (13-11), 3-6, 6-3, 6-2, with a deeply convincing display of power and finesse to reach his first quarter final here. Sunday's fourth-round match was played at breakneck pace and peaked in terms of mutual quality of play in its torrid opening set.
Both men appealed to the sellout crowd in Arthur Ashe Stadium for support and both saved three set points before Kyrgios secured it after 63 minutes. But though Medvedev, who will lose his No. 1 ranking after the US Open, rebounded to win the second set, Kyrgios quickly took command, breaking serve in the fourth game of the third set after Medvedev jumped out to a 40-0 lead.
Kyrgios, a combustible Australian who threw his racket several times in frustration on Sunday, controlled the big points and his own service games from there and finished off the victory with his 21st ace. "I'm just glad I'm finally able to show New York my talent," Kyrgios said during his on-court interview.
In terms of seedings, it was an upset. Medvedev is No. 1. Kyrgios is No. 23. But it did not feel like an upset. Kyrgios now leads their head-to-head series 4-1 and has been playing the most consistent quality tennis of his career in recent months at age 27.
He reached his first grand slam singles final at Wimbledon in July, losing a close match to Novak Djokovic, and backed that up by winning the Citi Open in Washington DC last month and by beating Medvedev in the second round of the National Bank Open in Montreal. But for Kyrgios, despite his serve and fast-court skills, the US Open has long been a stumbling block.
In eight previous appearances, he had not been past the third round. This year, he is into the quarter finals with a fine chance to go further. His next opponent will be Karen Khachanov, the No. 27 seed from Russia. The other quarter final in the top half of the men's draw will match No. 13 Matteo Berrettini of Italy against No. 5 Casper Ruud of Norway. None of the four has won a major singles title, and if Kyrgios can maintain the level he displayed on Sunday, he is certainly a threat to any man still in contention at the US Open.
"I want to go all the way, and hopefully it's possible," Kyrgios said. Kyrgios said his desire to make those closest to him proud and change the public's perception of him is the driving force behind his improved play. The mercurial Australian has long been open about his struggles with mental health and said he is proud to have bounced back after being in some "scary places" in recent years.
"I felt like when I was really struggling mentally, I was very selfish," he told reporters. "I felt like, I feel bad, I don't want to play. Then I looked at the people closest to me and how much I was letting them down, and I didn't want to do that anymore."
The immensely gifted 27-year-old said he decided to put his focus into getting into great physical shape, which was on full display as he battled past Medvedev on a hot and humid night at Arthur Ashe. The Wimbledon finalist and has won 26 of his last 31 matches and said all of that success has given him motivation to train even harder.
"I feel like I'm making people proud now," he said. "There's not as many negative things being said about me. I just wanted to turn the narrative around... I just was feeling so depressed all the time, feeling sorry for myself. I just wanted to change that."
Despite the heartfelt nature of the news conference, Kyrgios could not help but toy with reporters, suggesting he may simply walk away from the sport if he captures his maiden grand slam title at the last major of the year. "We've got to try and just tough it out and keep pushing each other, keep being positive," he said. "We do realize it's next week we're going home. Three more matches potentially, then we may never have to play tennis again," he said with a smile.
(Written with inputs from NYT News Service and Reuters)
Medvedev a 'little bit sad'
Sunday's defeat by Nick Kyrgios in the US Open fourth round would have tasted extra bitter to Daniil Medvedev with the Russian also set to lose his world No.1 ranking as his title defence ended in New York. Kyrgios' 7-6(11), 3-6, 6-3, 6-2 win meant the 26-year-old Medvedev will lose the bulk of the 2,000 ranking points he claimed by lifting his maiden grand slam title at Flushing Meadows last year.
"I'm trying to look good here, but I'm disappointed," Medvedev told reporters. "Not going to cry in the room, but I'm a little bit disappointed. For a few days I'm going to be just a little bit sad, looking at my phone, my laptop or watching some series."
Spaniard Rafael Nadal, ranked third, is in pole position to reclaim top spot when the rankings are updated next Monday as he is defending no points. Fourth-ranked Carlos Alcaraz and Norway's world No. 7 Casper Ruud also have a shot at top spot.
"It was not the first thing on my mind walking after the match, saying, 'Damn, will not be the world No.1 any more'," Medvedev said, adding that losing top spot would motivate him. "Yeah, should do better. Should get more points if I want to be world No.1 again."