New life for Geoffrey Boycott's treasures
The 'historic' online Christie's auction here of his cricketing memorabilia fetched a remarkable £207,625, with the India-related items all going for good prices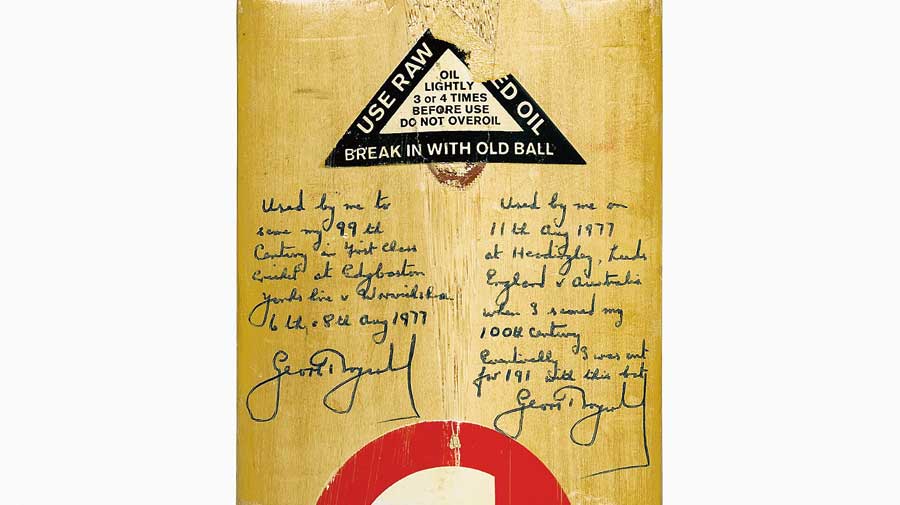 The bat with which Geoffrey Boycott scored his 100th first-class century, at Headingley, in 1977.
Picture courtesy: Christie's
---
London
|
Published 19.11.20, 01:52 AM
|
---
England legend Sir Geoffrey Boycott expressed gratitude to his fans after Tuesday's "historic" online Christie's auction here of his cricketing memorabilia fetched a remarkable £207,625, with the India-related items all going for good prices.
"I am really pleased that the auction of my personal cricketing collection was so well received," said 80-year-old Boycott, who parted with his treasures because he was cramped for space at home.
The cap gifted to him by Sunil Gavaskar raised £3,000; the bat with which he scored a record 246 not out against India at Headingley, Leeds, in June 1967 £3,500; £375 for a stump from the same match which England won by 6 wickets; £4,750 for another bat that he used against India to score 105 in Delhi in December 1981; and £750 for the cap given to him as a former captain in the England v India centenary Test at Lord's in July 2011.
Out of 130 lots, "89 per cent" was sold, with the star proving to be the symbolic Lot 100 — the bat used at Headingley against Australia in August 1977 to score his 100th first class century fetching a staggering £43,750.
"Knowing that these items have gone to people who will treasure them and enjoy them as much I have over the years, is all I could have hoped for," added Boycott.
"The fact that they can now be seen in the light of day instead of being in boxes in my attic is fantastic," he said. "I am humbled by the interest shown and wish to thank all those people who bid and those who bought a small piece of sporting history in the Christie's auction."
Jussi Pylkkänen, global president of Christie's, expressed delight: "Whether at the crease or in the commentary box, Sir Geoffrey has entertained generations of cricket fans for many decades. It is fitting that his historic 100th 100 bat made a record for any bat carried by an English Test cricketer.….Cricket fans across the globe competed fiercely for the unique artefacts that chronicled the career of one of the sport's greatest heroes."
Dominic Thurlow-Wood, head of sale, commented: "The great esteem in which Sir Geoffrey Boycott is held, not only by cricketing fans who witnessed his sporting prowess in action on the field, but by subsequent generations of supporters, ensures that these items will be coveted for years to come."