My heart is with India, but it's a great chance for England: Kapil
Legend's take: From the champagne moment of 1983 to 'game-changer' Hardik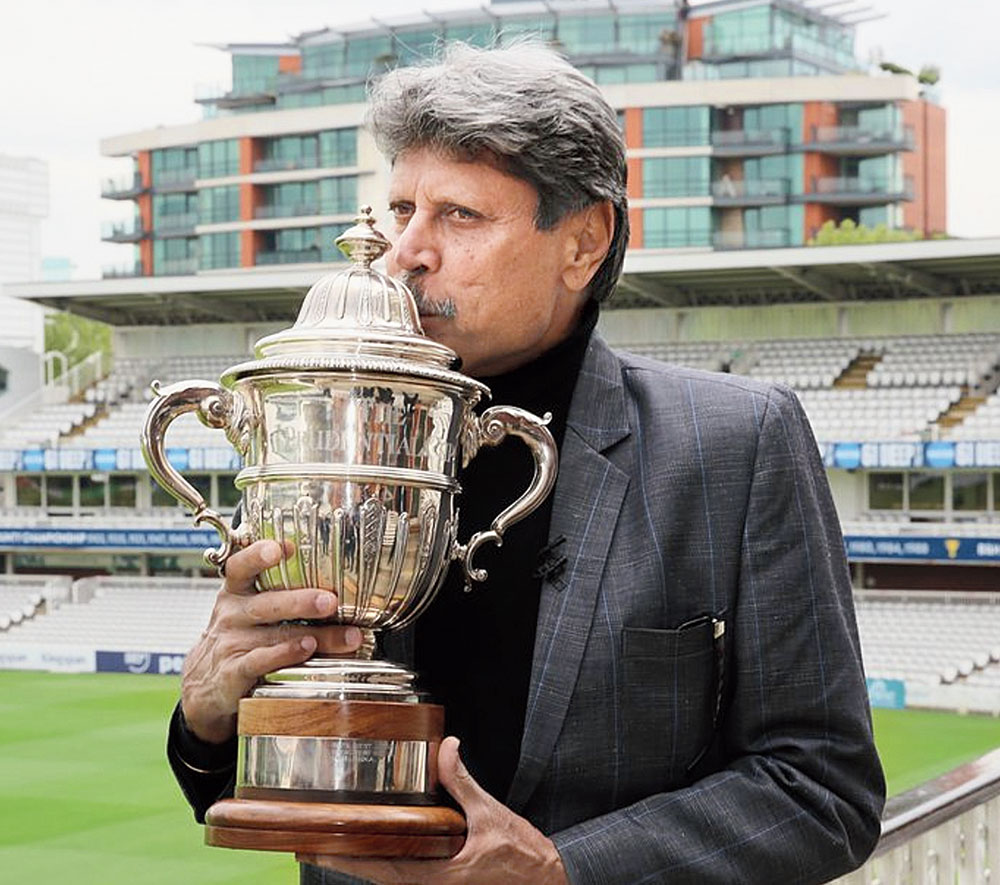 ---
Mumbai
|
Published 29.05.19, 10:39 PM
|
---
Kapil Dev Nikhanj, the first India captain to hold aloft cricket's World Cup, spoke to The Telegraph over two sessions in Mumbai — at the Grand Hyatt and, then, at a studio before his shoot for a TV channel.
The interview with the 60-year-old legend, over two sessions, lasted well over an hour.
Excerpts...

First, to go back in time... Would you regard the ODI win in Berbice, before the 1983 World Cup, as the most defining in India's ODI history?
Hard to say if it should be considered the most defining, but beating the West Indies in the West Indies was definitely the start of bigger things which followed. The West Indies, after all, were then the world champions and seemingly invincible.
So, which win would come close to being the most defining?
Our first match in the 1983 World Cup, when we again beat the West Indies, in Manchester. From being rank outsiders, the world suddenly began to take notice of us. I don't think the West Indies had ever lost in the World Cup till that match.
What's the change that win brought about in the India dressing room?
Actually, the difficult part was we ourselves getting to realise how good we were! Despite defeating the undisputed world champions twice in a matter of 10 weeks or so, self-belief took time... Believing that you can do something is, for me, most important. Often, you don't know your own strength till you're out in the market and seen for yourself how strong the others are.
Reflecting on the 1983 World Cup... Besides that win in Manchester, what would be the two other key moments?
Recovering to beat Zimbabwe in Tunbridge Wells and defeating England in the semi-final, in Manchester.
In Tunbridge Wells, you took guard with India 4 down for 9 which quickly became 5 gone for 17... What followed was an iconic 175 not out (138 balls, 16x4, 6x6) from you. Was your mind blank at the fall of wicket No.5, that of Yashpal Sharma?
I was in a state of shock. Usually, you have a Plan A or a Plan B, but we'd never anticipated that Zimbabwe (captained by Duncan Fletcher) would reduce us to 17 for 5... It was a situation where I had no plan to implement and, in that state of mind, things clicked. I'd been thrown into the water and had to find a way to survive. It was my day. It was destiny and God was kind.
How did you find a way to survive?
I took it over by over... Just had to survive, which was against my natural instinct, which was to attack.
Personally, where do you place that innings?
Others have to judge where it would rank. It wasn't my greatest innings, but the best I could have played in those circumstances.
Not your greatest? That's a big surprise...
At times, even a 50 could have more impact than a 150. Yes, I played an innings which was the need of the hour, but I'd also rate my 54 not out in Sydney against New Zealand, in the B&H World Championship of Cricket semi-final, as special... There have been other innings too. It's about how you feel on striking the ball.
Have you been able to see the recording of that 175 not out?
Nobody has. If somebody has, that person has been very lucky.
What did you say at the team meeting on the eve of the June 25 final?
I asked if we could put the West Indies under pressure. Said that doing so would make it easier for us. I didn't talk much, from what I recall.
Who did?
The team as a whole... It had grown in confidence and the players did most of the talking. They had become the captain... By the final, self-belief had been at its peak.
Did you sleep well the night before the final?
We were at The Westmoreland (now The Danubius), which is across the road from Lord's and I had a room facing the ground. I remember getting up rather early, around 4.00ish, and my wife Romi asked what was going on in my mind. I said I just wasn't able to sleep. Tried again, but failed.
Were you tense?
Not tense, but excited. Excitement changed to us getting very upset when we saw the greenish wicket. We'd been expecting the Lord's curator to remove the grass, but that wasn't done. To cap it all, I lost the toss and Clive Lloyd naturally put us in. The toss made me even more upset... I had to quickly calm myself.
Was 183 in a World Cup final enough?
On that Lord's wicket, gave us hope.
When did you realise that the World Cup could be India's?
When Roger Binny got Clive out (66 for five). Next when Jeffrey Dujon went, making it 119 for seven. After that, it was about keeping the pressure on the West Indies.
First thought when MoM Mohinder Amarnath dismissed Michael Holding to give India a momentous 43-run win...
To hug my teammates, I guess. It was the team's win.
What did you tell Clive or what did he tell you?
I went to the West Indies dressing room and said 'Sorry Skipper, hard luck... Great game'. Then, on seeing bottles of champagne, I picked up four and returned to my dressing room!
Incredible! Nobody reacted? Not even Clive?
(Laughs) What would Clive have said? He didn't have anything left to say... The West Indies players were, in any case, feeling too low after being dethroned... We'd won the World Cup, so we needed to celebrate. To this day, by the way, I address Clive as 'Skipper'.
Did you expect that 1983 win to be such a game-changer for sport, not just cricket, in India?
Not at all.
You first played at Lord's in 1979... Had you been looking forward to that?
I knew it was a special venue... It's with a reason that Lord's is regarded as the Home of Cricket.
Let's look ahead... Clive twice, you and Steve Waugh once each... Who is the captain most likely to hold the World Cup on the Lord's balcony this time?
Virat Kohli's team has everything, but for the first time, I feel England have the ability to win their maiden World Cup. My heart is with India, but it's a great chance for England... That said, there's not much of a difference between most teams, so it could be anyone's day in the last-four stage.
You've named India and England... The other two for the semi-finals?
Australia are looking good... The fourth team I can't say... Could be New Zealand or the West Indies or Pakistan... Or South Africa... Will they be consistent over many weeks? Will they not crumble under pressure? I don't know.
What would India have to do?
Play as a team and stay free of injuries.
Surely, there's massive pressure on Virat...
Virat is an experienced captain now. Is he seeing the World Cup as a tournament of pressure or a tournament which would give him and his men pleasure? Is Virat looking to enjoy the World Cup or not? Sport is for fun, not to get weighed down (by pressure). If you do get burdened, you'll never be able to play your natural game.
Some words on senior-most pro Mahendra Singh Dhoni, who will celebrate his 38th birthday on July 7...
Well, let's begin by talking about Dhoni's age. Instead of some making an issue of how old he is, we should all say if someone can play such good cricket at that age, it's great. Why not be positive about the whole thing? I'll tell Dhoni: Forget age, we're proud about the way you play cricket. We need to change our mindset and not talk about Dhoni's age, but about how good he still is. We need to show respect.
What's the future you see for Dhoni?
Right now, why should I look beyond this World Cup? Let's take it one series/tournament at a time.
Your pick for the No.4 position? KL Rahul? Maybe Virat?
I don't want to give an opinion... Let the captain decide. All 11 are important, not just one batting position.
India's game-changer?
Hardik Pandya. He can get 30 runs off 10 balls. Somebody who does that will be recognised as a game-changer. Can Hardik do that on every occasion that's needed? Remains to be seen.
Your take on Jasprit Bumrah...
If I have to make a comparison, the pace Bumrah generates from his run-up reminds me of Sylvester Clarke... He runs in from around 10 yards only, yet generates 145 kph! Clarke would do that as well... Bumrah keeps improving every day and that deserves appreciation. Hats off to him.
Any non-India fast bowler you'd be following with much interest?
South Africa's Kagiso Rabada is exciting, as is Jofra Archer of England. Both have pace and are capable of surprising.
Pakistan's teenaged Mohammed Hasnain?
It's a fact that Pakistan keeps producing fast bowlers who catch the eye, but few play long enough. Captains would like continuity and consistency in the fast bowling department. Otherwise, team building gets affected.
Do teams need a surprise element?
If available, would be nothing like it.
Happy with the format, which is a return to the 1992 model?
It's the most fair format, especially in a country like England. If the format was otherwise, then a top team could have got knocked out after, perhaps, two matches being rained off.
Your first ODI was in 1978 and your maiden World Cup the following year. The format has seen many changes since. Your views?
One-day cricket has improved... Look at the athleticism and the quality of fielding. Look at the catches which get taken... Look at the running between wickets... In general, look at the level of self-confidence on display. I admire today's generation.
Cricket has, of course, remained a batsman's game...
Will always stay that way.
What would you tell the 10 captains in the about-to-begin World Cup?
Enjoy the World Cup, express yourself and don't think of the pressure.
Lastly... You retired towards the end of 1994... Could you not have played the 1996 World Cup as a batsman?
That's gone, it's past, it's history. Let's leave it there.