Most significant title of my career: Sourav Kothari
Sourav beat former champion Peter Gilchrist to claim his maiden World Billiards Championship title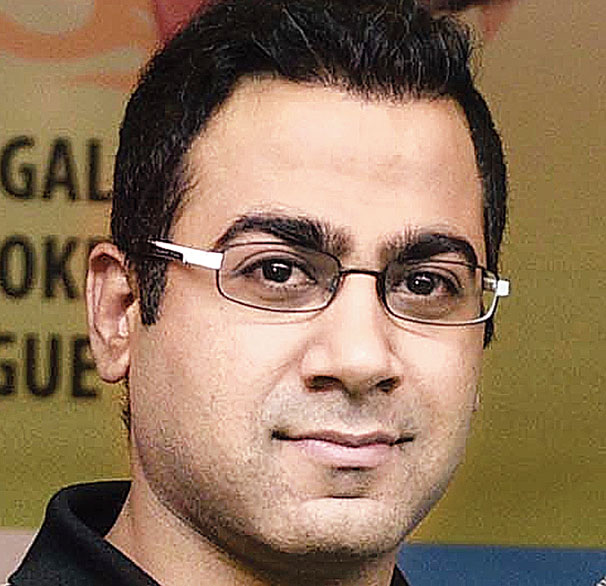 Sourav Kothari
Telegraph picture
---
Calcutta
|
Published 26.10.18, 10:17 PM
|
---
Unbelievable and special"… That's how Sourav Kothari described his maiden World Billiards Championship title on Friday.
After an energy-sapping and nail-biting contest against David Causier in the semi-final the day before, Sourav backed himself to beat former champion Peter Gilchrist 1134-944 in the decider at the Northern Snooker Centre in Leeds.
With the world crown, the Calcutta-based cueist thus was able to emulate his father Manoj Kothari. No wonder this goes down as Sourav's best-ever performance so far in his career.
"In the modern era in cue sport, only Geet Sethi and Pankaj Advani have been able to win the world title for our country. So, by winning today, I become one of the few Indians to achieve such a feat.
"This only shows how huge an achievement it is. It's the most significant title of my career so far. It really means a lot to me and nothing can match this," an elated Sourav told The Telegraph late in the evening.
Michael Ferreira had earlier won the amateur world billiards title thrice.
That Sourav had to emulate his father was certainly there on his mind and he admitted that it did create a bit of pressure before the final. "Yes, emulating dad did add a bit of pressure. I was getting stuck in the previous finals I had played.
"But having crossed the hurdle, it's like I'm on top of the world… An unbelievable feeling, to be honest," he said.
In the final, Gilchrist from the beginning established his stronghold with breaks of 83, 216 and 63 to go ahead by 130 points. At that juncture, finding an opportunity, Sourav gathered all the three balls at the top and started to pile up points and reached a massive break of 305 to go ahead by 170 points.
Gilchrist, however, stuck to his work and covered the deficit with two small runs and a nicely crafted century break. It was a sheer battle of attrition thereafter where once again Sourav raised the bar and chalked out breaks of 76 and a timely 163 to go ahead in the proceedings.
Though Gilchrist tried to come back with some useful runs, Sourav never allowed him to take the lead and played a wonderful all-round game to stick to the table and finished things off with a final blow of 93 that won him the coveted title.
But more than the final, it was the contest against Causier that had almost drained Sourav out.
"The semi-final victory against David seemed next to impossible for me.
"David was someone who had been decimating his opponents, and I felt as if I was nearly at a loss as to how I can beat him. Besides, he hadn't lost a match in a long time.
"Of course, playing in a final brings along with a different kind of pressure. But the win over David made me much more confident, even if it turned out to be probably one of the toughest matches I've ever played in my career," Sourav explained.
He had beaten Causier 1317-1246 in the semi-finals.