The next time Eoin Morgan appears as Kolkata Knight Riders' captain at Eden Gardens, fans may want to quiz him about his tweet making fun of the way Indians speak English.
This has apparently amused several senior England players who are now earning fortunes on the IPL circuit.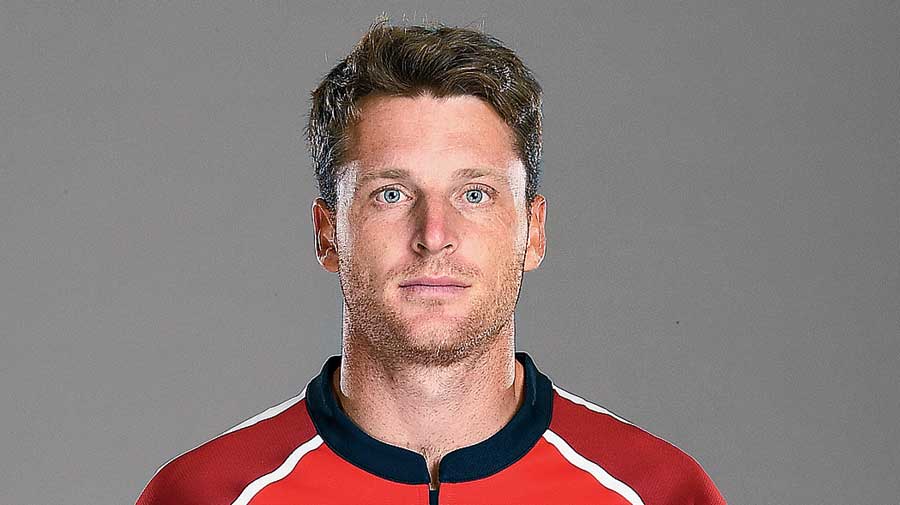 Jos Buttler
The England and Wales Cricket Board is getting mired in a deepening Twittergate following its decision to suspend Ollie Robinson indefinitely from international cricket after an inquiry. Now 27, Robinson, who shone in his debut Test against New Zealand at Lord's last week, has apologised for racist and misogynistic tweets posted when he was 18.
The government, led by Prime Minister Boris Johnson and culture secretary Oliver Dowden, has slammed the ECB for its "over the top" action. However, it seems there is a culture of casual racism on Twitter.
Mark Ramprakash, who played 52 Tests for England between 1991 and 2002, called the PM's intervention "very unwelcome. He is trying to bear undue influence in this case."
Ramprakash, who was England batting coach between 2014 and 2017, added that the England dressing room would have been a "pretty toxic place" if Jofra Archer or Moeen Ali had been part of the same team as Robinson at Lord's.
"I've heard people express sort of sympathy with Ollie Robinson, and say, 'Hasn't he shown a lot of character?', but I haven't heard enough about the victims or the people that these tweets are aimed at," said Ramprakash. "How do they feel? Where is the sympathy for those people? They are UK citizens, a lot of them. We live in a diverse society and we really don't want this behaviour."
Wisden has also uncovered an unsavoury tweet by an England player when he was 16, which is why the "cricketing Bible" has chosen not to identify the player.
Others, including Jos Buttler and Morgan, England one-day vice-captain and captain respectively, are now facing the heat. In posts sent in 2017 and 2018, they poked at the Indian tendency to use "Sir", for example.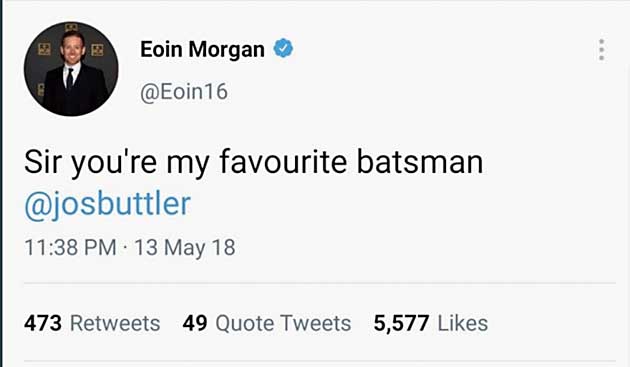 Eoin Morgan's tweet from 2018 Screengrab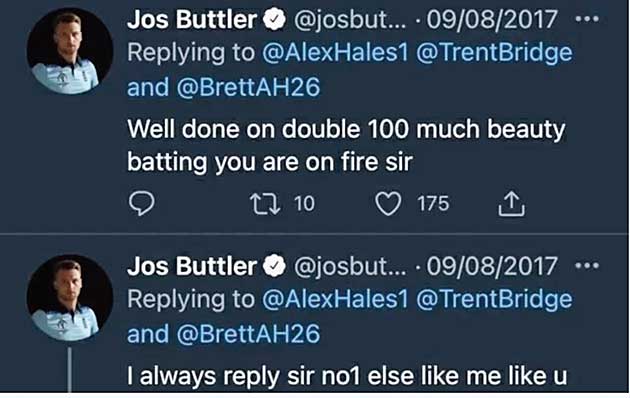 Jos Buttler's tweet from 2017 Screengrab
Screen grabs of Buttler, who plays for the Rajasthan Royals, saying, "Well done on double 100 much beauty batting you are on fire sir," to Alex Hales from August 2017, and messages from Morgan and New Zealand-born coach Brendon McCullum to Buttler the following May, the former commenting, "Sir you're my favourite batsman" and McCullum adding, "Sir, you play very good Opening batting," have come to light.
Although Morgan is himself an Irishman – and the English generally look down on the Irish ("the Irish don't know what the devil they want but are willing to die for it") – he might have felt peer pressure to bond with the England "boys".
Knight Riders CEO Venky Mysore has promised to get to the bottom of the incident.
"We don't know enough about it to comment at this time. Let's wait for the process to be completed to get all the facts before we jump to any conclusions," Mysore told The Telegraph. "Just to reiterate, the Knight Riders organisation has zero tolerance for any sort of discrimination."
James Anderson was also dragged into the controversy when a tweet emerged from 2010 containing a homophobic reference during a conversation with Stuart Broad.
"I saw Broady's new haircut for the first time today. Not sure about it. Thought he looked like a 15 yr old lesbian!" he wrote.
Anderson, who has been paid a lot of money by the Indian-owned vitamins company, Vitabiotics, to be its brand ambassador, said: "For me it's 10-11 years ago, I've certainly changed as a person. And I think that's the difficulty, things do change, you do make mistakes."
There could be a possible problem with Craig Overton if he is picked as a replacement for Robinson in the second Test against New Zealand starting at Edgbaston on Thursday. In 2015, Overton was reported for telling Sussex's Pakistan-born batsman, Ashar Zaidi, to "go back to your own f*****g country" during a county match.
An ECB spokesperson said: "Since we were alerted to offensive tweets last week, a number of historical social media posts by other individuals have been questioned publicly as well. There is no place for discrimination in our sport."
Additional reporting by Our Special Correspondent in Calcutta