Monday rollout for Mohun Bagan 2.0
ATK and Bagan announced on January 16 that they were joining hands and would play as one entity ISL VII onwards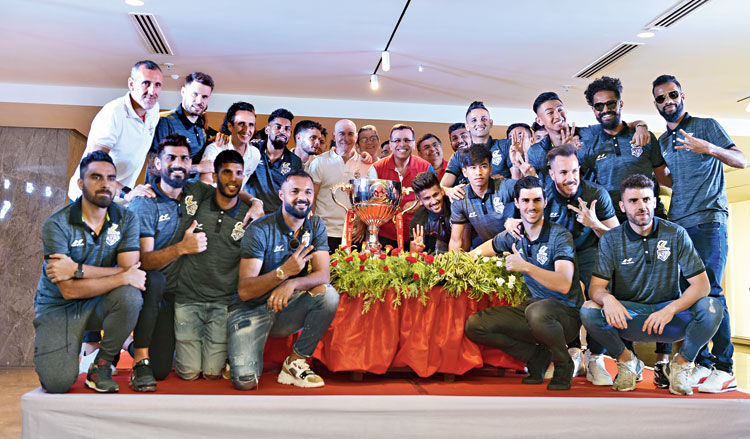 ---
|
Calcutta
|
Published 15.03.20, 09:59 PM
---
ATK and Mohun Bagan will officially merge on June 1, but according to the ISL VI champions' principal owner, Sanjiv Goenka, planning for next season would start from Monday itself.
ATK and Bagan announced on January 16 that they were joining hands and would play as one entity ISL VII onwards.
The ISL franchise, controlled by industrialist Goenka's RPSG Group, will have 80 per cent stake in the merged entity while the remaining 20 per cent would be with Mohun Bagan Football Club (India) Private Limited, whose directors are Swapan Sadhan Bose, Srinjoy Bose, Debashis Dutta and Sohini Mitra Chaubey.
ATK defeated Chennaiyin FC 3-1 on Saturday to win the ISL title for the third time while Mohun Bagan won the I-League on March 10.
"Now that the ISL and I-League are under our belt, we will start planning for the new season from Monday. Today we will enjoy the moment, but from Monday everything becomes past.
"We have to consolidate our position in the league and for that preparations have to begin," Goenka said during the felicitation of the winning squad and support staff on Sunday.
The RPSG Group chairperson confirmed signing two players for the new season. "The two signings we have confirmed are Manvir Singh and Subhashis Bose. We are happy to have them."
In an exclusive interview with The Telegraph published on January 17, Goenka had said Antonio Lopez would be staying as the head coach. "Habas will stay and so will Sanjay Sen (assistant coach)," he had said.
On Sunday he lauded the Spaniard for his technical acumen. "His planning has been immaculate. We are extremely happy with Antonio. There is a certain connect between ATK and Antonio."
ATK and Mohun Bagan as one entity would also be playing in the AFC Cup. And Goenka is hopeful about performing well at the continental level as well.
"It is very important. We congratulate FC Goa for getting the AFC Champions League spot.
"We hoped to get it but they had more points and had played better at that point. The mission is to become worthy of playing internationally and making a team that can compete effectively and hopefully win there as well."
He also heaped praise on the players but did not single out anyone for special mention.
"It is difficult to individually list players. It was an exceptional performance and I express my heartfelt gratitude and appreciation for each and every player.
"Prabir (Das) came back from an injury and made such a huge impact. Roy (Krishna) and Edu (Garcia) were brilliant… Javier (Hernandez), on Saturday, what a performance! Sumit Rathi, a youngster who cemented his place in the team. Jayesh (Rane) played in a different position. Pritam (Kotal) was extraordinarily matured. Arindam (Bhattacharya) saved his best for the last two matches."
After the high of 2016, when ATK won the title for the second time, there was slump in the team's performance. "We made mistakes in the last two seasons. We tried to correct that this year and the results are here for everyone to see," was Goenka's take.
ATK are expected to reassemble by July.
"We hope to reassemble in July but there will be bits and pieces happening now," said Goenka.
Habas, when asked to compare between 2014 (he was at the helm when ATK won the inaugural trophy) and 2020, said: "That was like the first kiss and this is like the love affair continues."