Mithali Raj on the golden moments of her career
When you have so many highs, there are bound to be lows, says Mithali Raj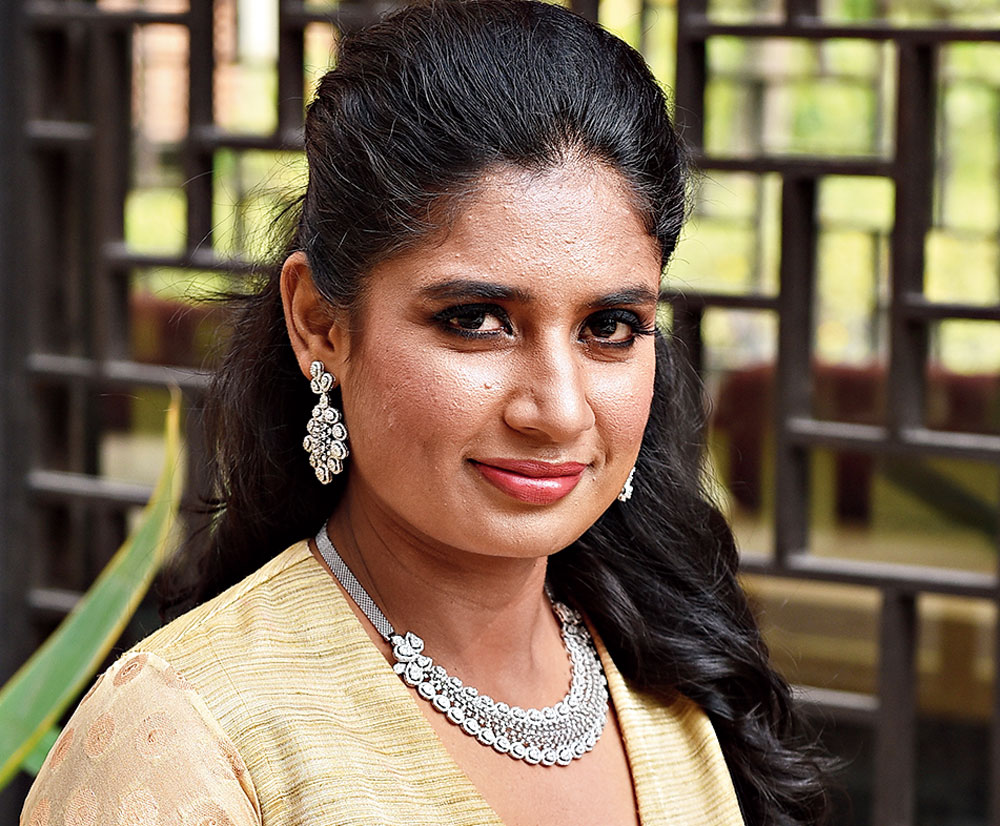 Mithali Raj sports pieces from the jewellery collection with Australian Diamonds by Senco Gold & Diamonds, at ITC Sonar, Calcutta
Picture: B. Halder
---
Published 30.12.18, 12:58 PM
|
---
When we met up with Mithali Raj at ITC Sonar recently, the India Women's ODI captain was craving mishti doi. That's her favourite thing about Calcutta. The pretty and gritty icon for women's cricket in India was in town for Senco Gold Swarna Samman, in association with Australian Diamonds. Mithali, the face of Rio Tinto's Australian Diamonds programme, chatted with us on the glories of her career and how highs and lows are like doubles partners. She said it all with a dazzling smile.
Are you a jewellery person?
I am, but it depends on the occasion. If it is a wedding, I would dress up. At a western formal gathering, I'd go for a classy stud.
Do you love diamonds?
Who doesn't love diamonds?!
The biggest rock you have…
I bought solitaires on my tour and gifted them to my mother. That was my first buy. When I got associated with Australian Diamonds, I started to know more about it, things like certificate of assurance and that they are sourced from a trusted and iconic mine…. If you are spending so much, you should know from where the diamond is coming.
Earlier my association with Australia was only cricket. Now there is one more connect. Now when I go to Australia, I know what I can get from there other than just good memories.
What are some of the golden moments that you cherish?
There have been a lot of such moments. Recollecting a few would be difficult. To begin with, I think it would be the world record (of being the highest run-getter in Women's ODIs last year). That's when I started to see that in my own state people had started to understand women's cricket and know more about women cricketers.
Then the 2005 World Cup runners-up position was special, because that was a phase when the team started to be acknowledged. The Test win in 2014 (against England) where I had eight debutantes and we played Tests after eight long years and winning it in England was also a defining moment for the players. Then coming to the 2017 World Cup, a huge milestone for women's cricket in India (India were the runners-up). It was the moment for women's cricket in India, which changed everything. It has continued with the team ending up as semi-finalists in the recently-concluded T20 (ICC Women's World T20 2018). There have been lots of memories.
Highs?
And lows also. When you have so many highs, there are bound to be lows.
How do you handle the pressure of expectations?
I don't see it as pressure. I see it as a responsibility and feel that very few are privileged and honoured to have that responsibility. I feel I am fortunate. There are expectations in everyone's lives. It might be small or big, but then you cannot forget to prioritise what is important and try to focus when it is really needed.
Who are the cricketers worth in gold for you?
Karen Rolton from Australia. She's always been my favourite cricketer. Neetu David from India. I think we are still on the lookout for a left-arm spinner who can at least be closer to what Neetu David has been for women's cricket. Sachin Tendulkar because as a batter I have looked up to him.
You have given us the golden list. Tell us about the diamonds now…
A World Cup win will be a diamond. We were very close twice, but then we still continue to work towards that goal for 2021, and in 2020 we have the T20 World Cup.
2019 is going to be…
Very good. It will play a significant role in my life as a player and I also want it to be a huge year for women's cricket in India.