Lovlina Borgohain recounts her Tokyo 2020 experience
'My journey to Olympics is incomplete until I win the gold medal'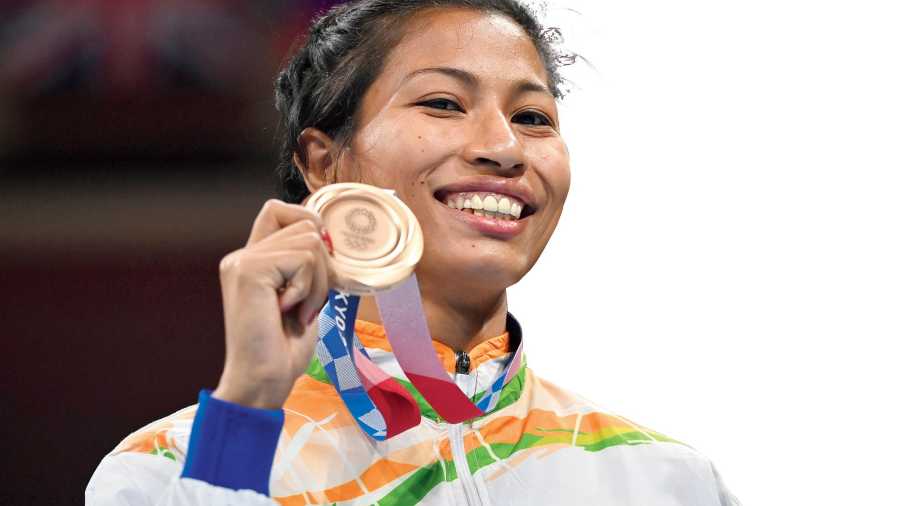 ---
Published 29.08.21, 04:02 AM
|
---
Outstretched arms thrust forward in fistful glory, the red nailpaint trashing many a myth about the unfeminine woman athlete. Eyes closed. A roar of jubilation announcing the arrival of champion boxer Lovlina Borgohain. This after the 23-year-old from Assam won her Olympic quarter-final match against Taiwan's Chen Nien-chin and assuring India of a medal in boxing from Tokyo. A photograph that speaks a thousand words. Of emotions, sacrifice, determination and courage.
She came back with a bronze (69kg) from her debut Olympics. India's first Olympic medal in boxing in nine years. A pinned tweet is a 'thank you' note to all who supported her. The simplicity with which she speaks and the innocence of her expressions will stump you. Completely devoid of pride, but one full of immense gratitude.
An Arjuna awardee, a World Championship medallist as well an Asian Championship medallist, Lovlina in this chat tells us her dream still remains an Olympic gold. Barely weeks after she bagged the bronze. Salute!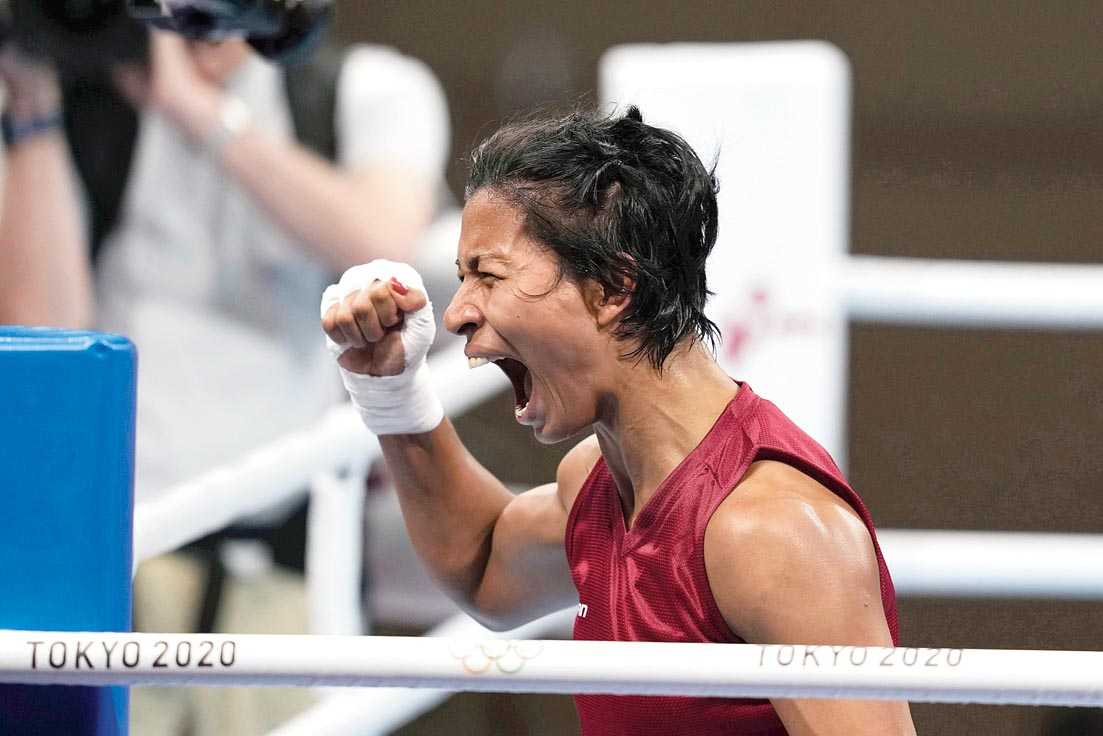 Many many congratulations for an Olympic bronze. How has life changed?
Thank you so much! Since I have won the Olympic medal, I have been constantly getting wishes and support from people and it makes me really happy. With all the love and support, I feel people are now expecting more from me. I really hope to perform better in the coming years and fulfil the dream to win the Olympic gold. I have become more confident and fearless now.
Tell us about the moment when you won. Can you recall the final whistle and what was going on in your mind?
There were a lot of pent-up emotions inside me since so many years that I never showed to anyone. Before my quarter-final bout, I channelised those emotions to give my best in the ring and perform fearlessly. After winning the bout, I screamed and let all my emotions out at once.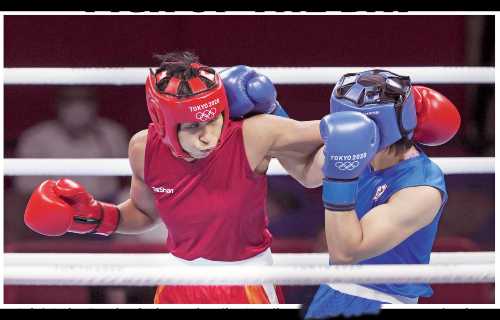 You have famously said: 'Medal toh bas gold hota hai'. How did you pep yourself up for the bronze match?
My target since the start of the Olympics was to win the gold medal and I did everything I could to realise that dream. Before the bronze medal match, I had lost to my opponent four times but, on that day, I thought about everyone who has helped me in my journey, my family, our struggles and sacrifices and told myself that I am going to play fearless boxing and not lose today. I gave my absolutely everything that day.
To participate in the Olympics is itself a very big deal. To win a medal is the icing on the cake. How do you look back at your Olympic journey?
It was a long journey with lots of difficulties and sacrifices. It was not easy for my parents to raise three children, but no matter how difficult it was, they were always very supportive and never let anything stop us from achieving our dreams. The biggest sacrifice I had made was staying away from my family for eight years. I could not be with them during their tough times and give my support. My mother was not well since last year and underwent a kidney transplant early this year and I could only be with her for a few days while she was still recovering as I had to come back to the camp for my Olympic preparations.
They were my rock throughout the tough period and made sure that I focus on my preparation without thinking about anything else. It strengthened my resolve and I just wanted to make my country and family proud. I am grateful and happy that after all my struggles, I have been able to win a medal, though I feel, my journey to Olympics is incomplete until I win the gold medal.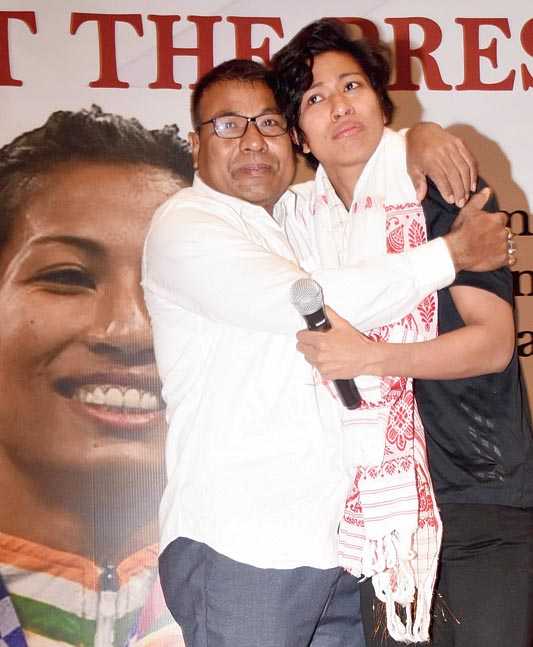 How did you celebrate? Who did you call first?
It has been an amazing period of two weeks where so many things and events have happened. People back home have showed so much love and adulation that I don't have the words to express my gratitude. I wish to go on a vacation with my family and spend some quality time with them for a few weeks before resuming my training. For me, that will be the best way to celebrate. The first people I called were my parents and wanted to speak to my mom but there were so many people that we could speak very briefly.
Did you do anything specific in terms of training before the crucial game?
During the last phase of my preparation, apart from the technical and tactical aspect, I worked a lot on my strength and conditioning and that helped me a lot. I was not active on social media and focused completely on my preparation. We spent four weeks in Italy before the Olympics and sparred with some Olympic-bound boxers from other countries and that helped me a lot.
What was your mantra to keep calm?
I believe that having self-confidence and strong willpower helps a lot. No matter what happens, never back down. There will always be obstacles and difficulties in life but the key is to keep on fighting.
The Lovlina who landed in Tokyo and the Lovlina now, what is the main difference between the two, besides the bronze?
I am still the same person, but slightly more confident and determined to work harder for the Paris Olympics and win a gold for India. I am overjoyed and humbled by the love and support people have showered on me and it inspires me to put in more effort. My Olympic journey is not complete yet and my aim is to prepare for the Paris Olympics and clinch the gold medal for the country. I also realised the power that sports has on people and how it inspires and brings everyone together. Rewind a little for us. How did your journey in boxing begin?
Following in the footsteps of my twin sisters Licha and Lima, I picked up kick-boxing as my sport at an early stage. I was on the constant lookout for better opportunities. Luckily, I got the chance when SAI (Sports Authority of India) was holding the trials at Barpathar Girls High School, where I was studying, and showed my skills when I took part in the trials. It was then, where coach Padum Boro noticed me and was sure that I have the talent and started honing it from 2012. Padum Boro sir introduced me to the individual sport and I fell in love with it and since then, there has been no looking back. One thing led to the other and I continued working hard and climbing the ladder.
To you, what is the most attractive thing about your sport?
It is very hard to pick one thing as boxing requires you to be perfect in a lot of aspects and that is what makes it so attractive. I love to train and spar and there is nothing that can match that for me.
You are just 23. What are your dreams for yourself?
My journey has only started and my dream remains the same — to win gold medal for India at the Olympics. I want to participate in two more Olympics starting with Paris and then LA (Los Angeles). After taking a short break for a couple of weeks, I will start from scratch for the 2024 Paris Olympics. It was a privilege to compete against the best boxers in the world at the biggest event globally and I plan to grow more as a boxer and bring more laurels for my country.
What do you think your win will do for all the girls in India who want to take up boxing?
The power of an Olympic medal is massive. I want more and more children to touch and feel my medal and get inspired by it to take up boxing and sports. If my medal makes young girls join sports and bring medals for the country, there is nothing that would make me happier.
Pictures: Agencies and Getty Images