Kohli's advice: Learn to defend, don't crib
India too may have their way with the Motera pitch for the fourth and final Test unlikely to be anything different from what it was in the previous game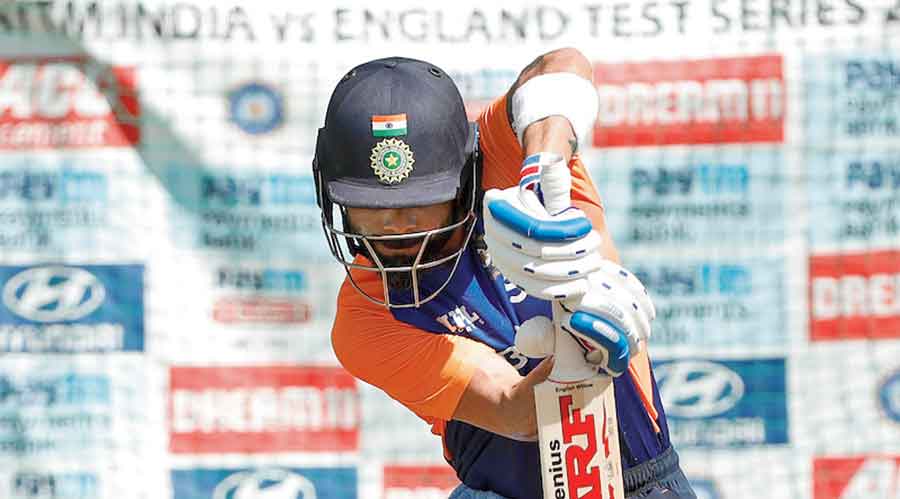 Captain Virat Kohli at nets
BCCI
---
Calcutta
|
Published 04.03.21, 02:07 AM
|
---
At his aggressive best, not on the field but during India's pre-match media conference, Virat Kohli unleashed the drives, cuts and pulls to silence all the noise surrounding turning tracks.
Kohli minced no words to throw his weight behind such surfaces. And India too may have their way with the Motera pitch for the fourth and final Test unlikely to be anything different from what it was in the previous game — a pink-ball Day-Night affair that finished inside two days.
"There's too much of noise and conversation about turning tracks. We lost in New Zealand in three days (in the final Test in Christchurch early in 2020), but no one spoke about those pitches, how much the ball was moving and how much grass was there (on the wicket). What was mentioned was just the Indian batsmen's technique. But our team doesn't crib about anything," the India captain said on the eve of the final Test.
With conditions set to remain the same as they were last week, India are unlikely to tinker as such with their team combination except finding a replacement for Jasprit Bumrah, who's out due to personal reasons. Common sense says Umesh Yadav will come in for Bumrah, but looking at the conditions, one cannot completely rule out the inclusion of yet another spinner. Or you never know, the Indian team management may have a surprise up its sleeves.
"We'll have another look at the pitch (on Thursday). We have a set idea what to go with and there won't be many changes to the last XI. Most probably similar kind of conditions," Kohli said.
Going by what Kohli says, it matters little to Team India if the final Test too finishes early. All that matters to his team and him is winning.
"I would like to ask you, do you play to win or play for the sake of entertainment and to see that the game lasts all five days?" Kohli fumed when queried if a two-day finish looked justified. "People should find it entertaining when India win, be it in five days or two days or whatever. Not all Test matches finish inside two days.
"Things should be seen objectively. It's easy to make controversies out of these matters. But that said, our focus is just to win," he emphasised.
England may console themselves by feeling it could be comparatively easier to tackle Axar Patel and Ravichandran Ashwin with the red ball than how it was with the pink one. But the skipper believes it boils down to batsmen's skills on such spinning tracks with the colour of the ball being completely immaterial in this case.
"Why can't we focus on batsmen not being skilled enough to play properly on such pitches? I'll continue to maintain that because I've been playing long enough to understand what happens on a cricket field. The ball is still round and weighs five-and-a-half ounces, so what difference does it make suddenly?" Kohli asked.
"This (Motera) track has a bit more pace and bounce, which is the result of the clay laid on the pitch. I don't think the red ball is going to bring about any change whatsoever."
For survival as well as success on these turners, Kohli stressed the need for having a strong defence, which he feels has taken a backseat because of the influence of the limited-overs formats.
"Because of the influence of white-ball cricket, we see more results in Test cricket. But that's just a by-product of it as far as batting is also concerned, as a batsman's ability to defend is being compromised with.
"Grinding out a bowling attack for four-five sessions is not much in focus today as not too much of attention is paid to defence," Kohli explained, adding: "My solution, though, would be a defensive shot. If I do that properly, the ball won't go to short leg or silly point. So I think that's one part of the game that has fallen back."
Match starts: 9.30am