Sandesh Jhingan on his proudest career moment and favourites at Euro 2020
'Winning the Arjuna Award makes you speechless. It was massive for me…even more for my parents'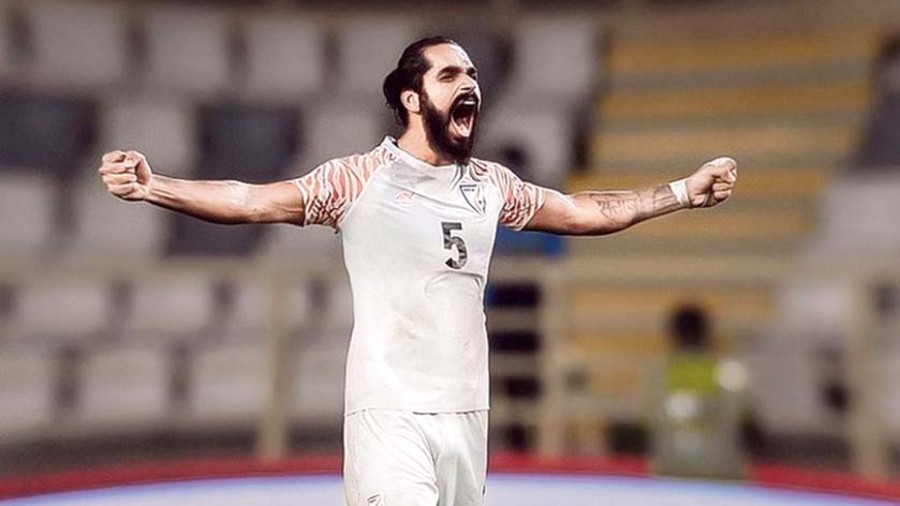 ---
Published 29.06.21, 09:54 PM
|
---
In a freewheeling chat with The Telegraph, Sandesh Jhingan, India's lionhearted defender, opens up about the proudest moments of his career, his favourites at Euro 2020, his love for writing and music, and much more!
How did you fall in love with football and what were your initial days like?
My love for football started through my brothers back in Chandigarh. I think I was seven or eight, and I started by kicking a few tennis balls. After that it was basically playing on the streets... I didn't know much about football back then. I just followed my elder brothers like a puppy following the alpha. But soon enough, I started having fun, watching the Indian national team, then the Premier League, La Liga, and Serie A. Ever since, I have been in love with the sport, and I am lucky enough to have it as my profession.
Did you actually start out playing as a defender?
Of course not, who plays as a defender when you are a kid! I was not from an academy, so I didn't really have a particular position. At that time If you have to go back and pick the ball up, you do that. Then you dribble on your own when required, so there was no position. But when I played the nationals for Chandigarh, at under-14, I played as a striker... scored three or four goals. At under-16, I played as a winger. And then, at under-19, I played as a centre back. But for my school, I would play in every position... and back then we would get beaten very badly, too... losing 10-0, 11-0!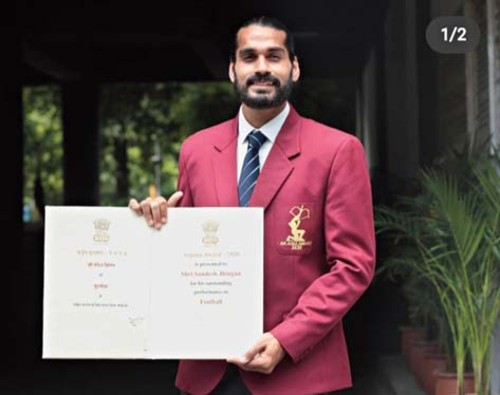 You became the 27th footballer to win the Arjuna Award last year. Is that the proudest moment of your life so far?
The proudest moment will always be when I represented my nation. When I made my debut in Guwahati... on March 12, 2015 (against Nepal), that will always be the proudest moment. But winning the Arjuna Award makes you speechless. It was massive for me... even more so for my parents. I wanted my parents and my brothers to see that I have done something great in my career.
I remember finishing my training in the evening (when) Sunil (Chhetri) bhai called me up and said, 'Sandy, my boy, you won (the) Arjuna.' I won't say that I didn't want to win it, I genuinely desired it. But I was not expecting it, to be honest, I felt I might not get it (in 2020).
Let us shift gears to Euro 2020. Who are the teams that have impressed you the most so far?
I am supporting Italy, so I am really interested in how they have done. Not many people expected a lot from them, but they are a fantastic team, especially with so many clean sheets. They don't have a lot of superstars, unlike Belgium, France, or Portugal, which has helped them. The Netherlands have also played very entertaining football, without playing the traditional 4-3-3. I have also liked how the Czech Republic have fared. Belgium's golden generation has a lot of pressure on them, but they were impressive in the group stages, as usual.
You have had a deep love for writing since you were a teenager. Tell us how that came about and do you harbour hopes of writing a book some day?
Writing can be a bit of a curse, you know! But it isn't something I have been doing a lot of late. After my injury, I wanted to get into it (writing) again... but it consumes you a lot. Emotionally, it drains you a lot. If you are writing about certain characters, you become a bit like them as well, and that can be draining.
As far as writing books go, my father actually wrote a book in his younger days, when he was in college. I always felt that I got my writing knack from my father. Sometimes I do give it a shot, try to find some words, but not so much these days. But I know that the next time I pick up the pen, it (the talent to write) will still be in me.
You also spend a lot of time listening to music. Describe the relationship you share with music. Do you play any instruments yourself?
I wanted to learn the guitar, I was playing it well, but then I just stopped… it was consuming too much time. I just love being with football all day, actually. Watching different games, making different tactics, making training sessions. I have done my (coaching) licence as well. I just want to spend most of my time with football.
But at the same time, every sportsperson has a special connection with music, it helps you switch off from all the noise and chaos, it is sort of an excuse to escape. It gives you something called dumb focus, which was (initially) used by Lance Armstrong. And dumb focus (or tunnel vision) is really important in sport.
I can go for any kind of music, sometimes I will go for Bing Day, sometimes Hans Zimmer, or maybe James Horner, or A.R. Rahman.... But I don't have a fixed playlist. Nowadays, I actually don't listen to music before matches. I just sit there and wait to reach the stadium and play the game.
Finally, now that you are playing for ATK Mohun Bagan, have you had the chance to sample Bengali cuisine?
Not yet. I have not been to Calcutta for many years apart from official matches, so I didn't get the chance to be in the city and try some of the great food there.... I am not fussy in terms of food, I just like to eat what helps my body. I am not the sort to experiment or have too many different kinds of dishes. I like to stick to what I always have, whatever helps me prepare the best. So, I usually stick to the same routine every day.
Watch UEFA EURO 2020- Quarterfinals from July 2, LIVE on SONY TEN 2 and SONY SIX (in Bengali) channels
Sandesh Jhingan Fact File
• Within three years of making his professional debut for United Sikkim, Jhingan had been named the AIFF emerging player of the year in 2014
• Jhingan played a pivotal role for the Kerala Blasters in the inaugural season of the Indian Super League (ISL), taking them to the final where they lost out to Atlético de Kolkata
• Jhingan spent six years with the Kerala Blasters in total (even becoming the highest-paid Indian player in the ISL in 2015), before moving to the newly formed ATK Mohun Bagan in 2020 in one of the biggest switches in ISL history
• Till date, Jhingan has earned 40 caps for the Indian national team, scoring four goals. Earlier this year, he also captained his country after making a comeback against Oman in an international friendly
Rapid Fire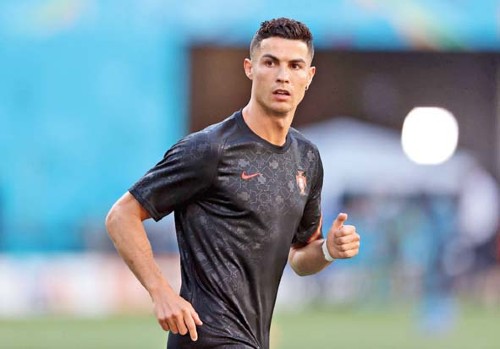 Your footballing idol: Saurabh Jhingan (brother)
The one player from Euro 2020 you would love to play against: Cristiano Ronaldo
Your favourite memory as a Manchester United fan: Winning the 2008 UEFA Champions League final on penalties against Chelsea
The best piece of advice you have received in football: Everything happens for good
Your favourite travel destination: That my woman (Ivanka Pavlova) decides
The one thing you cannot travel without: The Bible