Imran has played politics exactly the way he played cricket: Ramiz
Interview - Ramiz Raja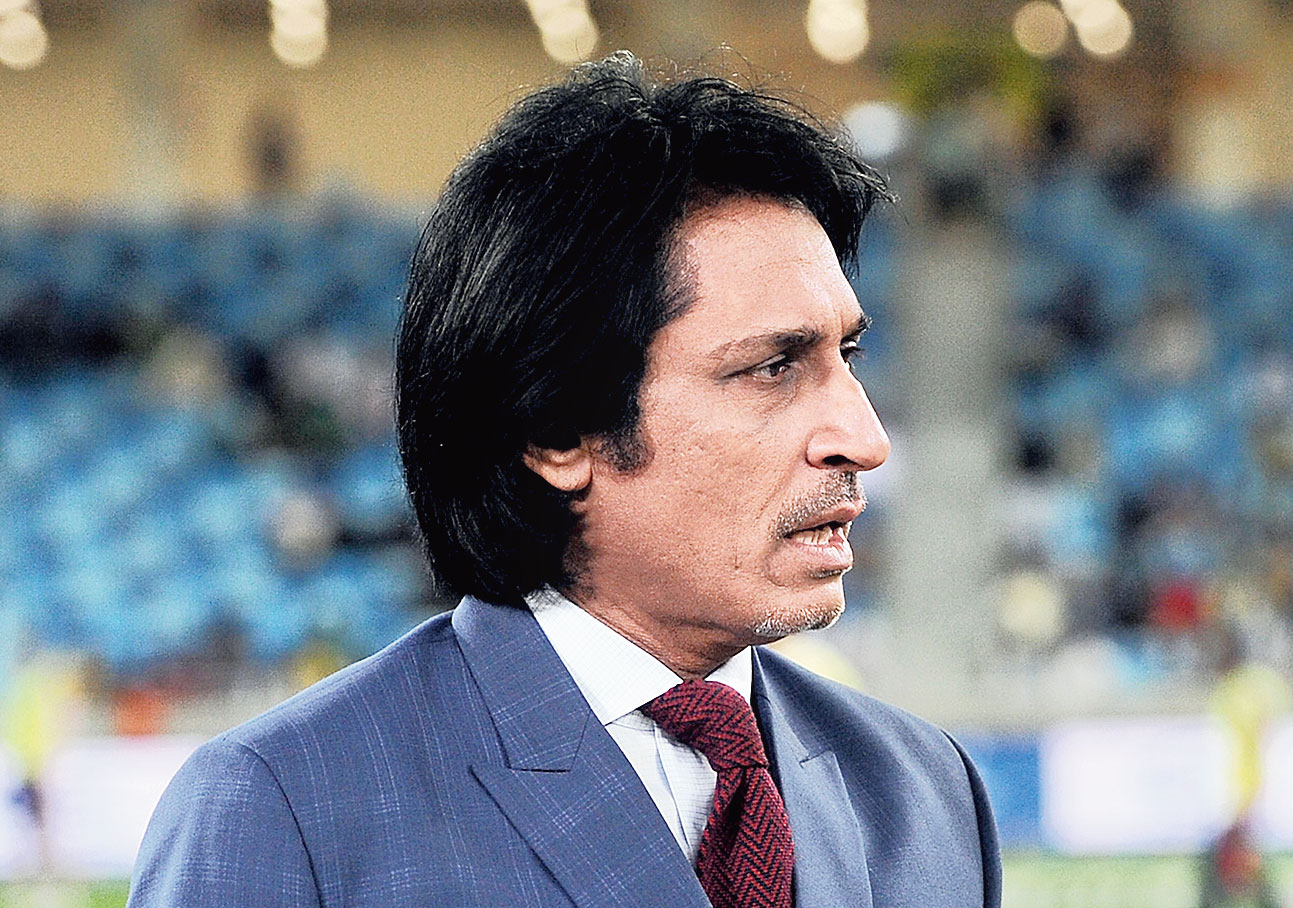 ---
Dubai
|
Published 19.09.18, 09:49 PM
|
---
 Ramiz Raja, an articulate former captain of Pakistan, spoke to The Telegraph at the Dubai International Stadium on Wednesday afternoon.

Ramiz was a member of the 1992 World Cup-winning XI, under Imran Khan, now Pakistan's Prime Minister.
Excerpts...
Q Prime Minister Imran didn't forget his teammates and quite a few of you were present at his swearing-in ceremony on August 18. Did he call you personally?
A Imran's office called and checked if I'd be free to attend. I was then in the UK and, so, flew down for the swearing-in and returned to Sheffield. Imran, in fact, owes me around Rs three lakh!
Q Did you remind Imran that you'd come from the UK only for his swearing-in?
A No. I came of my own free will, there had been no compulsion.
Q Imran met you all separately too...
A There were five-six of us from the 1992 World Cup-winning team and there were others as well... Imran began by saying there was security to his "right" and to his "left." Basically, that his life had undergone a massive change.
Q What was discussed in that hour and who did most of the talking?
A All of us spoke... I asked Imran as to what made him such an experienced politician. He replied that cricket had "taught" him "everything." Imran pointed out that he had the "temperament" of a cricketer, which the other politicians didn't have. So, they had "no idea" what they were dealing with. Imran mentioned picking the right moment and picking the right team. As Pakistan's captain, Imran showed the ability to make average cricketers into very good ones. Clearly, that quality came to the fore in his Pakistan Tehreek-e-Insaaf (PTI) as well... Imran disagreed with a suggestion that he had luck written on him. He countered by thanking the Almighty... Imran has become religious.
Q Well, what did Imran say about cricket?
A I wouldn't go into specifics, but Imran mentioned Sachin Tendulkar and Virat Kohli in the cricket part of our interaction... Much of it focused on his vision for strengthening domestic cricket at the provincial level... Javed Miandad had his point to make but, typically, it took some time to comprehend what he had in mind!
Q Imran, therefore, did quite a bit of listening too?
A (Laughs) Indeed. It was more like a team meeting which is a regular feature in cricket and not a newly sworn in Prime Minister holding court.
Q The PTI fell short of an absolute majority, but Imran annihilated the two more established parties — Pakistan Muslim League of the Sharifs and the Pakistan People's Party. Did you expect such a comfortable win?
A I was convinced of one thing... That Imran would get to the Prime Minister's chair... After all, I'd shared the dressing room with him for years. Not just I, all who played with Imran know how he operates as a leader... Winning the general election was just waiting to happen. Not that Imran has got the Prime Ministership on a platter. He had to work hard and his doggedness came good. Imran never gave up on the cricket field and setbacks didn't deter him in politics. Twentytwo years is a long time. Remember, the PTI was formed in 1996... I could add that Imran has played politics exactly the way he played his cricket... He'd wait and watch, pick the right moment to strike and, when needed, bounce back. Q Imran's USP?
A Credibility, intelligence, determination... Imran's mantra has been to work hard and to do so intelligently.
Q What are the challenges which confront Imran?
A The economy is right at the top... There's a problem of water... Next is the Opposition... Nawaz Sharif has got some relief earlier in the day... However, knowing Imran, I expect him to be on top of situations.
Q In your opinion, how will Imran tackle the top challenges?
A Imran, I feel, will be dead honest with the country. He'll be open about the issues and not give a sugar coating... Look, there's glamour attached to Imran's Prime Ministership and he has such respect globally. He's already raising issues which predecessors didn't focus on. One wants a Prime Minister who thinks about his citizens and Imran is that.
Q I interviewed Mushtaq Mohammed in Birmingham recently and he made the point that the "Pakistani passport" would now be respected...
A Imran will again make us proud of being Pakistanis. The previous government (of the elder Sharif) had, to a certain degree, killed our sense of 'self'.
Q Imran has announced austerity measures and he's setting an example. Your take?
A They have been important steps for the people to understand that the Prime Minister is for them... Imran has had to act as the country is going through turmoil on the economic front.
Q Given the mess, most observers are of the view that Imran will need much time to set things right...
A I agree... Imran will have to play a Test match, with two innings... Can't be a one-day game!
Q Do you subscribe to talk that Imran has been propped up by the Army?
A My emphatic answer is I don't.
Q Lastly... What about bilateral ties between India and Pakistan?
A My take is that the ball really is in India's court. As Prime Minister-designate, Imran made it clear that if India took one step, he'd respond with two... Let's wait and see... Imran has set the tone.