ICC Cricket World Cup 2019: An in-form Roy gives his team immediate impetus
England have cleared one major hurdle, but have another must win game to play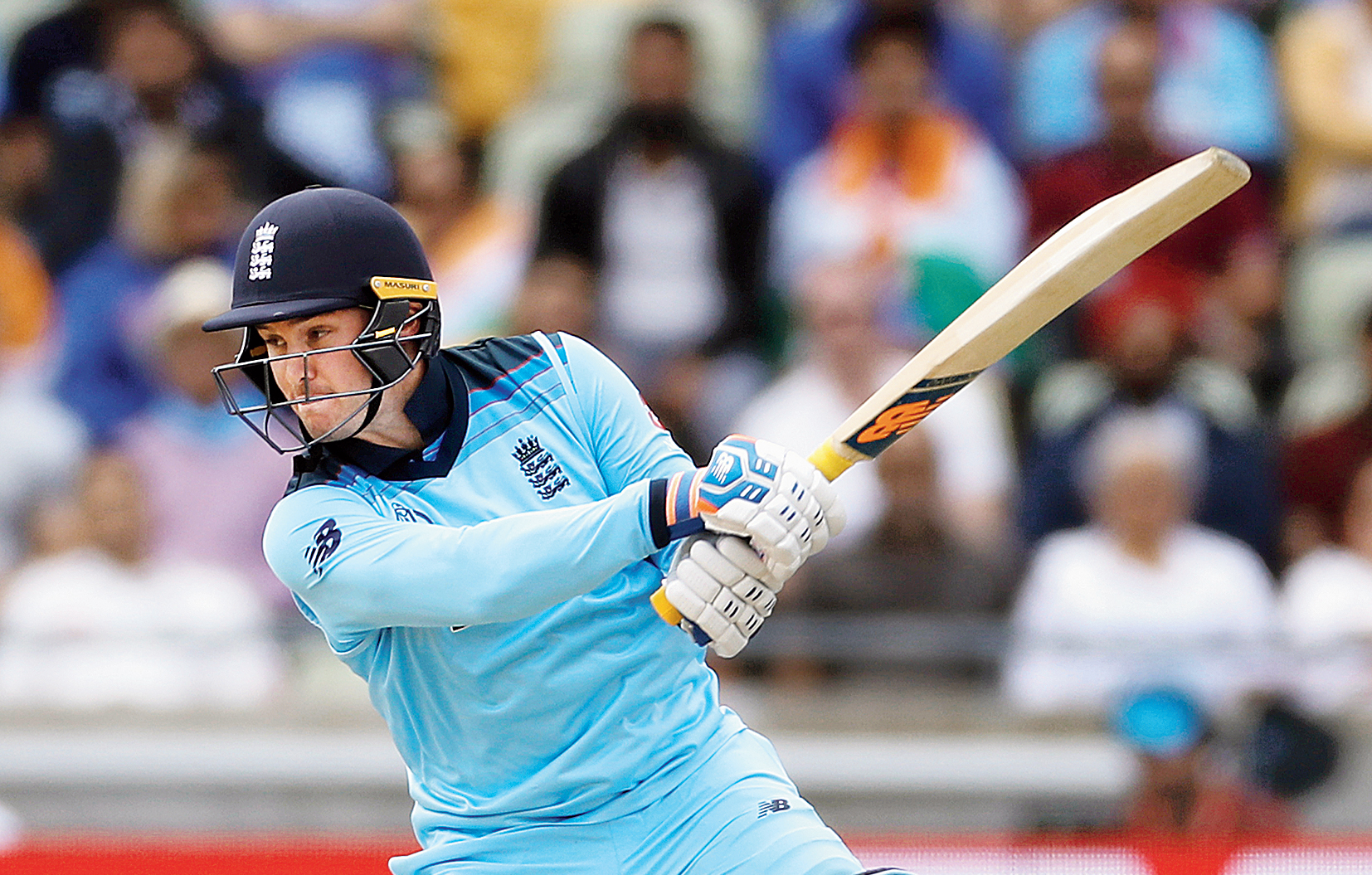 ---
Published 01.07.19, 11:13 PM
|
---
Hope springs eternal. So they tell us. Well, World Cups are inevitably harsh on hope and success relies on all the usual sporting elements; to put it in the simplest of terms, winning is everything.
The England vs India match could have been just about bragging rights and a bit of confidence-building ahead of the semi-finals if only the hosts had not left it until the last possible moment to rediscover the form that had them at No.1 before the World Cup began.
Given that England's very survival depended on winning, it was both very welcome and highly reassuring to see the way they closed out victory, even if they are horribly aware that they still have to go to Durham, with yet another set of conditions but the same requirement to win the match.
Although it is not the done thing to point to one man as the key, it was glaringly obvious how much England had missed Jason Roy and how vital it was that he pick up where he left off before his hamstring pinged. He played as if it was just a couple of days since his last innings, not a couple of weeks, and when on song like this, he simply and effectively gives his team an immediate impetus.
It is extraordinary the way that Roy seems to be able to play with such confidence from the first ball he faces. Even Chris Gayle, who has been at the top of the list of the world's most intimidating batsmen, takes a while to get going, yet Roy in this form is into his stride immediately.
It is quite a contrast between the way these two top teams approach the opening ten overs. India prefer to play it relatively safe and keep wickets intact for later.
Rohit Sharma, as one of the top six batsmen of the World Cup, has been consistently good and will play what shots he can, but likes to build an innings that will be the cornerstone of the team's total, whereas Roy and Jonny Bairstow are clear in their intent to make the most of those first 10 overs and go fully into attack mode with the ball hard and the field up.
Previously, one felt that England could do this because they have such a long batting line-up and that the need to keep wickets in hand might not be so pressing. Yet when Roy was absent and they were not getting the starts, it so happened that that an array of talent failed to take up the slack and games were lost.
It is not just about the runs that Roy himself puts on the board, but it seems that Bairstow becomes a better player with Roy as his partner. It is natural when you have someone you like batting with at the other end it can indeed raise your game. You can start to compete, in a very positive way, with that man, as well as with the opposition. I used to find that as and when the likes of Allan Lamb or Ian Botham were out there with me; I couldn't hit the ball as far as Ian, but it did inspire me to try and match his scoring rate in my own more cultured way!
As an aside, Bairstow, having made public some unwarranted thoughts about England's support and taken the flak for it, appeared to find extra motivation from finding himself in such hot water and I am sure all his and England's fans will have (mostly) forgiven him. On that basis, I hope someone gets under his skin and fires him up again ahead of the next game!
Taking the onus against India's spinners was also a massive success. Previous experience from last year's bilateral series obviously helped. It was pretty much the first time in this tournament that Kuldeep and Chahal have lost control. It might be the last. Who knows? But the other top teams will have looked at the way this match unfolded and will have ideas as to how to follow the same path when it comes to the ultimately crucial knock-out phase.
By then, of course, the stakes will be yet higher, so it will be a question as to how daring batsmen will be when they know that a risk too far could cost them dearly.
What strikes me too is that India need their spinners to regain that more economical and wicket-taking form as a way simply of balancing out their game plan. Stating the obvious, the fewer runs you need to set or chase, the better your chances of ending up as the winner.
Those extra 20/30/40 runs conceded make a huge difference to your chances of victory. Just look at England, for instance, all those weeks ago against Pakistan; too many runs conceded on a day when both bowling and fielding were off the pace and the result went against them.
I was surprised that India against England let the required run rate get quite so far away from them. I understand from all accounts of those who batted on that Edgbaston pitch that it was harder against the quicker bowlers and I understand that the likes of MS Dhoni have made an art form of accelerating through the latter overs of a match, but the pacing of that chase had India always behind the clock.
Yes, there are days when miracles happen and a whirlwind innings makes up that lost ground but they are not the norm.
So what next? India should, without taking anything for granted, beat Bangladesh and Sri Lanka, put themselves yet more comfortably into the semi-finals and regain some momentum in the process.
No team expects the luxury and rarity of going through a World Cup unbeaten and in fact it is something of a relief to lose one match to, as it were, get it out of the way, out of the system.
I would guess that Virat will have a few things to say to raise the team's intensity again and there might be some tinkering with the XI. Vijay Shankar's injury gave Pant his chance and, while it wasn't Pant's finest hour, I would like to see him continue in the side as an exciting talent.
England have cleared one major hurdle, but have another must win game to play, having overdone the "getting it out of the way" bad days.
They play New Zealand at Chester-le-Street, a ground where with good weather they can prepare a pitch with plenty of runs in it and on a good pitch I would back England. On a pitch where the ball does a bit more laterally or does not come onto the bat so well, England have not been good at adapting their style of play, and in those conditions New Zealand would be very much on a par with their hosts.
For all those supporting England, it will be a tense day.