'I set targets I can achieve and, then, push myself to go beyond'
Pressure you face in the IPL makes it easier to handle situations for India: Kuldeep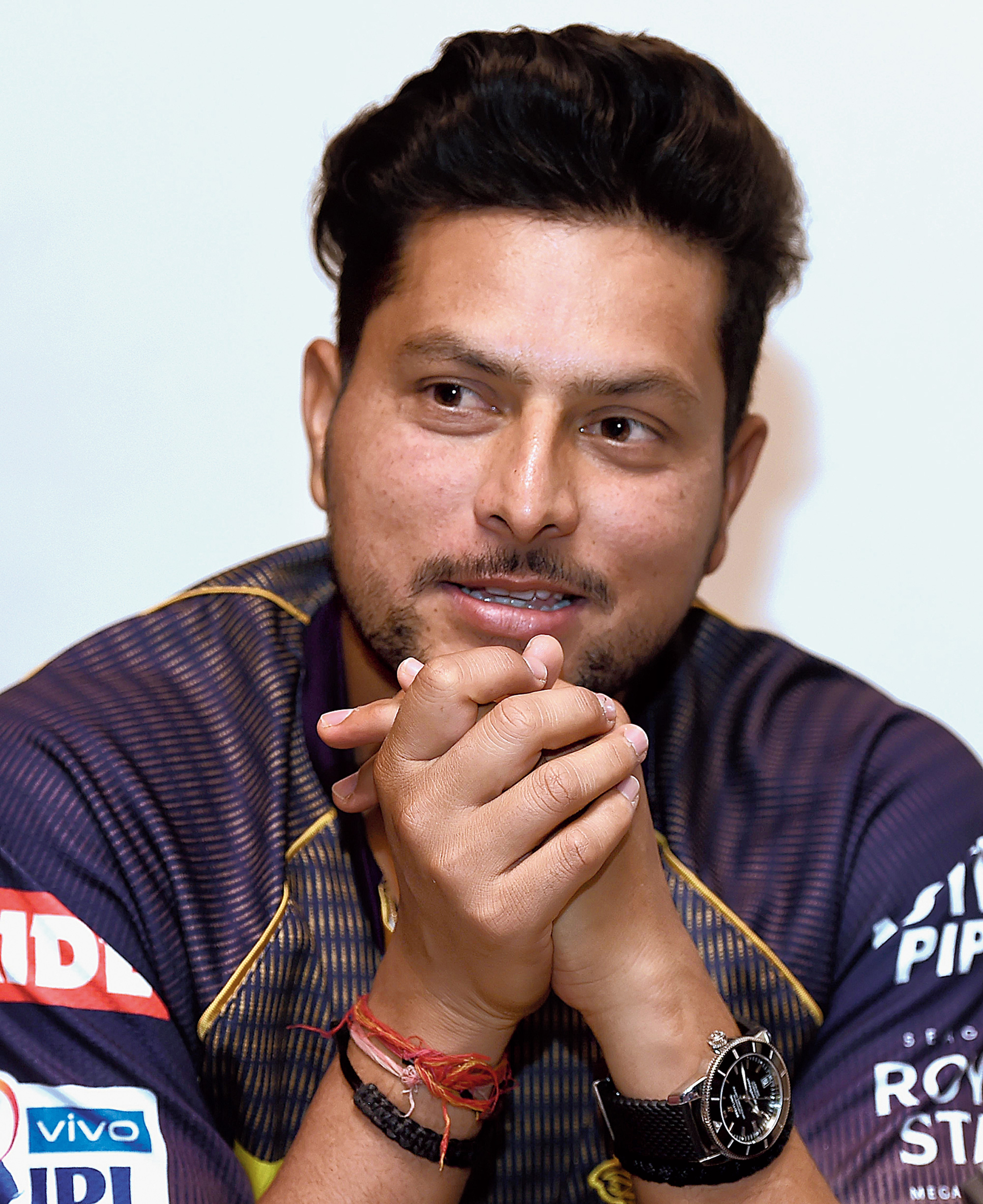 Kuldeep Yadav in the city.
The Telegraph picture
---
Calcutta
|
Published 23.03.19, 09:09 PM
|
---
Kuldeep Yadav, best described as a left-arm chinaman bowler, spoke to The Telegraph in the lead-up to Sunday's IPL XII match between the Kolkata Knight Riders (KKR) and the Sunrisers Hyderabad.
Kuldeep may give the impression of happily being under the radar, but he's such a key member of India's white-ball teams. Of course, KKR as well.
The interview was almost exclusively restricted to the IPL and conducted at the ITC Sonar.
Excerpts...
Q You came into prominence through white-ball cricket, wearing the KKR jersey, but your India debut was actually in the Dharamsala Test against Australia two years ago...
A It was on March 25, 2017... Kaafi achcha safar raha hai. I've grown as a person and as a cricketer in this period. The IPL alone has taught me so much.
Q Like?
A Dekhiye, the IPL not only matures you, it prepares you for international cricket. The pressure you face in the IPL makes it easier to handle situations for India. You're under pressure in the IPL because the standard is very high.
Q Be it for KKR or for India, what keeps driving you?
A The desire to learn and improve. I've learnt that if you improve regularly, then you'll achieve what you want to. I don't get satisfied easily, moreover I don't let up with my preparations because, one day, somebody else could take my place. So, I keep pushing myself, keep focusing on improving... Jab bhi mauka milta hai, I go back to Kanpur and work with my coach for years, Kapil Pandey Sir.
Q Besides Pandey and your father, Ram Singh, who has had the biggest influence?
A Mike Horn.
Q The motivational Guru... Very interesting...
A Mike keeps coming to KKR for short periods and has taught me plenty about life. He keeps motivating me... When I was even younger, it's from Mike that I learnt how to handle myself. I stay in regular touch with him... Like my father and my coach, Mike pushes me to excel... Choti, choti kaafi cheez hain.
Q You're only 24. However, has there been a turning point in your career?
A I joined KKR in 2014, and played in the Champions League T20 that year. My IPL debut was two years later, but that's because GautiBhai (Gautam Gambhir, now a politician), KKR's captain back then, wanted me to be absolutely ready before I got exposed to the pressure of cricket's toughest League. GautiBhai gave me the confidence that I'd play all matches and wouldn't get dropped even if I didn't perform to KKR's expectations. GautiBhai wanted me to become a player joh lamba khele, as opposed to having a short career. Getting to play under GautiBhai would remain a significant happening in my career. I also got to work with Jacques Kallis, now the head coach, and Wasim Akram too.
Q This is your sixth year with KKR... Life with this franchise...
A Look, KKR is more like a family and the bonding is good. The best part is that there's no pressure to perform which comes from the owners. Life is that much easier then.
Q You'd first been picked by the Mumbai Indians (MI), but never got to play for them. Surely, that must have drilled a hole right through your confidence...
A But I got to meet with and mix around with the greatest, Sachin Tendulkar. It's because of him that I have no regrets.
Q You were in your teens when the IPL began, in 2008. Were MI and KKR your favourite franchises?
A No.
Q Then?
A I was a massive fan of the Chennai Super Kings (CSK) and I'd wonder if there would ever be an opportunity to play with Mahendra Singh Dhoni. Not in the IPL, but I've played a lot with him in the India Blue... Besides Dhoni, I used to love Matthew Hayden's batting and he too was in CSK at the start. That, then, was my favourite franchise till I myself became an IPL player.
Q Mixed feelings the first time you faced CSK?
A Oh, no. Not at all.
Q Besides your own desire to excel, your years with KKR have obviously boosted your development as a lethal spin bowler...
A The franchise has Carl Crowe as the spin bowling coach... He's the best person to have around, the right person to guide me. Carl has plenty of knowledge and the way he deals with me is different from the way he works with Sunil (Narine). Carl is aware our strengths are different and keeps that in mind while preparing Sunil and me.
Q The one and only Shane Warne is your No.1 fan. Your thoughts?
A I'd dream of bowling like Warne, even though I began as a medium pacer after being heavily influenced by Akram... Warne has always had positive things to say... Main hamesha grateful rahoonga.
Q Is there a match or series featuring Warne which bowled you over?
A The 2005 Ashes — 40 wickets in five Tests.
Q When did you first meet Warne?
A I was introduced to Warne by AnilBhai (Anil Kumble), during the 2016-2017 Pune Test. AnilBhai was then India's head coach. In a way, it was a turning point as Warne always says something to send my confidence soaring, besides pushing me to do even better. Like during the Sydney Test in January.
Q Memories of that first interaction...
A Warne spoke about some technicalities, the body movement and working on the flipper. I'm still working on that delivery as it's a difficult one to bowl. For the flipper, you need adequate power and accuracy. If you err, in length, you'll be taken for runs.
Q As this interview is largely on the IPL... Did you have to adjust much as your roots are in Kanpur, which isn't a big city, when you came into the MI squad?
A Not really, as I was focused exclusively on cricket. In fact, main hamesha se waise hi tha... Even in Kanpur, I hardly had friends.
Q Why?
A Where was the time for them? If I had any to spare, I'd either be bowling at nets with Pandey Sir or bowling at a single stump without anybody around.
Q No distractions?
A Pandey Sir never allowed me to get distracted... Never made me feel I'd achieved anything big, as that was his way of getting me to raise the bar. Once a friend of Pandey Sir, from the Navy, came over... Told that I was being prepared to play for India, the friend said 'Yeh ladka India khelega? Meri manoh toh isko Navy mein daal do'... That made Pandey Sir rather angry, such has been his dedication and affection towards me. That is why I have such respect for him.
Q Whatever the level, is there a batsman who has challenged you to the hilt?
A Steve Smith in the only Test I bowled to him (on debut)... Then, in the recent ODIs against Australia, Usman Khawaja batted very well against me and sowed doubts in my mind... I discussed that with Pandey Sir when I went home for a few days after the series... Khawaja plays spin rather well... I was told what I ought to have done and Pandey Sir's tips will indeed come in handy the next time I bowl to Khawaja.
Q The World Cup is just over two months away... The most favoured team(s) according to you...
A Kaafi teams hain... England have a good batting line-up, Pakistan's bowling is formidable... Australia have played well of late and, of course, apna India to hai hi... India, England, Pakistan and Australia could make the semi-finals. It's not an easy call to make, however.
Q But the IPL may just tire some of the players...
A Playing regularly in the company of and against some really good cricketers would be an advantage. The formats are different, but a good IPL would lift one's confidence going into the World Cup.
Q Last one, for now... Do you set targets?
A (Smiles) Haan main target set karta hoon, but I don't make them public. I set targets in every series or every edition of the IPL... To be honest, I set targets I can achieve and, then, push myself to go beyond... I see people tend to get satisfied rather easily and early in whatever they're doing. I'm not one of them.