The Tragic trajectory of Lionel Messi
With the planet's most spectacular footballer celebrating another birthday, a fan analyses how Messi's legacy is beginning to mutate into a tragedy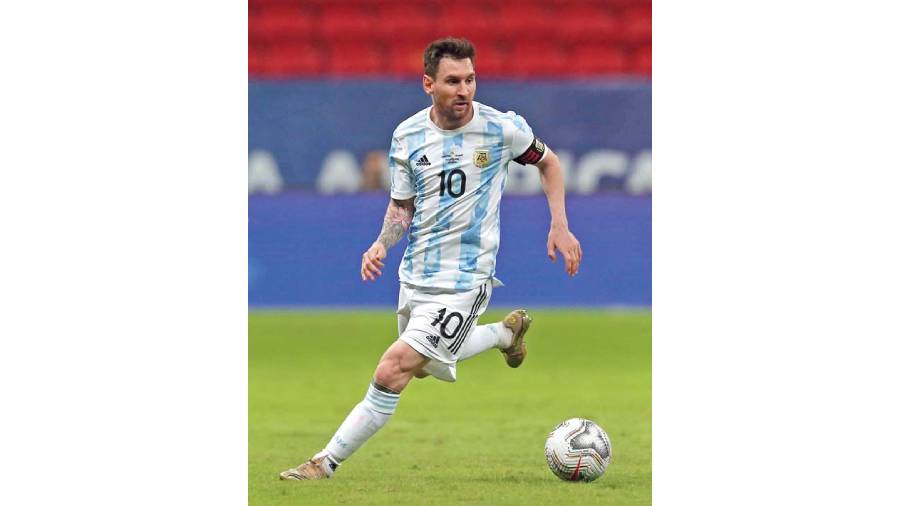 ---
---
At its core, tragedy is a process, a series of repetitions and rituals that involve doing strange things at strange times. In the case of Lionel Messi, this means the following: you enter a big game with the expectations of millions resting on your shoulders, you dazzle with a dribble or two in the opening exchanges and try to plot the perfect move, before watching your dysfunctional team concede. Then, as the goals go in at the wrong end, you begin to withdraw. You sulk, you suffer, you retreat, chained as it were to a drip feed of doom. You cast an empty stare into an emptier stadium (exclusively during the pandemic) before slipping into a parallel dimension.
Less wonders, more woes
It may seem patently absurd to call the most decorated player of his generation and one of football's two billionaires a tragic figure, but tragedy is not just a matter of wealth and laurels. It is, more importantly, a matter of perspective and personality. Of course, Messi's tragedy is not like that of the averagely talented midfielder in the English third division whose profession has been wrecked by the financial fallout from Covid-19 (too common a tragedy to name a specific protagonist).
Messi's tragedy is uniquely Messi (and messy). It is the tragedy of a man who can apparently do anything on a football pitch, and yet, who, due to a combination of circumstance and character, is becoming increasingly helpless when crunch time comes calling. Take Barcelona's last six exits from the most prestigious club competition, the UEFA Champions League. The Catalans have emerged from these six ties with an aggregate score of 27 goals against to 13 goals for, with Messi registering only one goal (from the penalty spot) and zero assists in the six games Barcelona have lost en route to surrendering the ties. A shabby backline, a midfield working overtime, and an attack hounded to anonymity have hardly helped Messi, but then again, Messi has hardly helped himself.
In seeking to either do everything by himself or nothing at all, Messi invariably lies stranded between a failed individualist and a failed orchestrator on the grandest stage.
Not a leader?
"He's a great player, but he's not a leader. It's useless trying to make a leader out of a man who goes to the toilet 20 times before a game," quipped the late Diego Maradona in 2018. At the time, I was shocked to hear these words from one Argentine maestro about another. But, of late, I have begun to understand what Maradona implied (and no, I don't mean Messi's toilet habits).
When your team is getting rattled, you want a leader whose body language is more positive than the deflating sight of Messi's drooping shoulders. You want a leader who believes things can be redeemed, who still wants to fight.
It is not that Messi gives up when a high-stakes match goes haywire, it is that he tries to fight too perfectly. His footballing virtues lack the necessary cunning and elasticity to combat a pressure-cooker situation.
Messi's Barcelona-designed footballing software relies on playing flawlessly in a flawless system, and when the going gets tough, this software, ingenious as it is, struggles to admit the flaws packed into a crisis, let alone address them. This is exacerbated by the fact that the blend of aesthetic harmony and decisive impact that characterised the best of Messi no longer exists, thanks to inferior teammates, a waning of personal gifts, and far more calibrated opponents.
The Catharsis Conundrum
For more than a decade, I have savoured watching Messi in action. I have savoured his ability to play in slow-motion as well as at supersonic jet speed, all in the same move. I have savoured the countless examples of his pure genius, be it space-warping goals or time-defying assists. But religiously following someone for so long is not just about savouring the pleasure, it is also about absorbing the pain.
Over the last few seasons, as the pleasure has been overwhelmingly outweighed by the pain, I have wondered how it will all culminate. What, if anything, is the final destination of Messi's greatness, and by extension, my fandom?
Yes, there is the proverbial sword of Damocles hanging over Messi's head that pertains to him not winning a major trophy for Argentina (for once, an Olympic gold medal doesn't count), but the question of Messi's ultimate destiny is perhaps far greater, far more cathartic.
As per literary definition, catharsis is the release of pity and fear at the end of a tragedy, the purging or purification of emotions. Such is the majesty with which Messi succeeds and the melancholy with which he fails that it is tempting to suggest that his catharsis will either propel him to his greatest high or hurl him towards his gravest nadir. A tragic trajectory doesn't always need a tragic ending in life, which is what makes the first possible. But a tragic trajectory has historically portended a tragic ending for many icons, which is what makes the second just as likely.
While watching Messi play nowadays, my reaction is all about harnessing the chief cathartic emotions, pity and fear; about subconsciously feeding the fear in my heart of the next Barcelona or Argentina collapse while consciously generating sufficient pity in my head to see Messi as the victim of that collapse. A victim whose vindication, like all tragic heroes, lies not in overcoming the predicament of the present, but in hoping for justice from the future, in embarking upon a redemptive quest for identity in the pages of posterity.
34 records held by Messi
As Messi turns 34 today, The Telegraph looks at 34 records held by him
• Arguably Messi's most important individual record is the six Ballons d'Or he has won till date, one more than arch-rival Cristiano Ronaldo.
• No player has won more consecutive Ballons d'Or than Messi, who was named as the best player in the world on four back-to-back occasions between 2009 and 2012.
• Messi is the most frequent recipient of the European Golden Shoe, having claimed the honour six times so far, including a hat-trick between 2017 and 2019.
• In 2012, Messi scored an astronomical sum of 91 goals for club and country, breaking Gerd Müller's haul of 85, which was registered by the legendary striker while playing for Bayern Munich and West Germany in 1972.
• Messi has more goals as well as more assists in official tournament finals (club and country combined) than anybody else in football history.
• Messi is the only player in history to have scored at least 40 goals (in all competitions) in 10 consecutive seasons.
• Messi is the only player in history to have scored in seven different official competitions in a calendar year (2015).
• Messi is the only player in history to have scored in six different club competitions in a calendar year on two different occasions (2011 and 2015).
• Messi is credited with the most official assists in football since assist statistics for all competitions started to be recorded at the start of the 21st century.
• Nobody has scored more goals for a single club than the 672 strikes that Messi has to his name for Barcelona till date.
• Messi's 34 trophies with Barcelona, including 10 La Liga titles and four UEFA Champions League crowns, are the most any player has won with a single club.
• Nobody has scored more goals in a single club season than Messi, who netted 73 times during a barely believable 2011/12 campaign.
• The distinction of scoring the most goals in a single league campaign belongs to Messi, who scored half a century of goals in La Liga in 2011/12.
• Messi is the first (and till date the only) player in history to lead La Liga's all-time charts for both goals and assists.
• Nobody has found the back of the net in more consecutive league games than Messi, who scored in 21 successive matches in La Liga in 2012/13, a remarkable run that saw him bag at least one goal against every single team he faced in the Spanish top flight that season.
• Messi has won the most Pichichi (top scorer) trophies in La Liga history (8).
• Messi has been named La Liga's best player on a record six occasions.
• Messi has scored against 38 different opponents in La Liga, the most in the competition's history.
• Messi is the only player ever in La Liga to be top scorer and top assist provider in the same season, a feat he achieved twice (in 2018-19 and 2019-20).
• A total of 39 free-kicks from Messi have found the back of the net in La Liga, a competition record.
• With at least one goal in seven games, nobody has netted in more Copa Del Rey finals than Messi.
• Messi is the fastest player to reach 300 as well as 400 goals in Europe's top five leagues.
• Messi is the fastest player to reach 100 UEFA Champions League goals (in 123 matches).
• Nobody has scored more goals in the UEFA Champions League group stages than Messi, who has 71 so far.
• Nobody has scored more goals in the UEFA Champions League's round of 16 stage than Messi's 29 so far.
• Messi is the first player to get on the scoresheet in 16 consecutive UEFA Champions League seasons.
• Nobody has completed more dribbles than Messi in a single UCL match — a record tally of 16, accomplished against Manchester United in 2008.
• Messi is the only player to have scored at the FIFA World Cup in his teens (2006, 1 goal), twenties (2014, 4 goals), and thirties (2018, 1 goal).
• Messi has won more Man of the Match Awards at a single FIFA World Cup (with four in 2014) than anybody else in World Cup history.
• With 110, Messi has completed more dribbles at a single FIFA World Cup tournament than anybody else.
• Messi is the youngest player to represent Argentina at a FIFA World Cup as well as the youngest Argentine to reach 100 caps for the Albiceleste.
• Nobody has scored more friendly or competitive goals for Argentina than Messi.
• Nobody has scored more goals for Argentina in a calendar year than Messi's 12 strikes in 2012.
• Messi remains the only Argentine player to score against every CONMEBOL nation in South America.