Horn decodes Andre and the 'value factor'
Mike's take: It's about presence & intimidation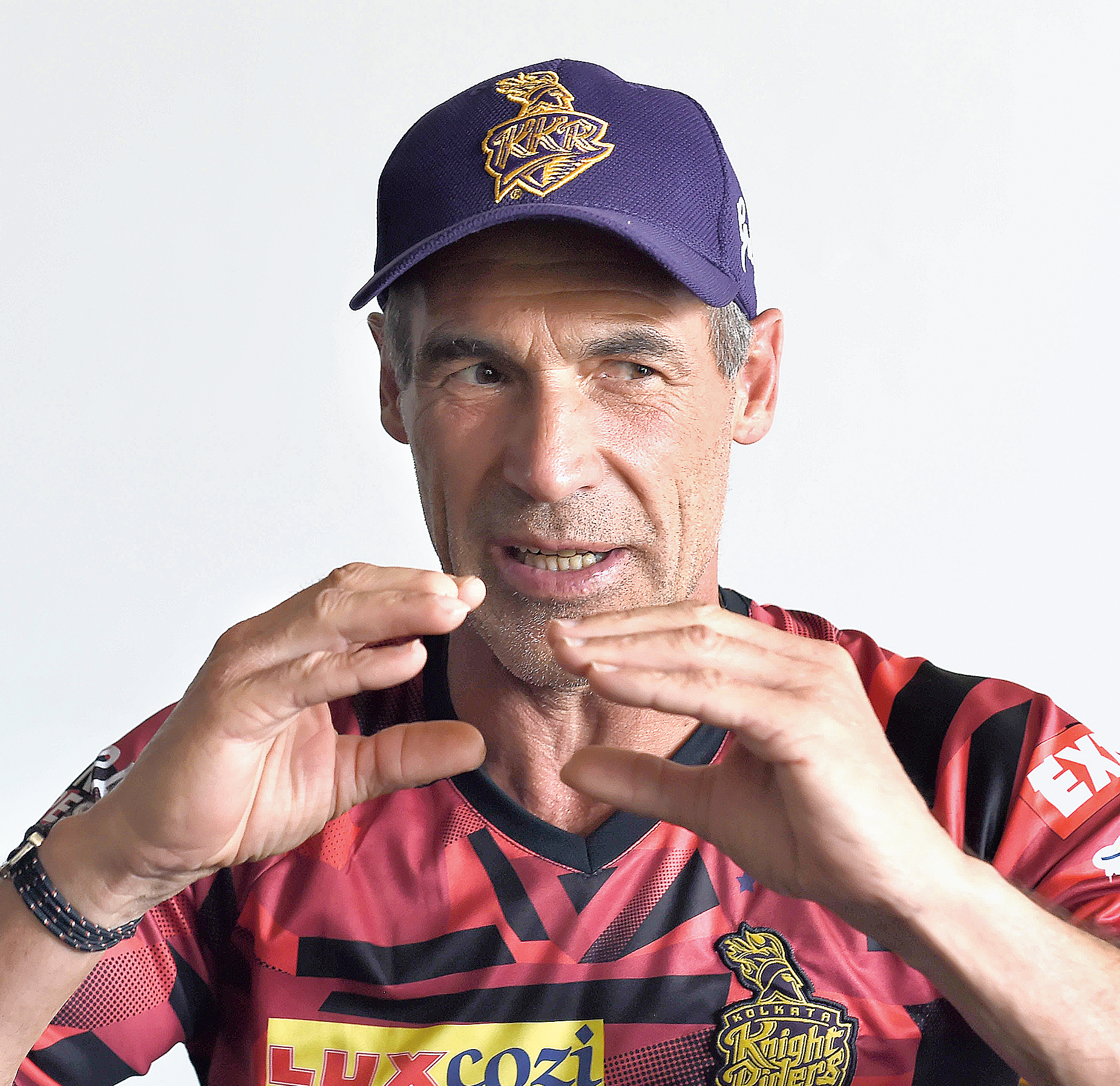 Motivational Guru and explorer Mike Horn in the city on Monday.
Picture by Santosh Ghosh
---
Calcutta
|
Published 25.03.19, 10:13 PM
|
---
Mike Horn, motivational Guru and arguably the most passionate explorer who is comfortable attempting crazy feats, spoke to The Telegraph at the ITC Sonar on Monday evening before flying to Doha en route to Monaco.
Horn, it may be noted, kept his IPL commitment with the Kolkata Knight Riders (KKR) despite fracturing his left ankle during a transit halt in Hong Kong on the way here from The Philippines.
No wonder, Horn is so highly respected across the franchise.
Excerpts...
Q Your take on Andre Russell, MoM in KKR's opening match of IPL XII, against the Sunrisers Hyderabad?
A Russell is quite like Kuldeep Yadav... Both are happy embracing pressure, both perform under pressure. Look at what Russell did on Sunday afternoon. A lot of people thought KKR were in a deep hole with no light in sight, but Russell took his bat, warmed up a little and almost sprinted to the wicket. He didn't walk, preferring instead to show his presence. The moment you show your presence, you intimidate. Russell's message to the Sunrisers was 'I'm here to show you I can win the match for KKR'... That's the psychology of confident players and it will help them perform under pressure. (In Russell's context) Performance after intimidating.
Q But not everyone embraces pressure...
A True... Not all cricketers perform under pressure. They perform in a controlled environment, when they're in their comfort zone. You need them as well as those who take pressure head on. If Kuldeep says 'give me the ball', Russell declares 'give me the bat'. That's wonderful to see... The IPL has brought about a situation where cricketers can handle pressure in a manner completely different to the Test format.
Q Did you have a one-on-one with Russell before the match?
A Actually, for different reasons, Russell and I ended up spending quite a lot of time with each other — in physio Andrew Leipus's room. Russell was undergoing tests and I had my ankle to fix... I asked him simple questions, like what does he think KKR want from him.
Q What did Russell say?
A Russell was spot on with his answer and spoke of the value factor, of performing in order to increase his value in his own eyes. Russell has a phenomenal strike rate, so KKR back him to deliver. With Russell and his relationship with the franchise, it's not a case of over-expectations and under-delivery. When that happens, there's friction and there's stress... Russell said 'I want to be the guy that takes the team to the end, because that would make me personally feel good.' That's value... Look, you need to grow in self-esteem, in self-confidence... You need to instil values. Russell realises that if he grows in value, KKR would grow too.
Q Value factor and growing... Your thoughts?
A The value of an individual is what gives him/her the professional edge to perform. Cricket, remember, is still an individual sport in many ways. Why have people say 'it's not possible' or 'avoid making the mistake' or 'it's too risky'?
Q Did you find a difference in the Russell of 2019?
A Russell would be at the gym every day, would be with the physio... He's been wanting to get better physically. A fitter Russell adds more value to KKR... He's from Jamaica and you know how it is in the West Indies... They don't have the same work ethic as, say, the Australians or South Africans... Or, the Indians of the present time... The IPL has created a platform to perform and Russell is one of those grabbing it with both hands. Believe me, I've never seen Russell work harder at the start of any IPL.
Q Your emotions towards the closing stages of the match?
A I'll tell you what I told CEO Venky Mysore after KKR's win over the Sunrisers... That I'd use the match as an example in writing my thesis on the psychological behaviour of top sportspersons under pressure. Why some fail and some succeed? Russell deserves the credit, but he was able to take KKR across the line, in the company of a calm Shubman Gill, because the bowlers restricted the Sunrisers to 47 in the last five overs. Or else, they would have soared past 200.
Q What did you tell Dinesh Karthik and his men before the match?
A 'Listen guys, if you're going to start liking the things you hate, then you'll start performing better'. Of course, we cannot always go towards things which are easy as we have to face the other side of life... We need to go that extra mile, maybe hit that extra six. There are times when you have to start doing something new, approach things in a different way and, in doing so, open a new horizon.
Q Last one... Will you be back with KKR in the business end of IPL XII?
A Most definitely, when it's time for the play-offs. Till then, I have other business to attend to, like giving away an award (to the top explorer) in Monaco on Wednesday.