'Haven't come across a more humble Australian team'
The ball-tampering in Cape Town didn't come up during Bedi's conversation with Langer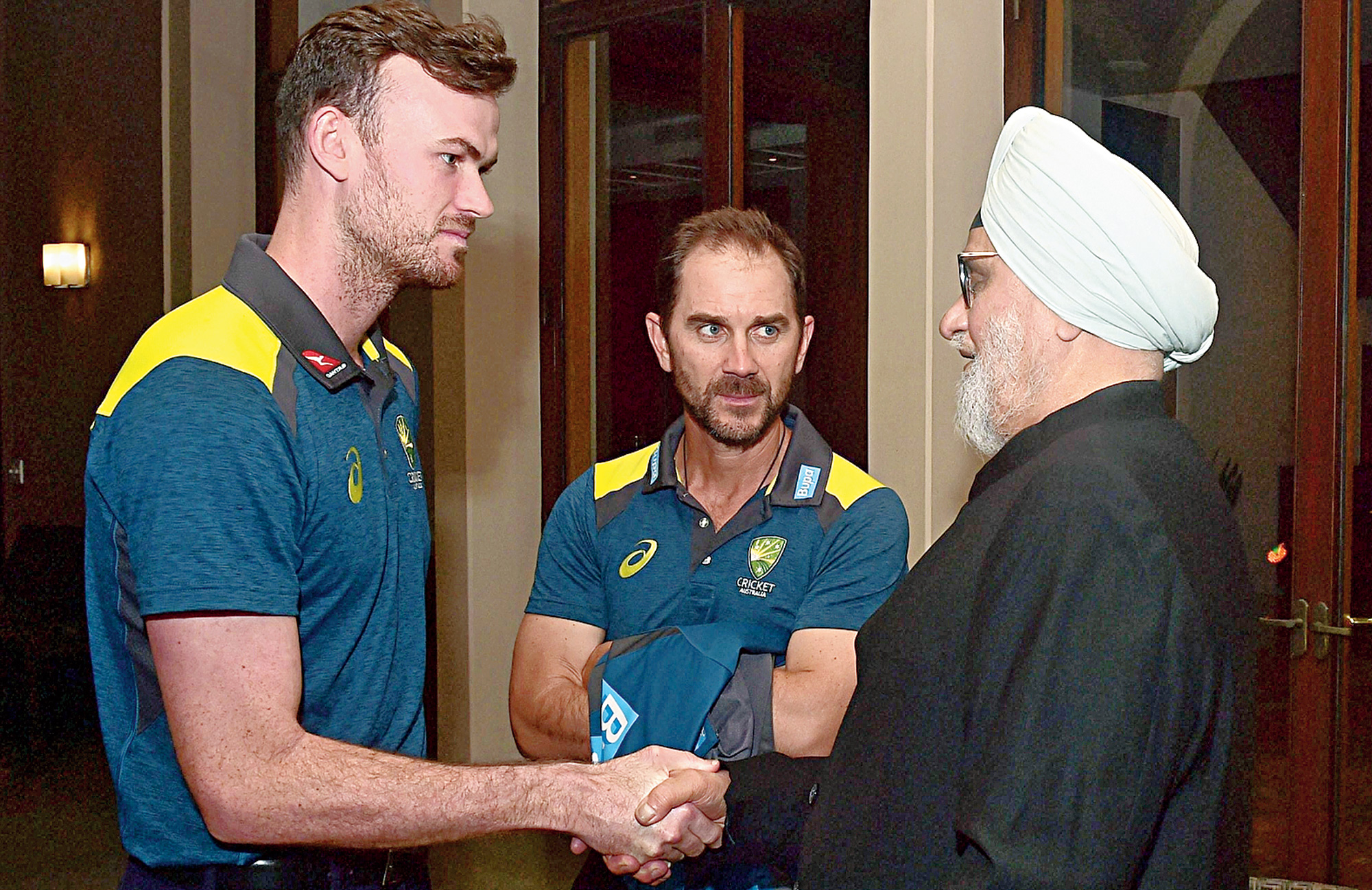 Bishan Singh Bedi with Ashton Turner (left) and Justin Langer in New Delhi on Monday.
PTI
---
Calcutta
|
Published 12.03.19, 09:55 PM
|
---
The current bunch of cricketers from Australia are, in the words of Bishan Singh Bedi, "bending backwards to improve their image."
"Clearly, the ball-tampering scandal in Cape Town, last March, has hurt every Australian cricketer and, so, there's lot more humility...
"That, at least, has been my observation...
"In fact, I'd go to the extent of saying I haven't come across a more humble Australian team. This is a nice lot, very down to earth...
"Of course, that's not to imply the Australians have lost their competitiveness. They remain fiercely competitive and we, in India, have seen that first-hand over the past few weeks," Bedi, a former India captain, told The Telegraph on Tuesday evening.
Bedi was the only India cricketer, past or present, at the reception hosted by Australia's high commissioner, Harinder Sidhu, on Monday.
According to information made available to Bedi, during the reception, Virat Kohli and his team had also been invited. However, regrets "were conveyed."
The reason isn't known as India's full-time (professional) manager, Sunil Subramaniam, strangely didn't respond to a WhatsApp message sent around 5.30 pm.
"Australian cricketers have been known to be arrogant and we'd happily ape them. From what I've seen, things have definitely changed and I must say I've been pleasantly surprised...
"Indeed, very much so...
"The cricketers are aware of the job in hand and know what's required of them to restore the good and fair name of their country," Bedi, captain on the 1977-1978 tour of Australia, said.
Bedi spent quite a bit of time interacting with head coach Justin Langer, besides chatting with ODI and T20I captain Aaron Finch and briefly with the exciting Ashton Turner, MoM in the last ODI, in Mohali.
"Langer came across as a keen student of the game, with a sense of history. He introduced me to 'kid' Turner, who didn't talk much, but was a keen listener...
"Like Langer, Turner is from Western Australia...
"Langer specifically enquired who was the best bowler and the best batsman in my book and had questions to my choice of Dennis Lillee and Sir Garry Sobers...
"I had to emphasise that 13 cricketers would be on the field, but one just couldn't take eyes off Sir Garry...
"Whether Sir Garry was batting or bowling or even fielding, he simply caught your attention," Bedi pointed out.
What was his advice to the 26-year-old Turner?
"I suggested Turner focus on the Baggy Green and maintained that I'd love to see him in one. Thus far, he has only played two ODIs and five T20Is," Bedi answered.
The ball-tampering in Cape Town didn't come up during Bedi's conversation with Langer, who succeeded Darren Lehmann, the head coach then.
"I didn't bring it up. It wasn't the occasion, after all. We know what happened," Bedi replied.
While Cameron Bancroft's nine-month ban ended on December 29, the one-year punishment handed out to Steve Smith and David Warner (captain and vice-captain, respectively, at that point in time) ends on March 29.
Bedi made a mention of Finch's gesture of conveying his "shukriya and dhanyavaad" before leaving the high commissioner's residence.
Australia won the T20Is 2-0, while the five-match ODI series is 2-2, thanks to Turner's stunning and under-pressure 84 not out in Mohali. The decider, at the Kotla in the Capital, is from Wednesday afternoon.
Postscript: Bedi, now 72, has a connect with Australia: His late first wife was that country's citizen.