Grandmaster Koneru Humpy learning the moves of a mother
Humpy's 'new way of life': more patient, Less organised, improved mindset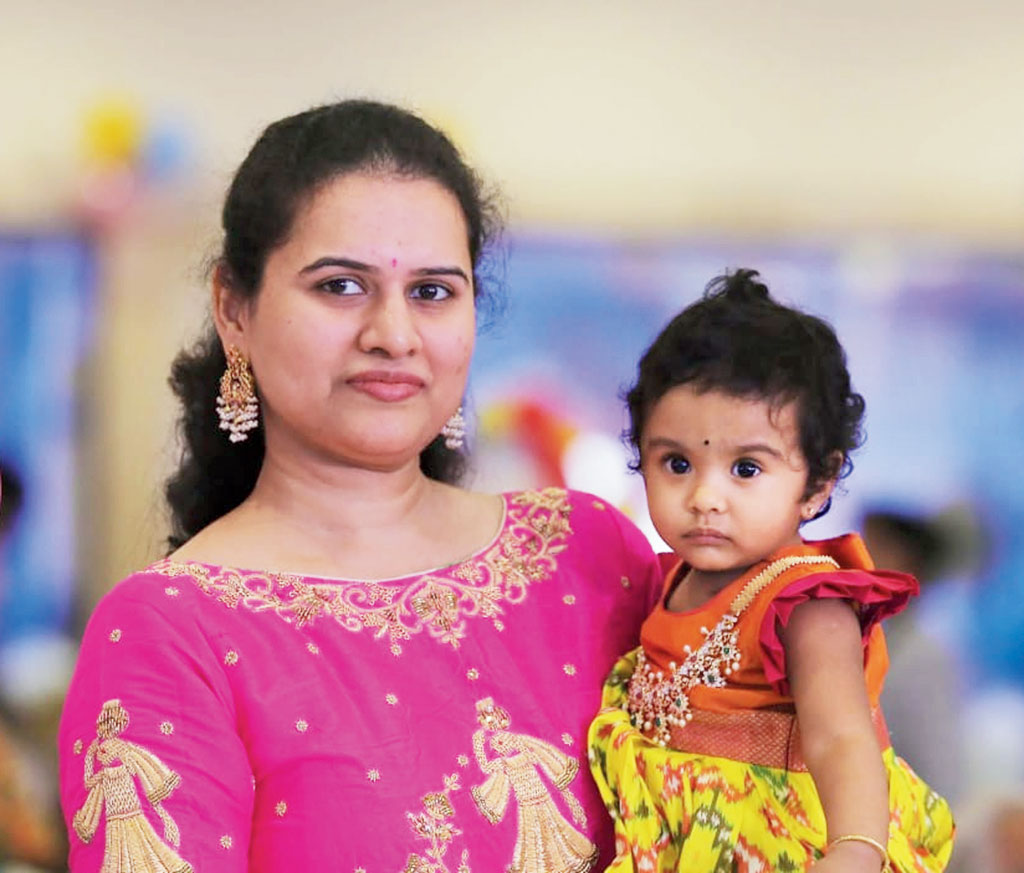 Koneru Humpy with daughter Ahana
Telegraph picture
---
Calcutta
|
Published 20.02.20, 09:44 PM
|
---
Koneru Humpy's second coming has been impressive, to say the least.
The Indian Grandmaster, who had taken a two-year maternity break from the game, had won the World Women's Rapid Chess Championship in Moscow last December. She proved the win was no fluke by claiming the Cairns Cup, an elite level tournament for the world's top female players, in the US on Sunday. The feat pushed up her Fide ranking to world No. 2 among women.
After being away from the game for two years, how did Humpy — who at 15 years of age became the youngest woman in the world to become a full-fledged Grandmaster, breaking Judit Polgar's record by three months — motivate herself to reach where she has today?
"I always intended to come back to the game," Humpy told The Telegraph, after reaching home in Vijayawada on Thursday morning. "I was waiting for the right time — the time I would feel comfortable leaving my daughter (two-and-a-half-year old Ahana) behind and travelling.
"I started playing in 2018 after Ahana turned one. See, coming back, particularly at the highest level of any game, is not easy and my first three tournaments were sheer disasters. I struggled a lot, naturally. Then I analysed my game, looked into where I was going wrong and slowly started getting into stride. It was a tough period, no doubt."
Humpy practises four to five hours everyday. "Yes, everyday, but with a rider… Priority No. 1 is the child, so in case of any need on her part, my practice schedule gets derailed," said the 32-year-old. "But I've been lucky that I am located in the same city as my parents. Had it not been for the support from them and my husband Anvesh, my return may not have been possible."
Humpy was introduced to the game and initially coached by her father, who was a national level player himself. But now she is mostly on her own and practises on the computer. But she credits motherhood for having made her a better sportswoman.
"Motherhood has changed me in many ways. For one, it has made me a lot more patient. Previously, I used to be very systematic and organised in everything I did. For instance, I had very regular sleeping hours and any disturbance therein would upset my rhythm.
"But now, sleep and at night!!!" she laughs. "However, adjusting to this new way of life has, I feel, helped my game and improved my mindset."
Humpy, a recipient of the Arjuna Award and the Padma Shri besides being a winner of several world age-group titles, came back to find a lot has changed in the game.
"The opening strategy, for instance. The openings I had studied earlier were not working anymore. It took me a lot of time to work on that."
Humpy strongly disagrees with world No. 1 Hou Yivan's comment that women's chess may never reach the levels of their male counterparts because women are "less focused and don't train as hard".
"Definitely a gulf exists between the men's and women's games — but that gap exists in any other sports too. That chess is a mind game does not make it any different from a physical sport. Women can try to compete on an equal footing. But the fact that a woman winning the World Chess Championship is still a dream is not because, as Yivan alleges, they are less focused, but because women are built differently.
"Also, sometimes at the peak of her game, a woman may need to take a break — maybe to have a child and her rhythm is disturbed. Serena Williams being a case in point."
Several titles and awards to her credit, what is Humpy's next target? "I have not fixed a target for myself. As of now, everything is going smoothly and I am enjoying my chess. Somewhere midway of the tournaments, I check my position and then, depending on how I am placed, decide how much risk would be worth taking. My next big tournament is the Women's Grand Prix in Italy in May."
World No. 2 now… does the top spot beckon? "There's a big jump between world No. 2 and world No. 1 spots. As I said, I do my best and for the rest, it's que sera sera, whatever will be, will be," concludes Humpy.