Qatar 2022: Jio Cinema leaves football buffs miffed
Poor quality streaming comes in the way of Qatar-Ecuador opener, fans slam application on social media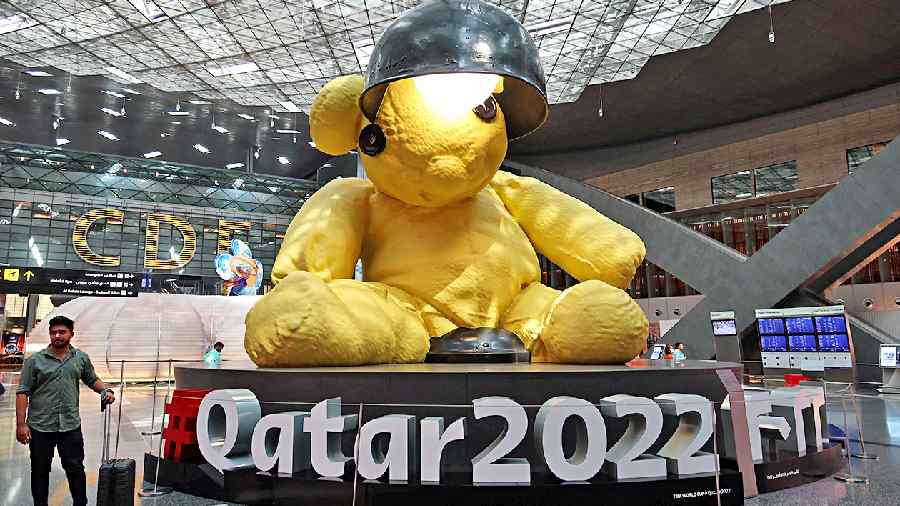 Representational image
File Photo
---
Published 21.11.22, 01:01 AM
|
---
An uninterrupted game of football is top priority if you're watching the FIFA World Cup.
So if you're dependent on Jio Cinema to watch the madness in Qatar unfold, you must put your thinking cap on. The popular streaming service from the Ambani stable has triggered a bunch of complaints among football buffs.
SmartTV loyalists now probably have an axe to grind against Jio Cinema for being unable to enjoy the opening game between Qatar and Ecuador without streaming bottlenecks.
While Enner Valancia made light work of the hosts with a brace, football loyalists in India slammed the poor quality streaming, which served as a bummer for most stretches of the game.
Apart from Sports18 (DTH channel), Jio Cinema is the only OTT platform airing the FIFA World Cup.
Now that the India viewers had no other option, the reactions came in thick and fast on social media.
Seriously @JioCinema ??? This is how we are gonna watch the WC? pic.twitter.com/rtZqrx4R5y

— Rishabh Thakur (@rishabhthakur) November 20, 2022
Jio Cinema every 30 Seconds pic.twitter.com/Eypy0tSZX7

— Tackle From Behind (@tacklefromb) November 20, 2022
Well JioCinema is a disaster, where else can we watch the World Cup online in India, any idea?

— Ananya (@BreakingBackk) November 20, 2022
Looks like they are sending live telecast frames to Jio Cinema via courier from Qatar. Instead of Frames per second, Frames per 3-5 business days.

— Gabbbar (@GabbbarSingh) November 20, 2022
Hey @elonmusk can you buy #JioCinema and fire the guys who ruined our fifa world cup opening ceremony.

— John Mathew (@johnmathewo) November 20, 2022
Ambani to all trying to watch FIFA on Jio Cinema and sports 18 pic.twitter.com/HnF57vVhRQ

— Bhatkela (@Bhatkela) November 20, 2022
Arre jio cinema @JioCinema fix this damn buffering will ya ... Or for the love of God please sell streaming rights back to voot pic.twitter.com/iSqklUKGeh

— Jordan Trillo (@JordanTrillo__) November 20, 2022
Already has beaten Sony LIV in being the worst Sports Streaming app. Congratulations on that Jio Cinema !!!! #FIFAWorldCup

— Kartik O (@KOCricket528) November 20, 2022
Any one else facing issues with Jio cinema live telecast of the #WorldCup ?

— Caralisa Monteiro (@runcaralisarun) November 20, 2022
Jio Cinema, either fix your streaming service or sell the rights to Hotstar or some other company. You're ruining the World Cup for us.

— Preeti (@MadridPreeti) November 20, 2022
Indian football fans watching #FIFAWorldCup    opening match #QATECU on Ambani & Sports 18's Voot spin off Jio Cinema with server crashing buffering in every minutes putting Somy Liv and Hotstar at shame! pic.twitter.com/o17e6kvf9d

— Vishal Verma (@VishalVerma_9) November 20, 2022
Ambani's Jio Cinema should not cover any other sporting event apart from 20-20 cricket matches at Gokuldham Society. #FIFAWorldCup

— Anurag Minus Verma (@confusedvichar) November 20, 2022
The players aren't moving, they are teleporting, thanks to Jio Cinema

— Ashish (@kachra_saith) November 20, 2022
Pov : you're trying to watch World Cup in jio cinema pic.twitter.com/NCkPdanWNC

— WengoAFC (@WengoAFC) November 20, 2022
Jio Cinema issues apology
The streaming application soon realised its mistake and promptly issued an apology on social media.
Dear @JioCinema fans,

We are continuously working to give you a great experience. Please upgrade your app to the latest version to enjoy #FIFAWorldCupQatar2022. Apologies for any inconvenience.#FIFAWorldCup #FIFAWConJioCinema #FIFAWConSports18 | @FIFAWorldCup

— JioCinema (@JioCinema) November 20, 2022