Personal pool for JFC boys
9x18-metre pool having a depth of 1.2 metres has been built inside the Flatlet compound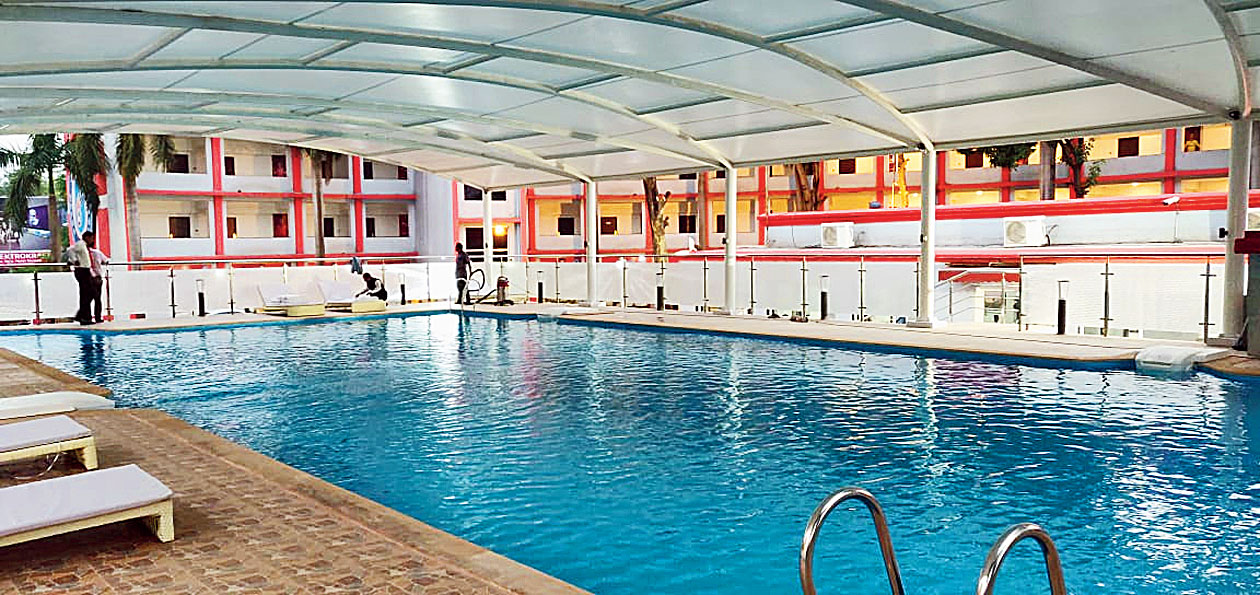 The new swimming pool of JFC at Flatlet in Kadma, Jamshedpur, on Friday.
Telegraph picture
---
Jamshedpur
|
Published 10.11.18, 06:39 PM
|
---
JFC players now have a permanent place to splash.
Tata Steel on Friday evening gifted a swimming pool to the team at a simple ceremony at Flatlet (players accommodation) in Kadma.
JFC chairman and Tata Steel vice-president (corporate services) Sunil Bhakaran, his counterpart in raw material wing Chanakya Chaudhary, head coach Cesar Ferrando, CEO Mukul Chaudhari, players and support staff were present on the occasion.
JFC is the only club among the 10 Indian Super League (ISL) franchises to have their own swimming pool.
The 9x18-metre pool having a depth of 1.2 metres has been built inside the Flatlet compound. It is attached to a gym which has a changing room and showers.
"We are the only team to have a swimming pool of our own. It is like the ones found in 5-star facilities in the country," a JFC team management member said.
Earlier, the JFC players used the swimming pool at JRD Tata Sports Complex located 2km away. "Now, our players can use the swimming pool whenever they wish," he added.
"The swimming pool is amazing and we are thankful to the management. When I had come here for the first time, it (pool) was being planned. The entire project was completed in three months," said Ferrando
"The pool is beautiful and it completes the overall landscape of the football infrastructure of JFC. Now we have a gym, a training pitch and swimming pool all inside the complex where we stay. This feels amazing," said JFC skipper and star defender Jose Luis Espinosa Arroyo 'Tiri.'
The team was also presented four floodlights at their 100x70m training ground, which has been prepared by Dehradun-based L.R Brothers. The greens, which is covered with Princess 77, a variant of Bermuda grass, was used by JFC for a few days before opting for the TFA greens for training sessions.
Tata Steel had last year remodelled 34 out of 84 rooms at a G+3 service apartment complex (called Flatlet) in Kadma, less than a km from Tata Football Academy. It boasts an air-conditioned dining hall, recreational space, gymnasium and a massage room. It has cosy air-conditioned rooms complete with LED televisions and en suite bathrooms.