FIFA World Cup 2022: Messi sets tune for the last waltz
A goal from the spot, his 11th in World Cups which helped him to surpass Gabriel Batistuta's 10, and two assists, Messi turned the most difficult match into the easiest one for Argentina in this World Cup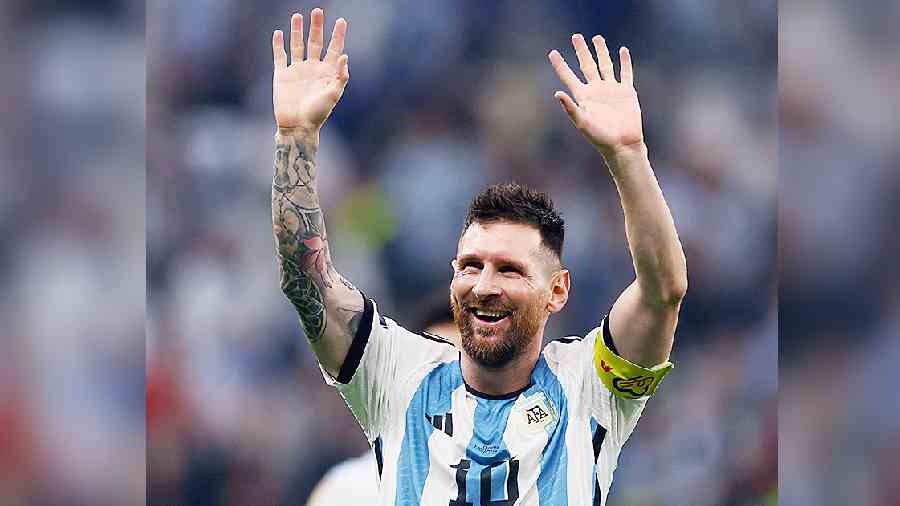 Lionel Messi after Argentina's semi-final win on Tuesday
---
Doha
|
Published 15.12.22, 06:08 AM
|
---
The watch said 2.30am in Doha. The mixed zone, where players come and speak to the mediapersons, at the Lusail Stadium was still buzzing, waiting with bated breath for the man to arrive. Leandro Paredes came and spoke, Rodrigo De Paul described what it meant for this bunch of Argentine players to be in the World Cup final, Julian Alvarez, much sought after, was basking in the glory.
But still, the waiting media was not happy. "When will he come? Will he speak?" questions were being hurled. Someone from the Indian clan came up with an idea. "Let's say we are from Bangladesh to stop him," referring to our neighbouring country which has a God-like reverence for the man.
Suddenly there was a commotion and a rush to gain a vantage point. The man had arrived. Lionel Messi had graced the media zone.
The scenes were a reminder of that 2011 September night at the Hyatt Regency next to the Salt Lake Stadium in Calcutta when Messi was at a handshaking distance, touching down from Barcelona after demolishing Villarreal. He was just 24 then and Argentina were playing Venezuela in an international friendly after a few days.
Now, 11 years on, Messi is about to finish his World Cup journey. "I am very happy to finish my journey in World Cups in a final, to play the last game in a final. That is really very gratifying," Messi said, speaking in Spanish. "Every moment I have lived in this World Cup has been emotional, seeing how much it has been enjoyed in Argentina. There are a lot of years from this year to the next one (2026, and he will be 39). I don't think I will be able to do that. To finish this way is brilliant."
Messi thus confirmed what he had said some months back. That Qatar would be his last shot at glory, this will be his last World Cup.
Then suddenly an overzealous Argentine official charged in and led him to the team bus. Messi zoomed past waiting reporters in a flash. Just like he had done with Croatia's Josko Gvardiol a few hours earlier.
Messi was once again the Man of the Match, his fourth, even though there was a debate if Alvarez should have got for his brace in the 3-0 victory.
But Messi couldn't be denied after what he did to a defender 15 years younger than him. It was pure magic. Gvardiol, just 20 and being touted as one of the best young defenders in the world, was tracking Messi all over the field. Even when Messi was in his own half scanning the pitch, Gvardiol was keeping an eye on him.
Gary Lineker had once spoken about the problem of marking players such as Diego Maradona. "The problem of manmarking someone like Diego is he is so skillful and clever that once he beats you then what?" Lineker had said in his brilliant tribute the day Maradona passed away.
Croatia probably erred in doing that to Messi. In the 68th minute, Messi had the ball in the Croatia half, and Gvardiol as usual was there with him. Messi first beat him in pace even as the face-mask-wearing defender was trying to stop him by grabbing his shirt. Then just outside the penalty box Messi suddenly stopped. With his back to the goal, Messi sold a dummy to Gvardiol and turned to the left. Gvardiol did not expect that and in a flash Messi was inside the penalty box.
The Lusail Stadium, which the Argentines have made their own since the first match against Saudi Arabia, was on its feet anticipating something magical. Once inside the penalty box, Messi went towards the near post byline as Gvardiol faced a losing battle. Mateo Kovacic, sensing danger, had arrived to help his young compatriot. But it was for a lost cause. Messi, the ball on his right foot, waited for a second just outside the sixyard box and played a pass in between the legs of Gvardiol to a waiting Alvarez. A simple tap-in and a deafening roar. An assist for the ages, the 3-0 scoreline ensuring a berth in the final, Messi with his arms outstretched went to his fans behind the goal. The roar from the stadium reverberated across the world. A goal from the spot, his 11th in World Cups which helped him to surpass Gabriel Batistuta's 10, and two assists, Messi turned the most difficult match into the easiest one for Argentina in this World Cup. Croatia, who had shown Brazil the door in the quarter-finals, were expected to put up a gallant fight against the Argentines. But Livakovic's foul against Alvarez in the 33rd minute which led to the penalty disturbed the rhythm of the team as they conceded two inside five minutes. The whistle was blown, coach Lionel Scaloni hugged Messi and burst into tears. "Thank you," was all Scaloni could say. "I love you," Messi replied, allowing his coach to release the emotions.
"Nothing much needs to be said about Messi. The best player in the world and very good and very dangerous today (Tuesday). It is the true Messi we expected to see," Croatia coach Zlatko Dalic was gracious in defeat. "I don't have any doubt," Scaloni, now much in control of himself at the postmatch news conference, said when asked whether Messi is the greatest ever. "It is a privilege to have him in this squad," he said. Sunday will be Messi's last for Argentina. A first World Cup triumph? The world will wait with bated breath.