Legends who shaped an icon
Those who will be felicitated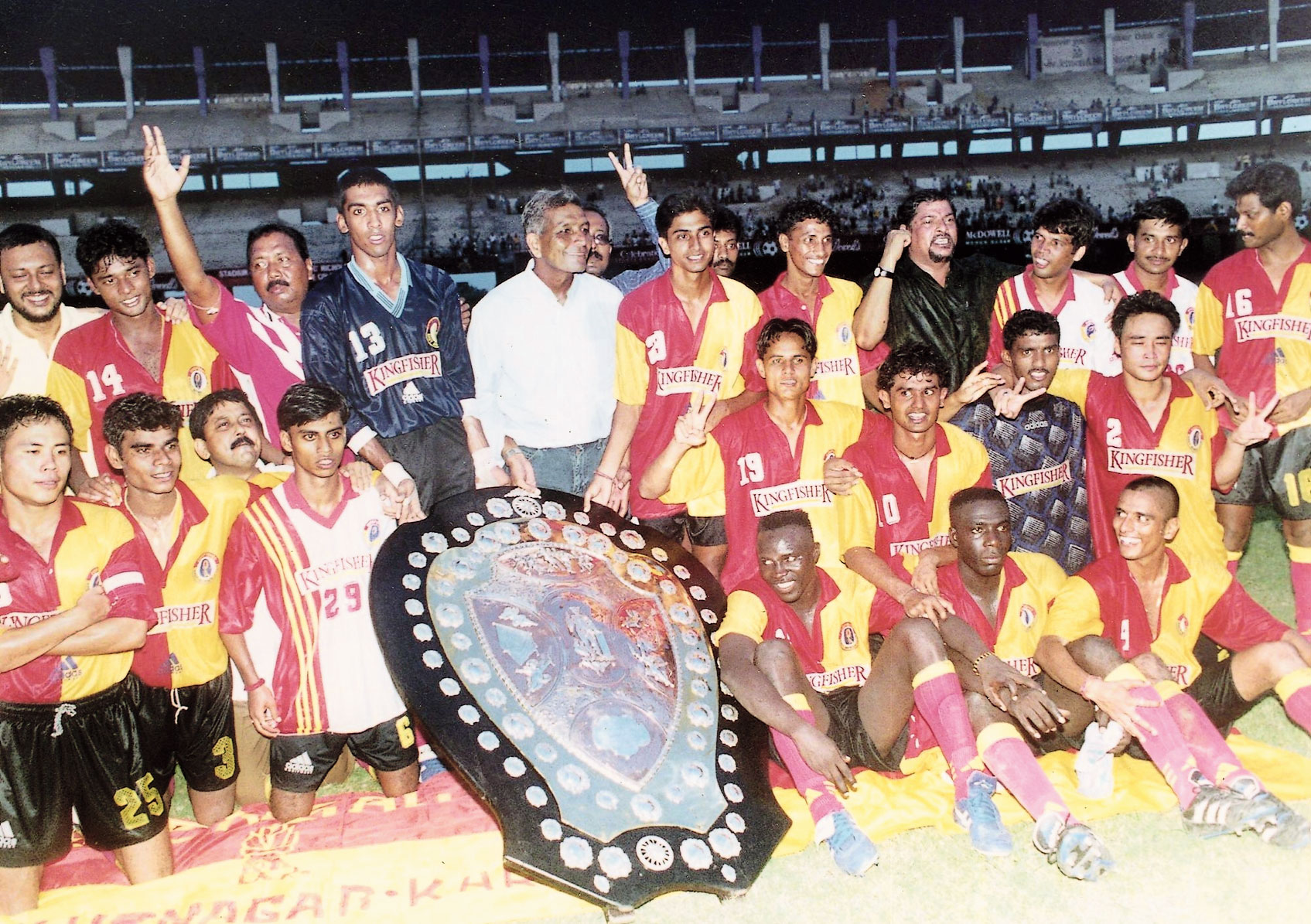 The East Bengal team with the IFA Shield in 2000
Telegraph file picture
---
Calcutta
|
Published 31.07.19, 08:13 PM
|
---
East Bengal of today commands millions of followers, the red and gold colours have become a way of life for generations. How it all started in a fit of anger is part of sporting folklore: in July 1920, Jorabagan was to face Mohun Bagan in a Coochbehar Cup match but the team's star half-back Sailesh Bose was excluded from the side. Jorabagan Club official Suresh Chandra Chaudhuri pressed for Bose's inclusion, but apparently the fact that the player was from "East Bengal" was held against him. The phrase was bandied about a couple of times in the heated exchange between Chaudhuri and the other officials.
Chaudhuri stormed out of the club in a fit of rage and was joined by Bose, Maharaja of Santosh Manmatha Nath Chaudhuri (after whom the Santosh Trophy is named), Ramesh Chandra (Nasha) Sen and Aurobinda Ghosh and they established a new club on August 1, 1920. It was proudly, if predictably, christened "East Bengal", as all the founders hailed from that region of Bengal. As part of its centenary celebrations get underway from Thursday, the club has decided to honour members of the families of the founders.
The late Suresh Chaudhuri passed on many anecdotes from those formative days to his grandson, Debesh Chaudhuri.
Now 84, Debesh Chaudhuri still follows every match East Bengal play. Debesh's son Rajesh Chaudhuri, who stays in New Delhi, is in the city for Thursday's function.
"East Bengal players used to stay at our house those days. Everything has changed but our feelings towards the club remain the same," said Rajesh.
"When someone says — your great-grandfather founded East Bengal club, it feels really amazing. I always feel proud of it," Rajesh added.
Sailesh Bose's son Dipak Basuthakur sounded emotional when asked about the club's centenary celebrations. "I have been watching East Bengal's matches from 1948. It's great that the club has decided to felicitate us. I want to thank the present management for that," the 82-year old said. "I also wanted to be a footballer, I played with Sukumar Samajpati. But later I chose to do something else."
"I can still remember the five-member forward-line, consisting of Ahmed Khan, Saleh, Dhanraj, Appa Rao and Venkatesh. They were nicknamed the 'Pancha Pandavas'. They were the best."
"I loved to watch Surajit Sengupta. He was an exceptional talent. I also liked Krishanu Dey's style of play. I hope on Thursday I will able to
meet with some of the former players of the club," Basuthakur, a resident of Lake View Road, said.
East Bengal's legendary secretary Jyotish Chandra (JC) Guha was a great goalkeeper of the thirties. Legend has it that Arsenal manager Herbert Chapman had invited Guha to attend trials in 1930. But unfortunately, Guha failed to make the cut. It is said that once he became secretary, a post he held for over 20 years, Guha understood players' temperament like no one ever could.
Guha's cousin Karmabroto Ghosh will be felicitated by the club. "Karmabroto will not be coming to the function as he is not keeping well but other family members will surely go," said Karmabroto's wife Swapna Guha. "Karmabroto keeps track of every East Bengal match. He used to go to the club with his brother," she added.
The late Nripen Das also did a remarkable job as club secretary in the seventies. His son Arunabha Das recalls going to the club with hisfather.
Arunabha, 80, said: "In a match against Mohun Bagan we were leading 4-0. My father asked Subhas Bhowmick not to score more."
Arunabha thanked club officials for remembering his family. "My father spent valuable time of his life for the club. It is nice to know that they respect my father and decided to felicitate us," he said.
At 13, Mrinalini Singh would be the youngest to be felicitated on Thursday.
She is the granddaughter of late club secretary Deepak (Paltu) Das. Paltuda, as he was fondly called, started modernising the club — he raised substantial funds, roped in sponsors and scouted for foreign players. Mrinalini has grown up with East Bengal in her veins. "My family is very attached to the club, so you can say I have grown up with the club," said the Class VIII student of Oberoi International School in Mumbai.
"I'm a big fan of the club. So it's a huge honour that the club decided to felicitate us. I am feeling very proud and very touched," Mrinalini said.
Mrinalini took part in the torch rally on Sunday. "It's pure passion and that is why so many people had come for the rally. I was lucky that I could take part in the rally," the teenager said.