World Cup: Brazil coach knows but won't tell
If you want to celebrate the football, you have to pay attention to the fouls, says Tite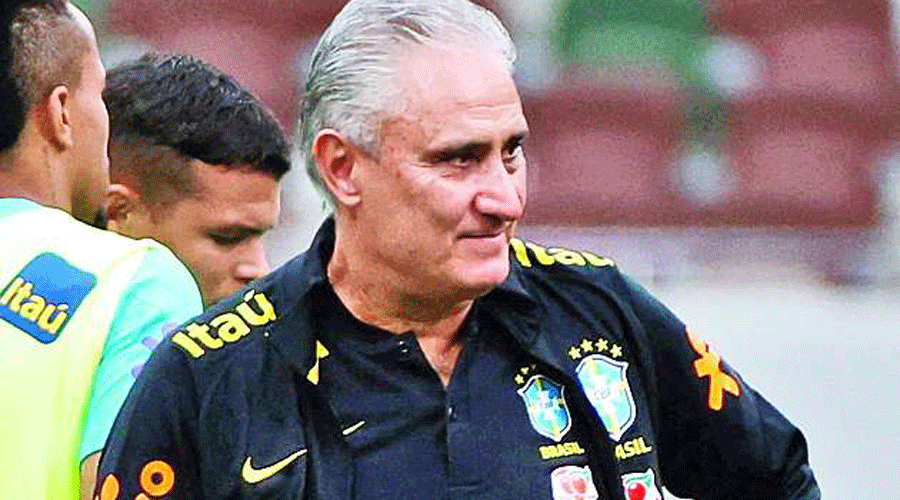 Brazil coach Tite.
Twitter
---
Doha
|
Published 28.11.22, 04:57 AM
|
---
Brazil's pre-match news conference on Sunday was all about Neymar. Will he play at all further in the World Cup? Who could be his possible replacement?
Brazil take on Switzerland on Monday and Neymar and his swollen right ankle remain the topic of discussion. That memory of a 7-1 humiliation in Brazil eight years ago when Neymar was ruled out with an injury still haunts.
A bitter Brazil coach Tite called for a stop to the number of fouls on Neymar. He said not too much focus was given to the on-field attacks on the PSG star.
"If you want to celebrate the football, you have to pay attention to the fouls," he said. Neymar, sometimes accused of playacting, was the victim of a heavy tackle from Nikola Milenkovic of Serbia the other day. He continued for 11 minutes before pulling out. "They focus on specific players. This is the effect. This has to be stopped."
"We wish we could have Neymar playing with us, we would love to have 26 players fully available, but we are ready and confident we will be able to show our group is strong, well-trained, and ready for any difficulties we might face. Injuries happen, we must all be aware of these possibilities," defender Marquinos said.
It's not just Neymar that Brazil are fretting over. Rightback Danilo is also nursing an ankle injury while news is that West Ham's Lucas Paqueta is down with fever. With such an abundance of talent up front, Brazil should not be that worried about Neymar but rightback Danilo's absence could hurt Brazil.
Tite does not have too many options on the right side since he decided to go for an ultra-attacking squad. Eder Militao, who plays for Real Madrid as a central defender, could be used as an option or Danil Alves, the 39-year-old who hasn't played much football of late.
"I have already made my decision but will not disclose until game time," coach Tite said. 
Rodrgyo, Militao's clubmate, or Paqueta could replace Neymar behind the front three of Raphinha, Richarlison and Vinicius Junior. If Paqueta isn't fit, then the Manchester United duo of Casemiro and Fred in the centre could be the answer. Neymar optimistic
Doha: Neymar is planning a World Cup comeback despite posting a photo of his ankle still looking very swollen on Instagram.
Neymar is undergoing treatment for damaged ligaments in his right ankle after getting hurt in Brazil's 2-0 opening win over Serbia on Thursday. Team doctors said Neymar will miss Monday's match against Switzerland but did not elaborate on a timetable for his return.
Neymar wrote on Instagram he was enduring "one of the most difficult moments" of his career, but seemed optimistic about his chances of returning. "I'm injured, yes, and it's a pain, and it will hurt," he said. "But I'm sure that I'll have the chance to return, because I'll do anything possible to help my country, my teammates and myself."
AP/PTI