Fingers crossed for Saha NZ travel
The India wicketkeeper-batsman has been grounded with a fracture in his right ring finger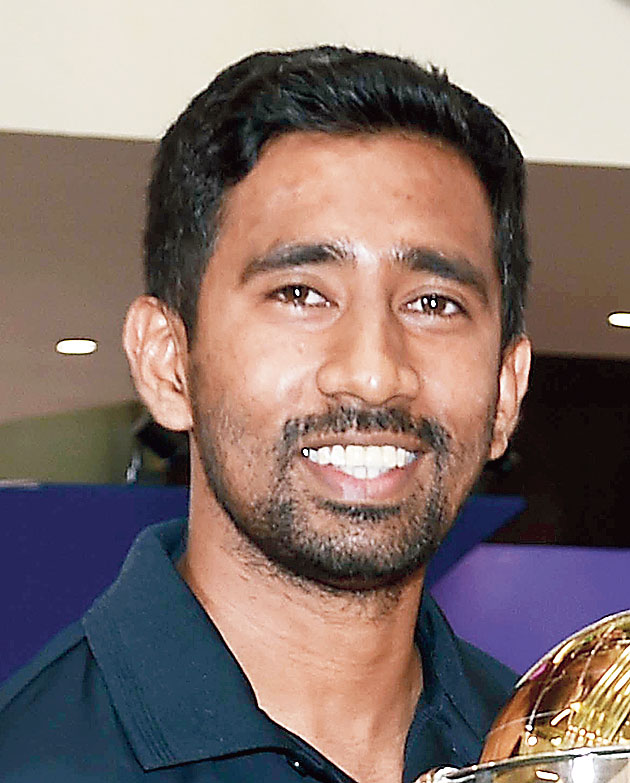 Wriddhiman Saha
Telegraph file picture
---
Calcutta
|
Published 27.11.19, 08:43 PM
|
---
Wriddhiman Saha, who could play only five Test matches after his return from a spate of injuries, will be out of action for some time.
The India wicketkeeper-batsman has been grounded with a fracture in his right ring finger and is likely to return only in the third week of January after completing his rehab at the National Cricket Academy (NCA) in Bangalore.
According to a BCCI media release on Wednesday: "Team India wicketkeeper Wriddhiman Saha sustained a fracture on his right ring finger during the recently concluded pink-ball Test against Bangladesh.
"The BCCI medical team consulted a hand and wrist specialist, and it was suggested that Saha undergoes a surgical fixation of the fracture. Subsequently, he underwent a successful surgery in Mumbai on Tuesday and will soon commence his rehabilitation at the National Cricket Academy, Bangalore."
Saha, though, doesn't seem too perturbed with the fracture. "I don't think it's too serious… That place was hurt from before.
"It was during the Ranchi Test (versus South Africa), towards the end of the second day when lights were on… (Mohammed) Shami and Umesh (Yadav) were bowling during that period, though I don't quite remember off whose delivery I got hurt in the finger," Saha told The Telegraph soon after returning from Mumbai on Wednesday evening.
In the final few overs of that final session of the Ranchi Test, Rishabh Pant kept wickets with Saha going off the field before coming back the next morning.
"The injury got a little aggravated since then. But I came to know of it only on getting an X-ray done after the Eden Test was over," Saha said.
Saha sounds quite confident of being available for India's two away Tests versus New Zealand, the first of which begins from February 21 in Wellington. But Bengal can avail his services only towards the later stages of the Ranji Trophy.
"Look, it seems I will be out of action for around a month. Thereafter, I'll have to be a part of the rehabilitation process at the NCA.
"So when it comes to Bengal, I think I'll be able to play the last few matches of the Ranji Trophy… Not before that," Saha admitted.
"But to talk of the New Zealand tour, there's still enough time left for it. I believe I'll be ready by then. Besides, had another Test been slotted in our preceding series, I would have played that game and then got the X-ray done.
"So as I said, the injury isn't that serious," he added.
For Bengal coach-cum-selector Arun Lal, Saha's absence is certainly a big blow to the team. "It's a huge setback… It's rather an understatement, I feel.
"Wriddhi would lend solidity to our middle order. We don't lack potential, but somehow we are unable to achieve what we should.
"He would lend that much-needed solidity. However, the name of the game is cricket. It's a team sport and we have to battle on.
"Maybe his absence is an opportunity for another guy to showcase his skills and prove his mettle," Lal said.
"Nonetheless, these things happen. Wriddhi is a strong lad and will get over it very soon. We'll have to stay hopeful about his fast recovery."
Bengal begin their Ranji Trophy campaign on December 17 versus Kerala in an away game. Going by what Saha said, either of Bengal's home matches against Hyderabad (beginning January 19) or versus Delhi (from January 27) could be his comeback match.
On India's first-ever Day-Night Test that concluded in a little over two days, Saha said the pink SG ball — in its maiden appearance — offered greater movement than the Kookaburra. But its visibility remains a concern, especially when there's dew.
"The pink SG had greater movement than the pink Kookaburra or Dukes. But that's only till there is daylight.
"Once there's dew, it's difficult for bowlers and there's hardly any difference, be it the pink SG or Kookaburra or Dukes. You could see the ease with which Mushfiqur Rahim and Mahmudullah were batting under lights (during the second evening of the Test).
"It's not easy to sight the ball under lights with dew setting in. In this case, I think the sight-screen should be brighter… It wasn't so during the Test," Saha said.